2. Increase Vitamin C intake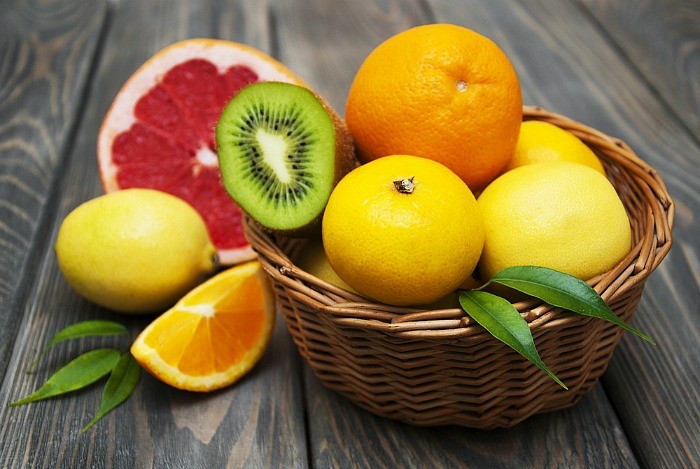 If you want to ask about effective ways on how to whiten skin naturally, you should not ignore the important role of vitamin C intake. Vitamin C is effective in improving skin complexion, brightening skin color from inside and maintaining the skin structure by boosting the production of collagen.
Most skin lightening products now work by inhibiting the production of melanin that is released when skin is exposed to the sunlight. Excessive production of melanin may result in dark skin. These products can use peels, chemicals or vitamins for the aim of skin whitening. Studies have shown that vitamin C is beneficial in inhibiting the enzyme tyrosinase. As a result, fewer melanin pigments are released
Vitamin C has antioxidant properties; therefore, it can help the skin fight against free radicals that lead to dark skin and skin aging. Vitamin C can double the levels of vitamin E and glutathione in your body. Both vitamin E and glutathione are powerful antioxidants. Glutathione can make your skin produce more Pheomelanin instead of the darker Eumelanin. Many studies found out that topical application of vitamin can help to repair the skin damage caused by sun exposure. Vitamin C can work as a natural exfoliant. Therefore, people often use the fruit or juice that have a great source of vitamin C to apply to the skin when they want to get rid of dead skin cells, dirt and  impurities that contribute to darker skin.
Vitamin C is the essential vitamin for collagen production. Collagen plays the important role in boosting the skin elasticity and making the skin look firm and young. Vitamin C can ease inflammation and redness. It is the reason why it is used to remove red blotches from the skin. People also see vitamin C as an effective treatment for rosacea and acne.
You can increase vitamin C intake by eating a healthy diet that includes a variety of vegetables and fruits. Fruits such as papaya, guava, oranges, kiwis, strawberries, lychees, and pineapple have a great source of vitamin C. You can drink natural fruit juices to increase the level of vitamin C in your body.
Vegetables that are rich in vitamin C include broccoli, peppers, brussel sprout, cabbage, snow peas, kale, cauliflower, potatoes, and tomatoes. It is important to know that vitamin C in vegetables can be destroyed if you cook these vegetables with the excessive heat. Therefore, to make sure the optimum amount of vitamin C in vegetables, you should avoid overcooking or reheating them.
If you cannot get enough vitamin C through foods, you can take vitamin C supplements. However, it is important for you to consult your doctor and know your daily recommended vitamin C intake. According to some reliable sources, the ideal vitamin C intake is 1000 to 3000 mg per day. Excessive consumption of vitamin C can lead to some harmful conditions
3. Increase Vitamin A intake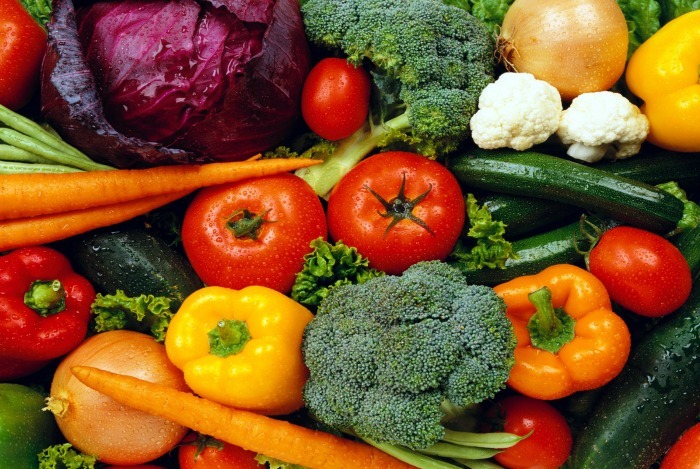 Before you try effective ways on how to whiten skin fast and naturally, you need to make sure that your skin is healthy and strong enough. Vitamin A, and important vitamin makes your skin healthy and strong. If you find your skin weak and sensitive, it means that you are experiencing vitamin A deficiency.
You can increase vitamin A intake by eating vitamin A rich foods such as nonfat milk, egg yolks, and oyster. Moreover, foods that are rich in beta carotene can also give you enough amount of vitamin A. Moreover, beta-carotene is effective in minimizing the skin damages caused by sun exposure. These foods include watermelon, carrots, tomatoes, papaya and other dark-colored vegetables and fruits.
Read more: vitamins for dry skin
4. Limit The Exposure To Sunlight As Well As Pollution
It is recommended using sunscreen with at least SPF 15 when you have to go out. Sunscreen can protect your skin from UVA/UVB rays that are harmful because it may slow down the healing process for skin damage. Moreover, sunlight can deteriorate the ability of the skin to shed the dead skin cells and boost the new skin cell's regeneration. Moreover, pollution is the common causes of dull skin and acnes because it makes dirt, and impurities stuck in your skin pores.
5. Drink Enough Water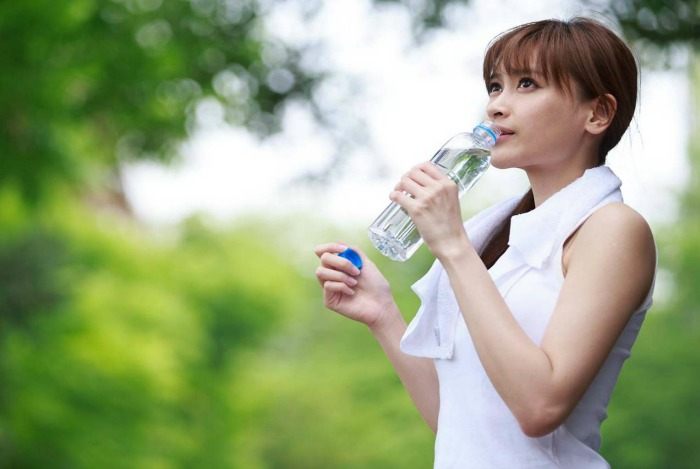 In order to make your skin glowing and bright, you should drink 8 cups of water daily. Water contributes to a big difference in your skin health.  If your skin does not get the adequate water, it may develop wrinkles, suffer from saggy skin and become duller. Water plays the important role in maintaining the skin structure, boosting collagen production and making the skin look plump. If the skin is hydrated well, it is less likely to develop the skin problems. Drinking enough water can make your skin look great year to year. Before you try effective solution on how to whiten skin fast, you need to make sure that your skin is getting enough water.  It is recommended drinking eight to ten glasses of water through the day.
6. Sleep 8 Hours
Lack of sleep or sleep deprivation not only develops dark circles around your eyes but also make your skin look dull and tired. Therefore, as the effective way on how to whiten skin, you should get adequate sleep. Many studies and researches have been done to prove the importance of sleep to the health and beauty. If you sleep well, you may have glowing and hydrated skin. When you sleep, your skin may have time to repair its problem. If you find it hard to sleep, you can try some tips and techniques such as doing yoga, listening to music, drinking a glass of hot milk and massaging with essential oils such as sandalwood, chamomile or ylang-ylang. You can boost the benefits of beauty sleeping by using an overnight mask. There are a lot of overnight masks that claim to brighten the skin.
7. Exfoliate The Skin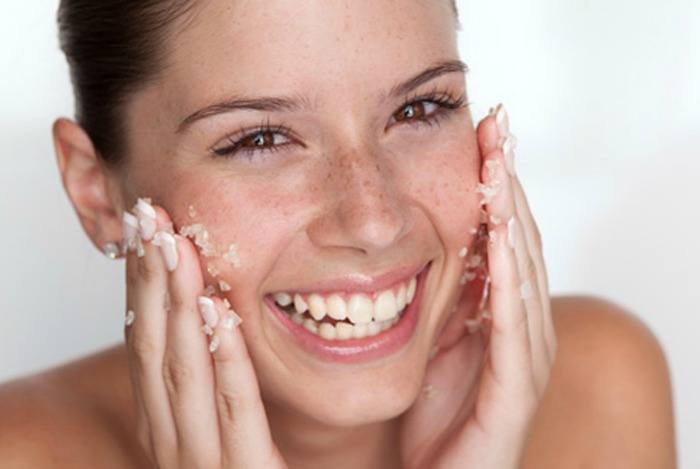 Exfoliating the skin is an important step in skin care routine if you are looking for the effective ways on how to whiten skin. Dead skin cells, dirt, and impurities accumulating in your skin are the causes of dull and dark skin. By removing dead skin cells and boosting the production of new skin cells, exfoliating makes your skin look glowing, young, healthy and bright.
It is recommended exfoliating the skin twice a week. However, if you have a sensitive skin type, exfoliating the skin twice a week may be too much and it can result in skin irritation. If your skin type belongs to the oily skin, you should exfoliate your skin three times a week to avoid the buildup of dead skin cells in your skin
III – Home Remedies On How To Whiten Skin Fast And Naturally
1. Yogurt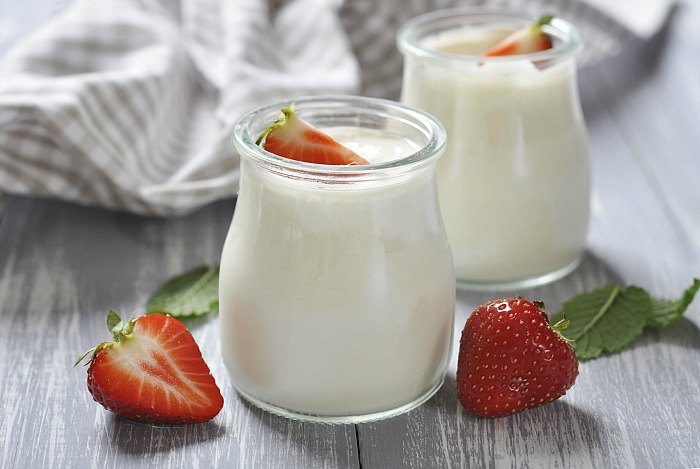 Yogurt that helps you improve the indigestion system also helps you whiten skin quickly.
Lactic acid presents in yogurt that has the most AHAs (gentle alpha hydroxy acids). These AHAs work as best exfoliants that helps remove the dead cells on your skin's surface. In addition, yogurt contains bleaching agent that perfectly bleaches your hyper-pigmented skin by suppressing the melanin production of your skin. How to whiten skin fast with yogurt? Here are detailed directions:
Method 1:
Take a little yogurt and then rub it on the skin. Leave it on for about 2 to 3 minutes and then rinse it off with warm water.

You had better follow this process at least once every day for about 2 to 3 weeks for a significant change in the skin
Method 2:
Get this:
Do this:
Take plain (half a cup) but not sweetened and flavored yogurt

Apply this on your skin and gently rub this yogurt for some minutes

Allow it for another few minutes. Then wash it off with lukewarm water

It is recommended to reapply this process every day to completely whiten the skin.
Method 3: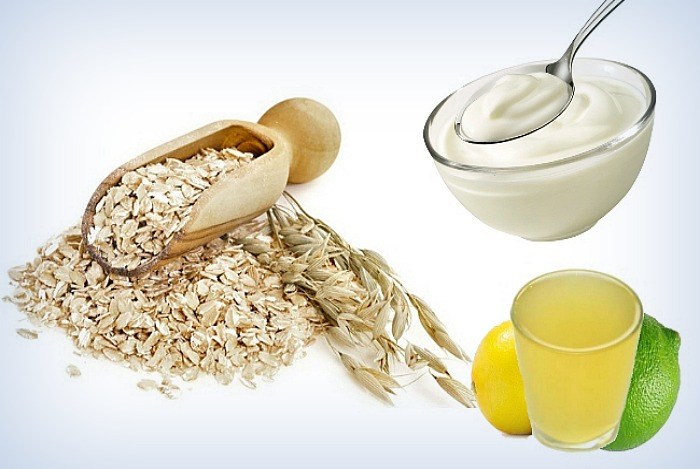 Ingredients:
Yogurt

Oatmeal

Lemon juice
Process:
Mix all of the ingredients in a bowl to create it like face mask

Apply this face mask on your skin and allow it to sit for at least 15 minutes

Finally rinse it with water

You had better repeat this way regularly in order to prevent the dark pigmentation of your skin.
Method 4:
Ingredients:
1 tablespoon of yogurt

1 to 2 teaspoons of honey
Process:
Add honey and yogurt in a bowl

Stir it well and next apply this on your skin.

Leave it to sit for half an hour and then wash it with water

You should apply this method every day to help whiten your skin fast and naturally.