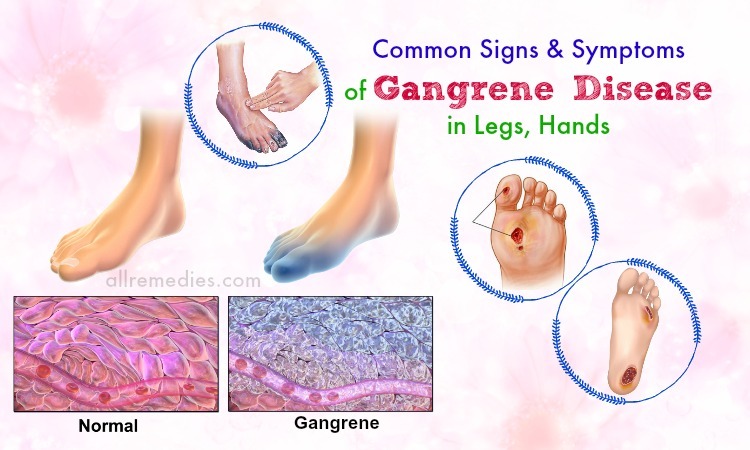 Top 6 Common Signs & Symptoms of Gangrene Disease in Legs, Hands
CONTENTS
Overview
As you can see, gangrene [1] is one of the most popular diseases which everybody may suffer from. And, this disease is also known as gangrenous necrosis which is one type of necrosis. It is usually caused by the critically insufficient blood supply. Furthermore, in order to recognize this disease in a normal way, it is very difficult because there are several types of gangrene such as dry gangrene, wet gangrene, gas gangrene [2], internal gangrene, as well as necrotizing fasciitis. And do you know that? Each type of gangrene [3] has its own symptoms. Moreover, each person who is suffering from gangrene has different symptoms as well. So now, do you want to know what the symptoms of gangrene in legs & hands are? If your answer is yes, just keep reading this article on our page AllRemedies.com and find out the common symptoms that you may have if you suffer from any type of gangrene.
See also: 35 Foods To Increase Blood Platelets Count Instantly & Naturally
Top 6 Common Signs And Symptoms Of Gangrene Disease In Legs & Hands
1. Symptoms Of Gangrene – Dry Gangrene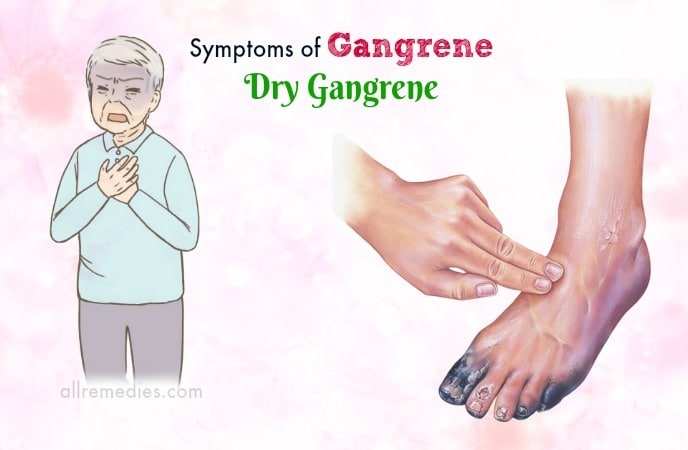 When talking about the common symptoms of gangrene, let's begin finding out the common symptoms of dry gangrene first. But before discussing the symptoms of gangrene in legs & hands, in this case, there is one thing that you ought to know. That is dry gangrene usually influences someone's hands as well as feet [4]. And people who suffer from diabetes or blood vessel disease or autoimmune diseases have more chances to suffer from dry gangrene. It grows when the blood flow to your affected area is damaged. In general, when someone suffers from dry gangrene, it is very easy to see the red line on the skin which can mark the edges of someone's affected tissue. Furthermore, this area will become numb as well as cold. In case you suffer from dry gangrene, it may make you painful when this tissue dies. Nevertheless, a lot of people, especially the old people, can experience no sensations. In addition, the affected area of this tissue will change its color from red to brown or black. Then, the dead tissue in your body will curl up and separate from your healthy tissue, along with falling off.
Read more: 37 Best Natural Home Remedies for Diabetes Mellitus
2. Symptoms Of Wet Gangrene
Wet gangrene which is known as moist gangrene is also one of the main types of gangrene. When discussing the symptoms of gangrene, it also means that you ought to know the symptoms of wet gangrene. Absolutely, wet gangrene is different from dry gangrene. It almost involves an infection. Or in other words, the symptoms of wet gangrene and the symptoms of dry gangrene are not the same. Generally, the symptoms of this type of gangrene start with the affected area swelling before your tissue begins to decay. If dry gangrene just makes you feel a little bit painful, you may have a totally different feeling when you are suffering from wet gangrene. It really makes you feel extremely painful. Moreover, if you suffer from wet gangrene, your skin will also change its color. It is from red to brown or black. And then, it manufactures foul-smelling pus. Besides that, as you suffer from wet gangrene, you also have some different symptoms. For example, you may have a high temperature or fever. In this case, your temperature may be at 38oC or 100.4oF or may be higher. In addition, as soon as you suffer from wet gangrene [5], you may hear a crackling noise which comes from your affected area when it is pressed.
Get also: 24 Natural Home Remedies For Low Blood Sugar Level Treatment
AllRemedies Partner Solutions
Keep Asking Questions Until You Get The Answer You Need!
The Medical Experts are all here to answer your questions online or with a phone call.
3. Internal Gangrene – Symptoms Of Gangrene
If you suffer from gangrene, you can have chances to suffer from internal gangrene. This type of gangrene may influence your organs or your inner tissues. It is quite different from other types of gangrene because there are not any symptoms which are shown outside your body. In this case, fever is the most popular symptoms. Furthermore, you may have serious pain. If you suffer from internal gangrene and your condition becomes worse and worse, it must be treated as soon as possible. Besides that, if you have some symptoms like sores or blisters which are not healing, discolored skin or skin which is hard, cold, pale and numb, along with a foul-smelling discharge from the sores, just go to the hospital and meet the professional doctor right now because it may threaten your life.
Read more:  31 Safe Home Remedies for Athlete's Foot Blisters & Toenail Fungus
Top 10 Fast Ways How To Treat Poison Ivy Rash & Blisters At Home
4. Symptoms Of Gas Gangrene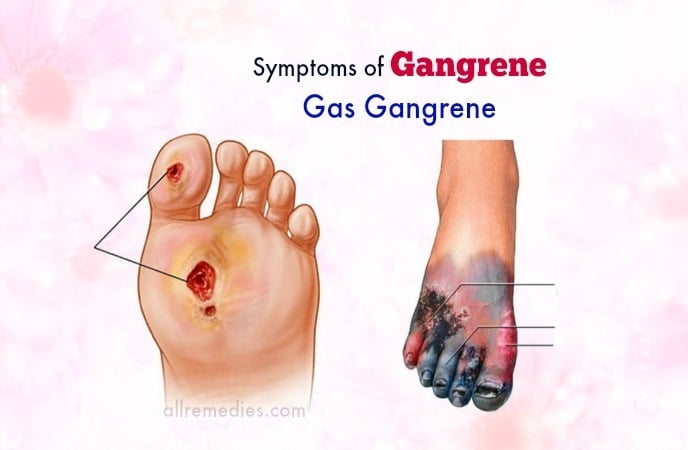 Gas gangrene is usually rare, but it is really dangerous. It often happens when the infection develops deep inside your body like inside organs or muscles [6]. It is usually the result of trauma. If you suffer from gas gangrene, you may have some symptoms. For instance, your skin surface may have a normal appearance at first. Then it turns pale to gray color or purple-red color. Besides that, in almost cases of gas gangrene, when you press your skin near your affected area, it will make a crackling noise which is caused by the gas produced by the bacteria. In some other cases, there is a watery discharge from your affected area. But this discharge is really different from the discharge of wet gangrene. It doesn't contain a distinctive foul odor. One thing which you ought to know as well is that gas gangrene is very dangerous and life-threatening. So if you have the symptoms of gas gangrene, you ought to go to the hospital immediately in order to have a check.
See more:  29 Natural Home Remedies for Fever Blisters in Adults
5. Necrotizing Fasciitis
If you are looking for information about the symptoms of gangrene, you also need to know the symptoms of necrotizing fasciitis [7] which is one of the main types of gangrene. This type of gangrene is able to affect any part of your body even though a lot of cases can develop in the extremities like your hands, arms, feet as well as legs; your perineum which is the skin area between your genitals and your anus; and your torso which is your central body part between your neck and your limbs. If you suffer from necrotizing fasciitis, you may feel painful. Furthermore, redness and swelling are the symptoms of necrotizing fasciitis as well. Likewise when the infection progresses; your skin may become tense and red increasingly. And you can easily see the edges of your affected area and your unaffected area. In some cases, after a lot of hours or days, the symptoms of this type of gangrene are becoming worse. Your skin will change its color to purple or black. Moreover, the serious blistering will also develop, and your affected area may make a crackling sound. For some people, they also experience the discharge of fluid which is usually described as looking like dishwater from their affected area.
Learn more: 12 Methods How To Get Rid Of Broken Capillaries On Face, Chin, & Nose
25 Tips How To Get Rid Of Bruises Fast On Face, Knees, Legs, Arms
6. Septic Shock
One of the main types of gangrene is the septic shock [8]. But normally, septic shock is known as a result of gangrene if bacteria from your infection get into your bloodstream. Additionally, the infection can affect a lot of systems in your body and may cause the blood pressure to decrease to the dangerously low levels. In this case, shock exactly means the low blood pressure. In general, septic shock is really life-threatening. Therefore, you or someone needs to go to the hospital immediately if you or someone suffering from septic shock. And just like other types of gangrene, septic shock also has its own symptoms. They include fast but weak pulse; clammy, pale and cold skin; lightheadedness [9]; shortness of breath as well as increased heart rate; diarrhea; vomiting; along with changing the mental status such as disorientation or confusion.   
Find also: 29 Natural Home Remedies for Diarrhea in Adults
26 Natural Home Remedies for Vomiting in Adults & Children
Conclusion
In conclusion, there are six main types of gangrene such as dry gangrene, wet gangrene, gas gangrene, internal gangrene, septic shock as well as necrotizing fasciitis. And each type has its own symptoms. Even though you are suffering from any type of gangrene and have one of these symptoms of gangrene in legs & hands which are mentioned above, you ought to go to the hospital and have a medical checkup so that you can find the best treatment for your situation. If you notice that you have one of these symptoms of gangrene and you pretend not to see it, you may have a risk of threatening your life. Or in other words, your parts of the body may die.
Furthermore, after you read this article on our main page How to, we all hope that it can help you to broaden your knowledge about this serious disease. In case you have any questions or you know more information about the symptoms of gangrene, please do not hesitate to let us know by leaving us a comment or a message below. We promise that we will response your comment or your message as soon as we can.
About us:
Our Mission
The human body works as like a machine that requires time to be healed, maintained, and repaired. If a human wants to have high performance, the body's organs need to be healthy. We all know the vital role of a balanced diet, regular exercise, and a good lifestyle. However, not every people can follow these key principles for health and beauty. It is the reason why people nowadays are more vulnerable to health and beauty problems.
Our mission at AllRemedies.com is to help you have good health and natural beauty by providing you with fantastic tips, techniques, and wonderful home remedies that can deal with any health issues. As an online platform for health, AllRemedies focuses on natural remedies, essential nutrients, nutrient foods, specific diet plans, and fitness workouts.
Meanwhile, at AllRemedies, you will find a ton of informative and detailed articles that are designed to instruct you how to use natural ingredients as miracle remedies for your health and beauty.
Bottom line: You care about your body, mind, and appearance. You want to live a happier, healthier, longer, and more active life. Come to us. We will be here to help you.
Meet Our Team
Mai Hoang – Editor-in-Chief of AllRemedies.com. She loves writing and blogging. Mai Hoang is an extremely detail-oriented & highly responsible person. Also, she has a positive attitude & always desires to learn new things and ideas.
Nga Vu – Editor of AllRemedies.com. She has a keen interest in food and health. As an editor of AllRemedies, Nga Vu is fascinated in helping people around the world understand how natural remedies can heal our bodies and make us beautiful. Moreover, she also loves the power of herbs.
Press/News
Welcome you to our great site. AllRemedies contains numerous news and press related to health, beauty, natural remedies, and amazing tips and techniques that can build your healthier, stronger, and more beautiful life.
Advertising Policy
AllRemedies's mission is to assist your pursuit the healthy and beautiful life. We hope to provide you informative, approachable, and helpful content that guides and inspires you to make the best choices for you and your family.
Our site will allow funding from advertisers. We consider it an effective way to broaden the topic areas, bring more excellent experiences, and cover more aspects. It also helps the reader to be exposed to a wide range of advice and recommendations from experts. However, be sure that you understand our advertising policy before being our advertising partners.
Read and follow these specific guidelines:
1. We determine the ads
Our editors are responsible for choosing the types of ads that can be displayed on Allremedies.com. Besides accepting the proper ads that meet our regulations and policy, we have the right to reject, delete, or cancel any ads on AllRemedies.com for any reason and at any time. But to let advertisers know about our cancellation, rejection, or removal of any ads, we will send the notification email to the advertiser and an explanation will be attached to clarify. We also have the right to choose the placement for ads on AllRemedies.com.
2. AllRemedies does not endorse any products advertised
Although we allow product advertising to appear on our site, an endorse of the services or products advertised are not accepted. So are the ads for the company that distributes, manufactures, or promotes these services and products.
3. Certain types of ads are not allowed to appear on our site
The ads that are in poor taste or are inaccurate will not be accepted on our site. The accepted ads need to meet the principles and rules determined by the Food and Drug Administration (FDA). Moreover, the advertised products or services must be readily available in the market. Any ads for products that are illegal, harmful, or objectionable will not be permitted by AllRemedies. We only accept the ads that do not have deceptive, fraudulent, or offensive material. The material that ridicules, misrepresents, or affect people or groups on the basis of color, age, national origin, religion, race, sexual orientation, sex, or disability. We have the right to reject the ads that are related to firearms, alcohol, fireworks, ammunition, pornography, gambling, or tobacco. The ads appearing on our site must represent for the specific advertiser.
4. Ads and editorial content on our site clearly maintain a separation
We definitely make a distinct separation between ads and editorial content. All ads appearing on Allremdies.com must be unambiguously and clearly identified. Clicking on any ad, readers can go to a sponsor's resource center or an advertiser's site. The sponsor's resource centers will be labeled with the name of the sponsoring entity.
5. We separate the sponsored and nonsponsored content on our site
On our site, sponsors from credible research and trusted organizations, service providers and manufacturers are permitted. These sponsorships not only bring financial benefits to Allremedies but also ensure readers of our site to access current information on medications, health and beauty services, and treatments. Any sponsored content will be reviewed by our editors before placing on our site. We will maintain a distinction between the sponsored content and AllRemedies's own original editorial content.
Sponsored content: Sponsored content is the content written by Allremedies, and its topic is




related to an advertiser. We control the advertising content and no broad topic area created by any advertisers are on our site. The sponsored content can be labeled as "sponsored by", "sponsored by our partners", or "brought to you by".

Native advertising: Native advertising is the ads or links that lead to other content. Clicking on these links on Allremedies.com, you can go to a sponsored owned page. You can see these links in the space between AllRemedies's paragraphs. These links can be labeled as "paid for by" or "sponsored".

Co-branded content: Co-branded content having a sponsor logo on the article, page, video, and other content is made in partnership with the sponsor. This content contains promotions, products, or links that lead to an advertiser's site. Co-branded content can be labeled with a sponsor logo such as "created in partnership with SPONSOR NAME".

Social media posts: these social media posts are represented in Allremedies' social media channels. These social media posts can be labeled such as "#partnerPromation", "#sponsored", "#HLsponsor."

Brand pages: Brand pages are made by our advertisers or sponsors. This content is not reviewed by Allremedies and is hosted as a viewer resource. It does not imply endorsements or recommendations. This content will be labeled as "paid for by".
6. The content which belongs to a co-branded program is clearly distinguished
AllRemedies allows the ads for services, products, or organizations that meet our mission. We accept these ads for the quality and content as we feel it is valuable and interesting to our users. Allremedies will receive the payments when users buy or sign up for service or product. However, our site does not provide the services and products. The content of a co-branded program does not undergo the medial review by Allremedies. This content is labeled "AllRemedies and our partners will receive a portion of revenues when you purchase the service or product through a link above."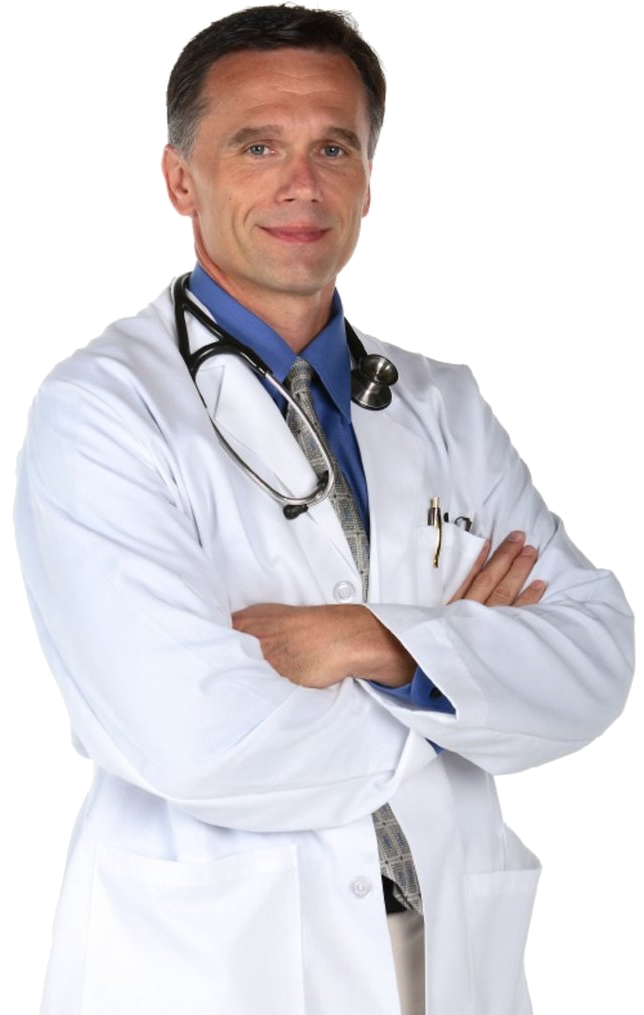 GET FREE ACCESS!
Lorem Ipsum has been the industry's standard dummy text ever since the 1500s, when an unknown printer took a galley of type and scrambled it to make a type specimen book. It has survived not only five centuries
RELATED ARTICLES
YOU MAY LIKE THIS