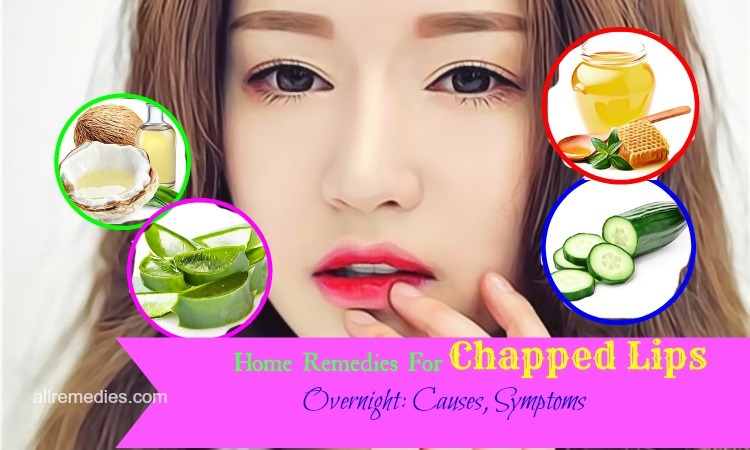 Top 15 Home Remedies For Chapped Lips Overnight: Causes, Symptoms
Overview
It cannot be denied that lips are the feature that contributes to the overall attractiveness of a person, especially women. If you lips look plum and moist, they are the indicators of your good health as well as proper self-care. For some people, chapped lips can be an issue throughout the year. However, lips can get terribly dry during cold winter months in most people when the temperature suddenly drops. Your cracked and chapped lips not only painful and annoying, they can also lower your confidence in talking with other people. In this article, we, AllRemedies.com are going to list some of the most common causes, symptoms of chapped lips, as well as top simple home remedies for chapped lips   overnight in summer and winter months.
Read more: 30 Tips How To Get Rid Of Dark Lips & Have Pink Lips In One Week
Causes Of Chapped Lips
The skin on your lips is absolutely delicate and thin as compared to other parts of the body, thus they are quite vulnerable to the some factors that come into contact with your lips as well as changes in weather. Below are the reasons why your lips get so dry and chapped during winter months:
Changes in the temperature: This is understandable because when the temperature drops, and the cold windy weather kicks in, the moisture in the atmosphere gets super low. This obviously has an effect on the natural moisture of your lips, making it unable to be moisturize naturally.

Personal habit: Many people acquire the habit of licking their own lips when they feel a little bit dry as they think this habit will compensate for the loss of water on the surface of their lips. However, it only exacerbates the situation as your saliva contains a digestive enzyme, which is capable of digesting food you take in. This type of enzyme will wear the skin of your lips down and make it more vulnerable as well as dry. Another destructive habit you can do to your lips is picking at them. Even though the dry flakes in your lips increase your urges to pick at them to get rid of them completely, it can worsen the situation or even cause bleeding.

Your toothpaste: It comes as a surprise that what you use on a daily basis can be the culprit for chapped lips in winter months. The toothpaste you use contains a lot of harmful synthetic chemicals including sodium lauryl sulfate, which can irritate your lip skin.

Diet and hydration: Scientific researches indicate that a deficiency in certain types of vitamins can be the reason why your lips get so dry during cold winter months. [1]. The lack of certain vitamins, mineral as well as not enough of water consumption are the worst combo for your skin in general as well as your lips in particular.

Allergies in some skincare products: Some beauty products contain synthetic chemicals, especially those for acne treatment as they can dry out your skin moisture to a great extent. If these products come into contact with your lips and lip area, they will create havoc.

Breathing habit: Many people acquire the habit of breathing through their mouth rather than their nostrils, especially when they are doing some outdoor activities. However, this technique can dry up your lips tremendously without you even realizing it. Exposure to the wind and cold air through the act of inhaling and exhaling will make your lips chapped and cracked.
See also: Top 11 Unusual Uses of Toothpaste You Didn't Know about
Symptoms Of Chapped Lips
As the name already suggest, during winter months, your lips can get extremely dry and cracked. There are even flakes forming around lip area, and any foods which are sour or spicy will make you feel very painful and uncomfortable when you eat them. Moreover, in some severe cases, bleeding can appear in your lips and the surrounding area, interrupting with your daily habits and schedule.
Find also: 20 Natural Home Remedies for Allergies in Adults & Children
Top 15 Simple Home Remedies For Chapped Lips Overnight In Summer & Winter
1. Sugar And Honey Lip Scrub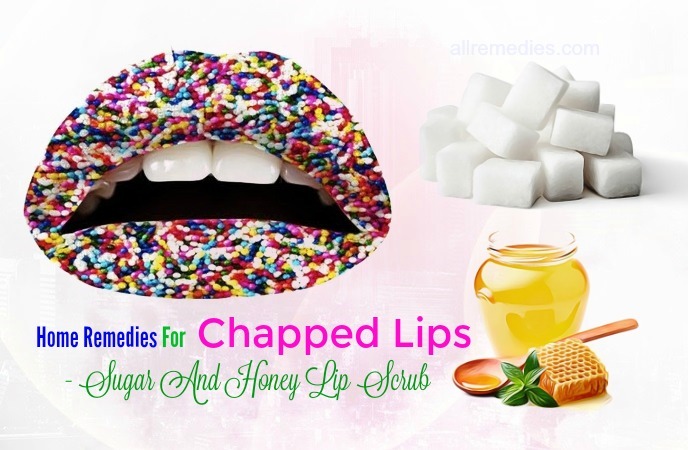 AllRemedies Partner Solutions
Keep Asking Questions Until You Get The Answer You Need!
The Medical Experts are all here to answer your questions online or with a phone call.
This simple remedy is old but gold. Many people have got rid of their cracked dry lips by following this trick on a weekly basis. All you need to do to exfoliate your lips regularly to eliminate the dead skin cells. You should be gentle in scrubbing your lips rather than exfoliate with harsh movements, and your smooth skin will reveal. The recipe is just the combination of honey and a type of oils such as coconut oil or olive oil to be put in a container. Apply the paste religiously on your lips a few times a week, and follow it up with some homemade lip moisturizer.
See more: 16 Solutions Natural Homemade Moisturizer for Dry Skin
2. Home Remedies For Chapped Lips Using Cucumber
This juicy fruit can do wonders to your health in providing vitamins and minerals, furthermore, it can be efficient in curing your chapped lips. By slicing a fresh cucumber into small pieces then put them directly onto your problematic lip area, then wait for 15 to 20 minutes for the cucumber to perform the trick. This is made possible because of the fact that cucumber contains a lot of water in its content, thus helps rehydrate your lips by supplying moisture. [2]
Get also: 13 Natural Benefits Of Olives Fruit & Oil For Skin, Hair, Health
3. Home Remedies For Chapped Lips – Coconut Oil
It would be an amiss without mentioning coconut oil as one of the top 10 simple home remedies for chapped lips overnight in winter months. The benefits of coconut oils are various, ranging from skincare to hair, nails and lips, etc. In the cold winter months, it is highly recommended for you to apply coconut oil directly on your lips every night before you go to bed, and you will wake up with nice and smooth lips as you desire.
Learn more: Top 8 Natural Ways On How To Use Coconut Oil For Chapped Lips
4. Home Remedies For Chapped Lips Using Aloe Vera
It is not much of an overstatement that aloe vera can be regarded as a multi treatment for different issues concerning health and beauty, which include dry and flaky lips in cold months of the year. This healing plant with its anti-inflammatory content stores a great amount of water in its leaves, thus it is effective in providing the hydration your lips need after losing moisture naturally. So as to improve the condition of your lips, you just need to extract the gel from fresh aloe vera leaves, then apply it onto your lips as a mask or overnight moisturizer. You will definitely see results after some days using this kind of home remedies for chapped lips overnight.
Get more: Top 12 Recipes to Make Homemade Aloe Vera Face Pack
5. Home Remedies For Chapped Lips – Honey Lip Moisturizer
Honey has been acting across a vast time scale as a natural treatment for many problems [3], one of which is chapped lips treatment. Owing to the fact that honey contains anti-inflammatory and antibacterial properties, it is a wonderful thing to be put on your dry lips. You just need to apply the raw honey, or manuka honey (which is much better) on your lips with your fingertips, leave it overnight and you have the right to hope that your lip problems will dwindle and go away gradually after some time.
Read also: Honey for Skin Care – 34 Benefits and Uses of It for Skin
25 Health And Beauty Benefits Of Manuka Oil
6. Home Remedies For Chapped Lips With Water
There is no denying to the fact that water is an essential part in any beauty regimen. Regardless of what you put on your face and your body, if you do not hydrate yourself from the inside, it will definitely show up on the outside. In cold winter months, it is vitally important for you to drink the required amount of water, roughly from 1.5 to 2 liters on a daily basis on average for an adult. Even though you put a lot of lip balm, your chapped cracked lips will still be a matter of concern if you forget to drink your water. If you are bored drinking bland pure one, you can make your own smoothie, which is packed with heaps of nutrients necessary for your body or consume vegetable soup. By gradually increasing the amount of water, you are able to make up for the loss of hydration and moisture of your lips, which are brought about by coldness and dryness in winter. One tip to bear in mind is that you should drink your water in small gulps rather than in large amount at a time as this can give your body time to absorb the water rather than releasing it directly, which may make you want to visit the toilet many times.
Find also: 20 Tips How To Get Rid Of Swollen Lips From Cold Sore Overnight
7. Keep Foods Which Are Spicy And Sour At Bay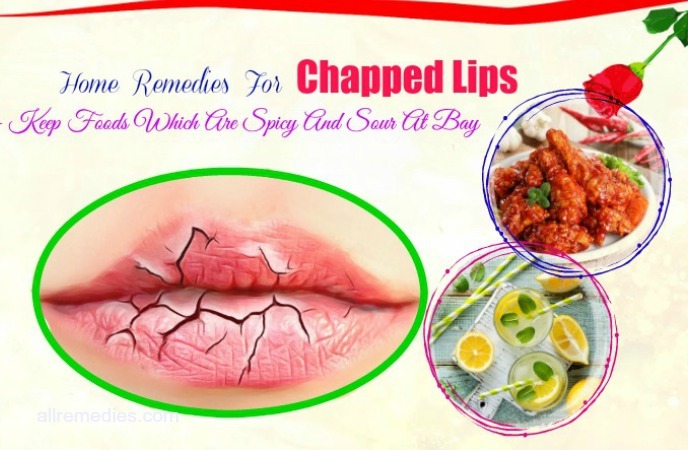 Have you ever experienced the tingling and uncomfortable feeling when sour foods such as orange or apple cider vinegar touch your dry chapped lips? The sour taste you can sense when you eat certain foods is the indicator that these foods contain a lot of vitamin C. Even though this vitamin is absolutely important in antiaging and anti-inflammatory, it is highly suggested that those who are suffering from chapped lips should refrain from it. This can create discomfort as well as further damage to your already sensitive lip skin. Furthermore, spicy food is another aggravator for dry and cracked lips. In some cases, it can cause infection as well as trigger blooding in the area around your lips. Subsequently, avoiding these foods for a period of time is equivalent to letting your lips time to heal themselves.
Read also: 50 Benefits of Apple Cider Vinegar For Health And Beauty
8. Home Remedies For Chapped Lips – Refrain From Using Matte Lipsticks
There is a quote that goes this way: "Lipstick is a girl's best friend." However, in case you are dealing with chapped lips in winter time, we regret to tell you that you should not meet your 'best friend' regularly, especially when it is matte. Matte lipstick can dry out your lips tremendously because they often comprise of lead, a component which can help to keep the color for long period of time. Your flaky and chapped lips will thank you for refraining from matte lipstick for some time. If you have no choice but to use the lipstick, you can reduce the effect of it on your lip skin by wearing a lip conditioner or a primer underneath.
Get also: 15 Best Remedies Using Milk For Dry Skin On Face And Body
9. Do Not Opt For Lip Balms Which Contain Peppermint Oil
This type of essential oil is famous for its cooling and refreshing contents. However, when it is incorporated in products you use on your lips, it can create negative effects by irritating the sensitive skin layer. One study conducted by a dermatologist in Canada suggests that people have the tendency to have allergies or irritations if their lip balm contains peppermint oil rather than vitamin E, coconut oil, olive oil, or lanolin [4]. Therefore, one of the home remedies for chapped lips overnight in summer or winter months is to avoid putting peppermint oil or products that contain this ingredient directly onto your lips.
Find more: 53 Health And Beauty Benefits Of Peppermint
10. Use A Humidifier In Your House, Especially In Your Bedroom
It is beyond the shadow of a doubt that the dry atmosphere, which is typical of winter days is the main culprit for your dry lips. One of the top simple home remedies for chapped lips in summer & winter is to gravitate towards a humidifier during the cold weather, especially when you sleep. This device is capable of bringing more moisture and water into the atmosphere in your place, thus the weather will not cause severe dryness to your skin and your lips specifically. This trick will definitely replenish your skin moisture, and you will wake up to notice that your lips are in a better condition as compared to previous night.
Learn more: 20 Natural Home Remedies for Dry Skin on Face, Hands and Legs
11. Wear Protection To Your Lips When You Go Outside
It is a common knowledge that the atmosphere outside the house is more extreme as compared to that inside. The cold and windy weather will obviously give you more risks of worsening your cracked flaky lips. If you can cover your hands and feet when the temperature goes low to retain the warmth, why can't you do exact same thing to your lips? All you might want to do is just wearing a mask on your face, and remember to put on lip moisturizer to protect them from losing the needed moisture.
Check more: 18 Home Remedies How To Treat Flaky Skin On Face Treatment
12. Home Remedies For Chapped Lips – Avoid Smoking & Drinking
It is widely known that smoking and drinking do bad for your overall health by causing many problems. One of them is dehydration. In order to digest the excessive amount of alcohol from drinking too much wine or beer as well as smoking, your body has to use the water which it has already stores. This can trigger dehydration, which can further worsen the issue of chapped lips in winter months. Therefore, you might want to cut down on your consumption of your favorite alcohol drinks and cigarette if you want to have moist and plum lips.
Learn more: 18 Tips How To Get Rid Of A Hangover After Drinking, Smoking Weed
13. Home Remedies For Chapped Lips Using Rose Petals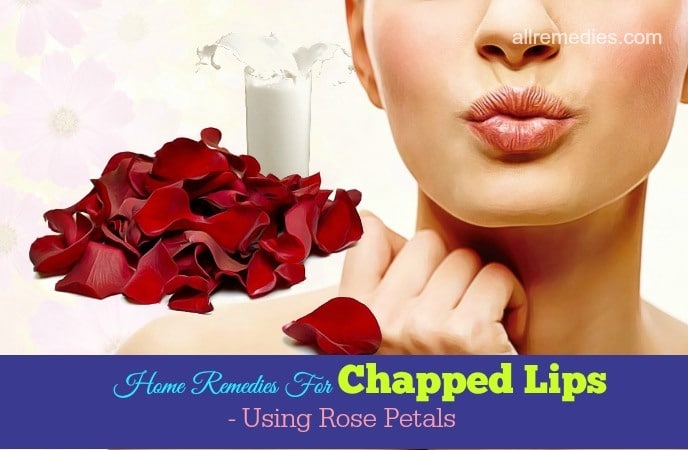 Rose petals have many beauty benefits [5]. When they are used for lips, they can not only retain the needed moisture but they can also brighten up the dark color, and make your lips plum as well as pink. All you need for this home remedy is 7 to 8 rose petals coupled with a small cup of raw milk. Just mix the ingredients together, then apply the paste directly onto your lips for about 15 to 20 minutes. In this way, you have just done your chapped lips a favor by giving it a beauty mask, which assists in bringing back the hydration for your thin lip skin in winter months.
Keep reading: Top 21 Best Foods For Skin Health And Complexion
14. Home Remedies For Chapped Lips With Green Tea Bags
After you drink your favorite tea, remember not to throw away the tea bags because it is quite helpful in treating the condition of chapped skin on your lips. You can follow this tip daily to achieve the best possible result: After you dip a tea bag in boiling water, let it cool down for a little bit then place it onto your lips. The antioxidants and anti-inflammatory ingredients in green tea known as tannins are able to hydrate your skin as well as calm the irritated lips down. Therefore, the next time you make tea at home, do not forget to keep the tea bags for moist lips in cold weather.
Get more: 27 Health and Beauty Benefits of Drinking Green Tea
15. Home Remedies For Chapped Lips With Vanilla Extract
Who does not love the smell of vanilla extract in winter month? This smell gives us the feeling of coziness and fullness, which are extremely comfortably in cold weather. Vanilla extract can not only be utilized for baking, it can also be used to treat chapped lips. This home remedy calls for some simple ingredients such as olive oil, sugar, baking soda, as well as vanilla extract. By mixing these aforementioned components together until they form a consistent paste and applying the paste on your skin as a scrub, you have the right to hope that your dry lips will go away sooner or later.
Check out: Top 23 Ways of Making DIY Homemade Sugar Scrub
16 Simple Ways to Make the Best Lotion for Dry Skin in Winter
Conclusion
It goes without saying that one of the worst nightmares happening in summer/winter is dry and chapped lips. However, you do not have to invest money on expensive lip balms and lip moisturizer in order to treat the condition properly. Only with simple ingredients you can totally find at home as well as some tips concerning eating and drinking habits, the cold weather will not bother your lips anymore. If you have any other tips and tricks which can reduce the problems using the natural home remedies for chapped lips overnight, do not hesitate to share with us in the comment section below.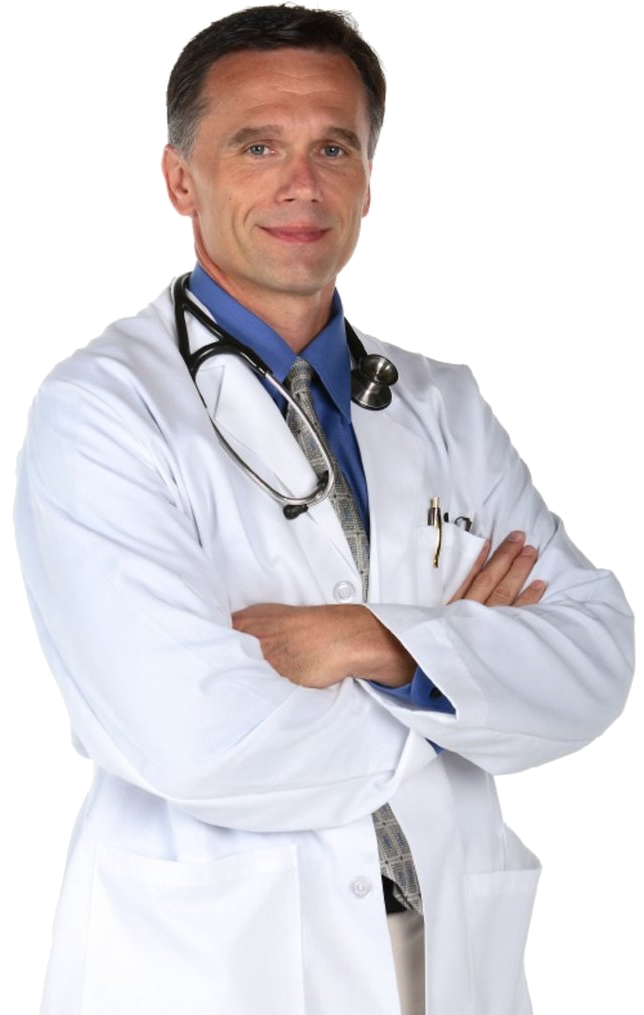 GET FREE ACCESS!
Lorem Ipsum has been the industry's standard dummy text ever since the 1500s, when an unknown printer took a galley of type and scrambled it to make a type specimen book. It has survived not only five centuries
RELATED ARTICLES
YOU MAY LIKE THIS