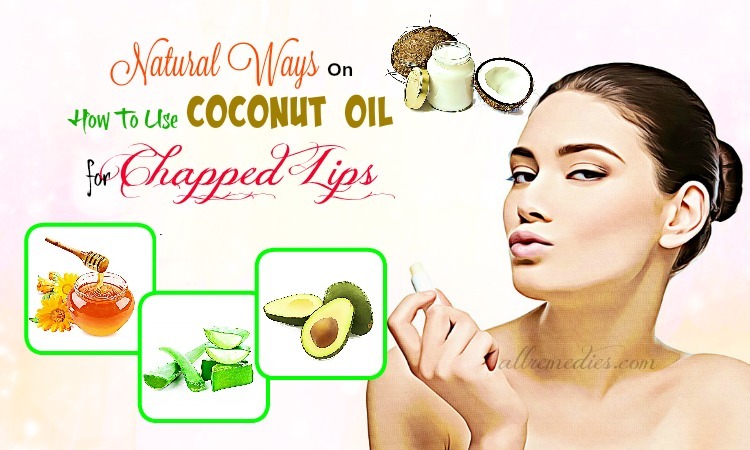 Top 8 Natural Ways On How To Use Coconut Oil For Chapped Lips
Overview
Smooth and cherry lips are always a desire of almost all girls and females, so taking care of lips is attached particular importance to women. However, sometimes, despite taking care of lips carefully by applying lip care products like moisturizers, it is still impossible for women to avoid chapped phenomenon on the lips, especially in the winter. The inner causes of chapped lips are the shortage of water and vitamins, the habit of licking lips or some diseases inside the body such as psoriasis, perleche, diabetes, etc. The chapped state always makes girls unpleasant, uncomfortable or even hurt. Don't worry! There are a great number of methods to help lips easily become smooth. Apart from supplement necessary nutrients, water to the lips, you can apply essential oils with high humidity content to remove the chap on lips. One of the most effective essential oils for chapped lips AllRemedies.com wants to introduce you is coconut oil. For sure, coconut oil is very familiar with women in taking care of beauty. In order to get more benefits of coconut oil for chapped lips and know how to use it for the phenomenon, let's keep reading the post.
Learn more: 49 Amazing Benefits of Coconut Oil for Health and Beauty
Why Can Coconut Remove Chapped Phenomenon On Lips?
Coconut is always listed in the natural beauty methods that women should not ignore. Coconut oil aids in taking care of the skin, stimulating hair growth, treating acne, and bringing you fleshy, soft, and pink lips. In coconut oil, there is a very high content of tocotrienol that has 50 times higher oxidants and other common types of vitamin E [1]. This helps to moisturize lips, prevent skin dryness, make lips smooth, improve the damaged skin, reduce skin aging, and provide nutrients that help heal skin cells fast. Also, coconut oil also has antibacterial properties that can remove bacteria causing a blister. Not only that it has an SPF of 7, so it can protect lips from sunrays and help them always pink and fresh. Coconut oil also contains lauric acid and medium fatty acids that can stop chapping, reduce inflammation, and reinforce the lipid layer on the lip skin. Thanks for these properties, coconut oil for chapped lips has gained many trusts from women and become one of their favorite lip care methods due to the simplicity to do and the high effectiveness.
Read more: 53 Benefits of Coconut Water for Health and Beauty
Top 8 Useful And Simple Ways On How To Use Coconut Oil For Chapped Lips
1. Coconut Oil For Chapped Lips Only
The simplest method to use coconut oil for chapped lips is applying a small amount of it directly on the lips for several minutes. You can perform the way several times per day or overnight to get the best result. With the remedy, your lips will be supplemented moisture immediately, and you can see the improvement after only a few times of use.
See more: Top 20 Methods on How to Use Coconut Oil for Hair Loss
2. Lemon Juice, Brown Sugar, & Coconut Oil For Chapped Lips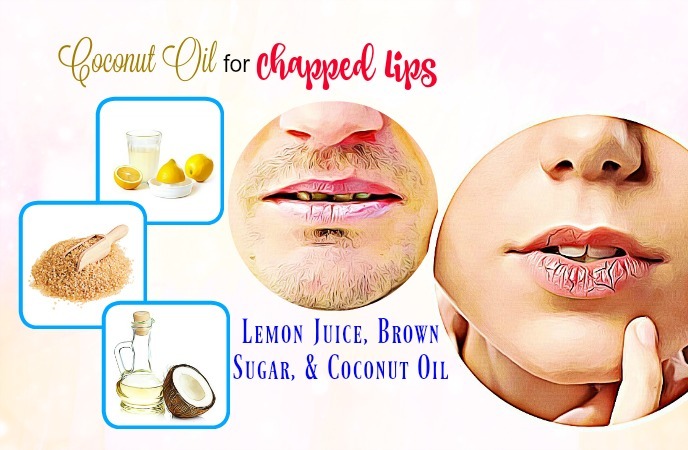 AllRemedies Partner Solutions
Keep Asking Questions Until You Get The Answer You Need!
The Medical Experts are all here to answer your questions online or with a phone call.
The dead cell layers that are accumulated too long will make the skin on lips less smooth, aging faster, and difficult to absorb nutrients. Therefore, it is the best to remove the dead cells on the lips and other parts of the body. One of the most effective exfoliating ingredients you can choose is sugar. With the particles, sugar can easily remove dead cells and stimulate the regeneration of the skin without any hurt [2]. Moreover, sugar is very cheap and easy to find. Additionally to sugar, you can combine with lemon juice to get rid of the lip dead cells easier. Lemon juice also contains a lot of vitamin E, natural acids, and antibacterial properties, whereby, it can remove dead cells from the lips and nourish lips, which makes them pink and smooth. Adding these two ingredients in coconut oil will create great mixture for taking care of lips effectively.
Detailed instructions to do this way:
Add a teaspoon of brown sugar, 1 teaspoon of coconut oil and 2-3 drops of lemon juice in a bowl then stir well

Wet lips then apply the mixture on them

Use figures to massage the lips in the opposite directions for 10 minutes

Rinse with cool water
Read also: 22 Best Ways on How to Use Lemon for Darkcircles
3. Sea Salt With Coconut Oil For Chapped Lips
Another familiar ingredient that you can combine with coconut oil to increase the efficiency in taking care of chapped lips is sea salt. Sea salt- a spice in every kitchen contains many minerals needed for healthy skin such as zinc, calcium, chlorine, vitamin A, magnesium and vitamin C, especially sodium, vitamin A, and vitamin E which can stimulate repairing damaged skin and regenerate new cells. Not only does the spice clear skin dead cells to make the skin smooth and whiter, but it also enhances blood circulation, moisturizes and maintains the resilience of the skin. Therefore, sea salt is widely used in the beauty tips including the tips for smooth and fleshy lips.
Detailed instructions to do this way:
Mix a teaspoon of coconut oil and a teaspoon of sea salt

Apply the mixture on the lips and gently massage them for some minutes

Rinse the lips with water and wipe them dry

Do the method for 3 times per day to take back your smooth lips after only several days
4. Honey With Coconut Oil For Chapped Lips
Honey is a common ingredient largely used in the skin care thanks to its usefulness in moisturizing and bringing a smooth and fresh skin and removing dirt from the surface. Honey also contains a high number of vitamins B1, B5, E, minerals, and antioxidants to help prevent skin from aging effects. Whereby, to moisturize lips better, using honey is a wonderful method. Moreover, if the chapped and dry lips last long, it may be due to bacteria meanwhile honey has excellent antibacterial properties; so using honey to remove the chap is a recommendation for everyone. You can apply only pure honey on the lips or combine with coconut oil to make a better remedy.
Detailed instructions to do this way:
Mix a teaspoon of coconut oil and a teaspoon of honey

Apply the mixture on the lips and leave it on overnight

Wash the lips off with water and wipe them off in the morning

Repeat the method every day for the best result
If you want to learn more simple ways on how to use coconut oil for chapped lips, you need to continue reading the next part of this post.
See more: Wondering How to Use Honey for Glowing Skin? Try These 10 Ways
5. Aloe Vera With Coconut Oil For Chapped Lips
Many studies have shown the wonderful composition and effect that the aloe vera gel brings to the skin of women. Not only is aloe vera useful in skin care but it is also used as a raw ingredient to treat dry and cracked lips. The results will make you surprised.
In aloe vera, there are many vitamins A, C, E, B1, B5, B6, B12, etc. that can sufficiently supply necessary vitamins and minerals to nourish the skin and regenerate new cells. Also, unsaturated fatty acids such as gamma linoleic acid, acemannan in aloe vera affect on reducing swelling, relieving allergies, healing wounds & scars on the skin, and tightening pores to soften the skin. Moreover, polysaccharides: cellulose, glucose found in the aloe vera plant have the antiviral effect and strengthen the immune system; as a result making the skin healthy and always smooth. Thanks to these properties, using aloe vera for chapped lips is an effective remedy. You can combine it with coconut oil to get a better result.
Detailed instructions to do this way:
Extract aloe vera gel from its fresh plant

Mix a half of teaspoon of coconut oil with a teaspoon of aloe vera gel, can add few drops of vitamin E

Apply the mixture on the lips for 5-10 minutes

Rinse the lips with water

Repeat the method several times per day
6. Avocado And Coconut Oil For Chapped Lips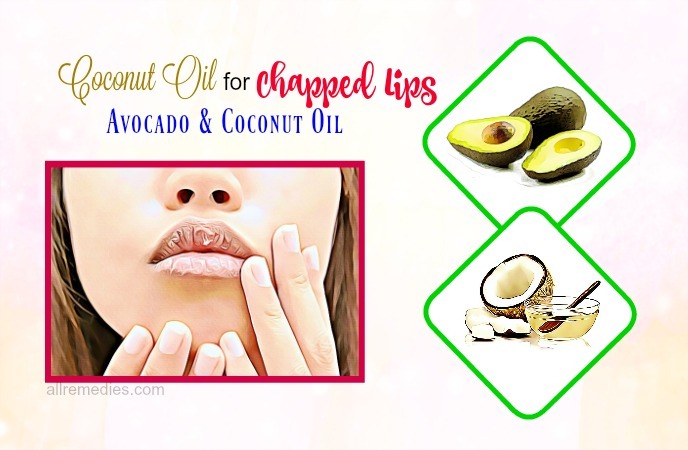 There is a typical fruit that women can mix with coconut oil to create a natural lip care product is avocado. Avocado has been used a lot by women as a mask to take care the facial skin. Avocado contains high levels of antioxidants, vitamins, and minerals. As a result, products from avocado have anti-aging effects, offer nutrients, and increase skin elasticity. Especially, the oil in the avocado helps regenerate and moisturize the lips very efficiently.
Detailed instructions to do this way:
Remove an avocado's peel and pip then green it

Mix 1 teaspoon of avocado and 1 teaspoon of coconut well

Apply the mixture on the lips for 5-10 minutes

Wash the lips with water

Do the method every day. The remaining avocado can be kept in the refrigerator for the next times of use. For sure, your lips will become softer and smoother after only several days of applying
Get more: Avocado Oil for Skin and Hair Care
7.  Beeswax And Coconut Oil For Chapped Lips
Similarly to honey, beeswax is also very beneficial for the skin. Being a part of honeycomb, beeswax is a block with many small holes which are the residence of the bee. After extracting the pure honey, the rest – beeswax is also the best and safest ingredients for lotion products. In beeswax, there are many substances (monosaccharides, cellulose) acids, (fatty acids and esters, amino acids, etc.), minerals (calcium, iron, copper, etc.), and vitamins (B1, B2, pro-vitamin A, E, etc.) that are super good for health, especially for skin. Beeswax has the ability to soften and moisturize the skin. When using beeswax, it will provide the skin with a firm, long-lasting protective film to fight against harmful environmental factors. Simultaneously, it is also a natural anti-inflammatory, anti-bacterial moisturizer agent, which makes skin always soft and smooth and prevents it from dryness and chap [3]. Beeswax can stimulate, regenerate, and grow new cells. Moreover, beeswax has sun-protecting and water-repellent effects and can combine with many components to increase the effectiveness. Therefore, not only used in the facial skin care methods, beeswax is also widely taken advantage to make a homemade lip balm with coconut oil.
Detailed instructions to do this way:
Use a knife to cut beeswax into small pieces, put them in a bowl then put the bowl in a steamer with water and heat till the beeswax melts

Add pure coconut oil in the beeswax while steaming then stop heating when the beeswax and coconut oil melt completely

Can use some natural flavors like fruit, vanilla, or chocolate to make more attractive scent

Pour the mixture into a clean lip balm bottle

Wait a few minutes until the mixture is completely dry, then you have an attractive and useful lip balm bottle absolutely from nature with beeswax and pure coconut oil

Take a small amount of the mixture and apply on the lips every day to make the lips pink, soft and fleshy
See more: 30 Tips How To Get Rid Of Dark Lips & Have Pink Lips In One Week
8. Shea Butter With Coconut Oil For Chapped Lips
Shea butter is not familiar with everyone but you need to admit its effectiveness for taking care of the skin and lips. Shea butter is rich in vitamins E, A, F, the essential nutrients for the beautiful skin and has high levels of fatty acids with natural antioxidant compounds. Therefore, it is extremely effective in moisturizing the skin and helps to regenerate skin cells quickly. In details, the important antioxidants in shea butter have been found to help reduce the aging process of the lips & facial skin, which helps to give you a youthful and fleshy skin. The essential fatty acids provide nutrients that are useful for maintaining the skin's elasticity and erase sunburn. Moreover, high levels of vitamin A and vitamin E in shea butter have a softening effect on the dry cracked lips and provide nutrients to make skin cells healthy, reduce the formation of dead cells, and protect skin from the powerful effect of sunlight. Shea butter will start to melt when exposed to the skin; so it is a great choice for lip balm and moisturizer. Combining shea butter and coconut oil will create a perfect lip balm.
Detailed instructions to do this way:
Pour 1-2 cups of water in a pot, put a bowl in it then heat the pot

Add some beeswax, shea butter and coconut in the bowl then stir well until these ingredients melt completely

Mix some drops of peppermint oil or vitamin E oil in the mixture, stir well then turn off the stove

Pour the mixture into lip balm tins or tubes and keep them in the cool places

Take a small amount to apply on the lips whenever feeling dry on the lips, using it regularly every day helps lips always soft and smooth
Tips And Precautions On Using Coconut Oil For Chapped Lips Treatment
It is better to apply coconut oil on the lips before going to bed since this can prevent lip dryness on the next morning.

Apply lip balm with SPF before going out to protect your lips from sun rays

Stop licking your lips since this takes away natural oil of the lips, which makes your lips more chapped

Drink much water is the best way to the smooth and fleshy lips

Add coconut oil to your cooking and avoid eating spicy foods when your lips are chapped, supplement foods rich in vitamins, minerals, fatty acids, iron, etc.

Stop using lip care products right after seeing an allergic reaction

If your lips are painful, somewhat bleeding and swelling, you should meet doctors since they are signals of a more severe disease.
Coconut oil is very safe, and it almost has no side effect when used. Therefore, you always do not need to worry when applying coconut oil to chapped lips. These above ways on how to use coconut oil for chapped lips are so simple, extremely easy to follow and not less effective than any lip-care products sold in the cosmetic stores. Doing them regularly every day, you can have sexy and attractive lips as you always expect. Follow the treatment for other skin & hair conditions in How To and learn more.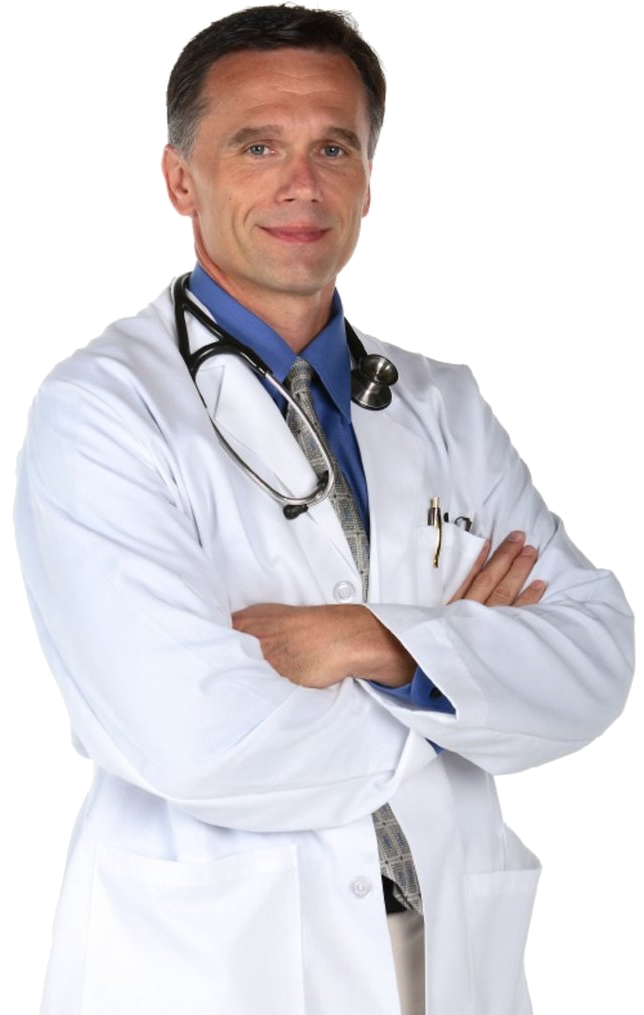 GET FREE ACCESS!
Lorem Ipsum has been the industry's standard dummy text ever since the 1500s, when an unknown printer took a galley of type and scrambled it to make a type specimen book. It has survived not only five centuries
RELATED ARTICLES
YOU MAY LIKE THIS