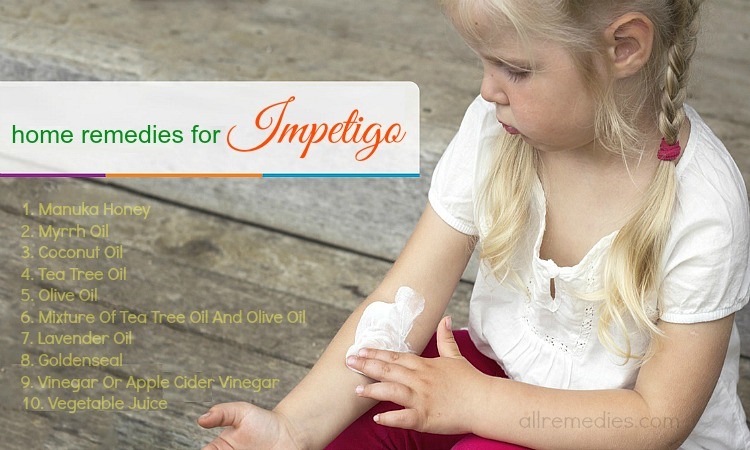 20 Home Remedies for Impetigo: Causes, Symptoms, Prevention
Overview
Impetigo is one of the skin conditions with a high contagion that often occurs on the hands, neck, and face of the young children and infants. The adults rarely suffer from this condition.
What Are The Causes Of Impetigo Infection?
There are some certain children able to develop impetigo. They are the children of 2 to 6 years of age and often attend a school or daycare, a crowded environment where bacteria can spread easily, join in activities involved in skin-to-skin contact.
It can come to the children with poor hygiene or a compromised immune system. The children have skin irritated by other conditions or dermatitis or diabetes that are likely to develop impetigo.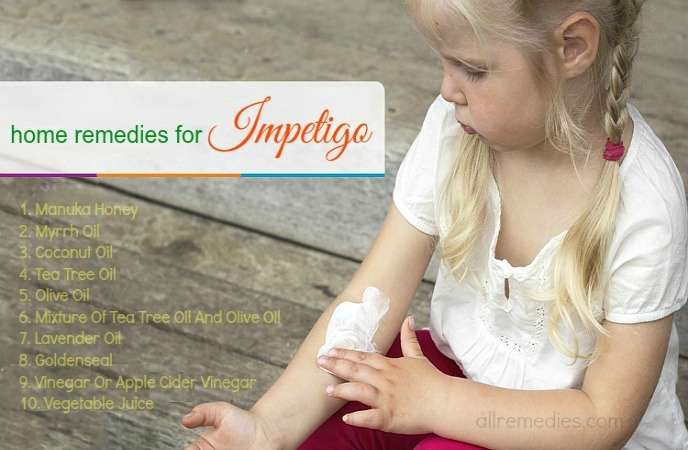 The main causes that lead to this skin condition are due to two bacteria: staphylococcus aureus [1] and streptococcus pyogenes [2]. It can occur due to having skin-to-skin contact with a person with impetigo, touching some things like toys, bedding, towels that a person with impetigo has contacted with, insect bites, animal bites, or injury to the skin.
Other risk factors of impetigo infection development include:
A weakened immune system

Crowded conditions: the condition easily spreads in schools or child care settings.

Weather condition: Warm, humid weather is the factor which can spread impetigo infections.

Certain sports involving skin-to-skin contacts like football or wrestling can increase the risk of spreading impetigo.

Broken skin: the skin condition increase the impetigo spreading

Adults and those with diabetes are more likely to get ecthyma.
Learn also: 37 Best Natural Home Remedies for Diabetes Mellitus
What Are The Symptoms Of Impetigo Infection?
There are 3 types of impetigo [3] including impetigo contagiosa, bullous impetigo, and ecthyma, in which impetigo contagiosa is the most common in children.
AllRemedies Partner Solutions
Keep Asking Questions Until You Get The Answer You Need!
The Medical Experts are all here to answer your questions online or with a phone call.
Impetigo contagiosa or nonbullous impetigo is highly contagious. It often begins with the appearance of red sores around the mouth and nose.
Bullous impetigo is most common in children under 2 years old. The first symptom of this condition is the appearance of blisters on the torso, arms, and legs with the red and itchy areas around them.
However, ecthyma is the most serious as it can affect the second layer of the skin. Blisters of this form often cause the pain and may turn into ulcers or open sores.
Although there are some types of impetigo, their symptoms are often uncomfortable and similar including skin lesions, itchy rash, fluid-filled blisters, red sores that can pop easily and leave a yellow crust, and swollen lymph nodes.
Get more: 30 Home Remedies for Swollen Lymph Nodes in Neck and Throat
When To See A Doctor
If you have the above symptoms or suspect you or your child may have impetigo infection, you should consult your doctor, or your child's pediatrician soon. Depending on which bacteria cause impetigo and the severity of the symptoms, the children will be treated by the proper treatment.
Along with many special medical treatments from your doctor, there are also some natural home remedies for impetigo infection in children and adults that can help heal impetigo fast with fewer symptoms. Now, let's read the following writing in AllRemedies to know what you should do:
Get also: Top 24 Natural Home Remedies for Rashes on Body
Some Tips For Impetigo Prevention
Although impetigo is serious, it can be prevented if you are aware of it.
The best method to prevent it is to maintain a strengthen immune system

The other tip is maintaining good hygiene. In particular, your children should wash their hands and take a bath regularly. If there is any injury on their body, it should be cleaned and covered carefully.

You should also prevent your children from scratching the sores. This action can make this condition worse and make the rash across the body spread quickly or to other people.
To prevent impetigo infection from spreading to others:
Wash your hands frequently.

Cut the infected person's nails short to prevent skin damage from scratching.

Keep your child at home until your child's dermatologist check he or she cannot be contagious.

Remember to wear gloves when you apply antibiotics and then wash your hands carefully afterward.

Wash the infected patient's clothes, towels, and linens daily and avoid sharing them with others.

Gently and carefully wash the affected areas with some mild soap under the running water and cover them lightly with gauze then.
Read more: 18 Tips on How to Stop Rashes From Spreading and Itching
20 Useful & Effective Home Remedies For Impetigo Infection In Children & Adults
1. Manuka Honey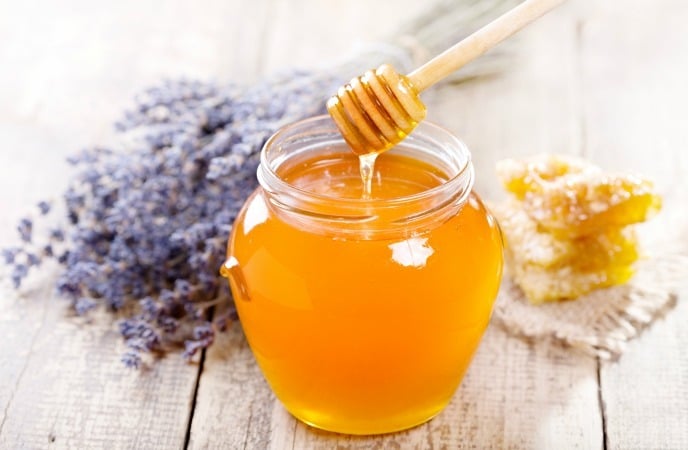 Manuka honey is also one of the popular home remedies for impetigo in children. Thanks to its antiseptic and soothing effects, it can help your body fight the bacteria that cause this condition. Using manuka honey is also very safe for children.
You simply take about 2 teaspoons of this honey before every meal so that your condition can get better.
See more: 25 Health And Beauty Benefits Of Manuka Oil
2. Home Remedies For Impetigo Using Myrrh Oil
Myrrh oil is also one of the good oil that is often used on many tips on how to treat many diseases including interleukin [4] and tumor necrosis factor thanks to its ability to reduce levels of inflammatory chemicals in the blood. Keeping concentrations of the inflammatory chemicals to a minimum is very significant for fighting off infections including impetigo as it can help to create a better chance to treat the infection. Myrrh oil is also found to be very effective in controlling a serious infection that caused by a type of bacteria called staphylococcus aureus that similar to the bacteria cause impetigo.  Especially, it can be combined with manuka honey to get the best effect as myrrh contains anti-infective properties and honey has antiseptic and soothing qualities that are very effective in curing the severe infectious.
In order to get the best result, you can take 2 teaspoons of honey before every meal, at the same time use the mixture of a few drops of myrrh oil with water to rinse the affected area. But you should follow the directions of the manufacturer carefully when using this oil as its strength of each product is different.
Find more: Honey for Skin Care – 34 Benefits and Uses of It for Skin
3. Coconut Oil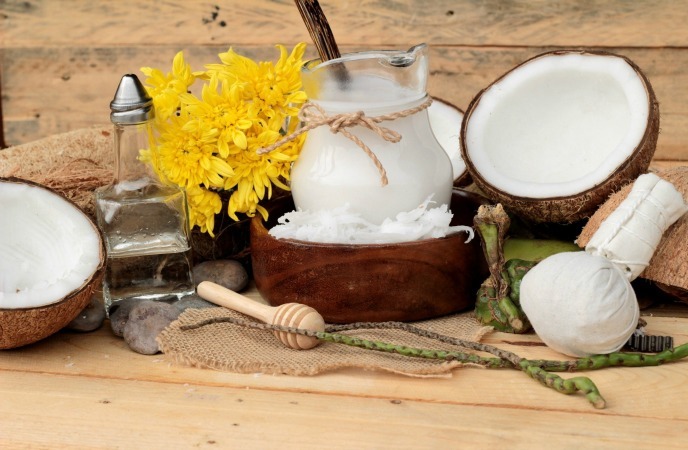 Coconut oil is one of the excellent oils for skin, hair, and health. The natural coconut oil is proven to have some certain acids that can be destructive to many strains of bacteria including staphylococcus and streptococcus that cause impetigo. That is why it becomes one of the natural home remedies for impetigo in children and adults.
You can use coconut oil to apply on the infected areas daily so as to eliminate the bacteria and make your skin brighter and prevent scars.
Read more: Top 25 Natural Home Remedies for Itching Skin Rashes All Over Body
49 Amazing Benefits of Coconut Oil for Health and Beauty
4. Home Remedies For Impetigo – Tea Tree Oil
Many studies have shown that tea tree oil is very beneficial to fighting against the staphylococcus bug, one of the main factors cause impetigo. In addition, the experts have found that ordinary tea also provides the good protection against the attack as well as the spread of the infections. For the children with the irritated skin, using this oil should be combined with another carrier oil to avoid unexpected irritation.
If you want to cure this condition with tea tree oil, you can take 2 or 3 drops of this oil to apply on the affected areas 3 times a day. The infection will be better.
Check more:  39 Wonderful Benefits of Tea Tree Oil for Skin, Hair, and Health
5. Olive Oil
One of the good home remedies for impetigo in children is olive oil. Olive oil has been used as a mild antiseptic for the skin for a long time ago. Now, many scientists showed that the powerful chemicals like oleuropein and rutin [5] found in olive oil seem so effective in fighting against infectious bacteria like staphylococcus aureus.
It can be used by applying a few drops of this oil over and around the affected skin 4 times a day. In addition to its usage of fighting this condition, it can help prevent it effectively. If you contact any person with impetigo, especially there is a skin injury on your body, you can apply this oil to prevent the infection.
Find more:  15 Uses & Benefits Of Olive Oil for Skin Care
6. Mixture Of Tea Tree Oil And Olive Oil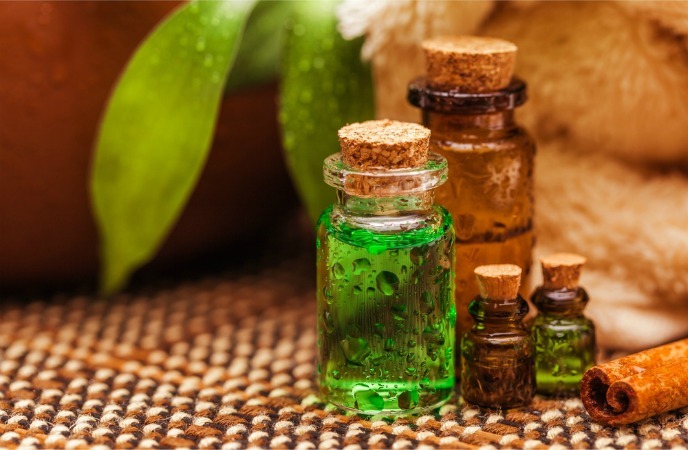 As we mentioned on the above, both tea tree oil and olive oil are very beneficial to impetigo. It is good if you want to combine them together so as to strengthen its ability to treat the infection more quickly and effectively.
You need to pour a few caps of both olive oil and tea tree oil in a small bowl and mix them well. Then you use this mixture to apply on the infected skin and leave it on for some minutes. This solution can be repeated at least 3 times a day to cure impetigo.
Read more: Top 11 Tips Using Olive Oil For Psoriasis Treatment On The Scalp
7. Home Remedies For Impetigo With Lavender Oil
Beside some popular oils for impetigo like olive oil, coconut oil, tea tree oil, lavender oil is also good oil for curing impetigo. After washing the affected areas, you can use a cotton ball with 2 drops of lavender oil to apply softly on the infected skin about 4 times a day until it is cleared up thoroughly.
Get more: 29 Benefits of Lavender Oil for Hair, Skin, and Health
8. Goldenseal
Goldenseal is known to be very beneficial to many skin conditions like impetigo. It is found to contain anti-infective chemicals like beta-hydrastine, berberine, canadaline, and canadine that are so effective in fighting the infections caused by streptococcus and staphylococcus, the main bacteria cause impetigo.
Goldenseal can be used in supplement form with its recommended dosage of one 250 mg tablet and 3 times a day. Alternatively, it is also used in liquid or cream form to apply directly to the affected skin 3 times a day.
Learn also: 20 Natural Home Remedies For Dry Skin On Face, Hands, And Legs
9. Home Remedies For Impetigo – Vinegar Or Apple Cider Vinegar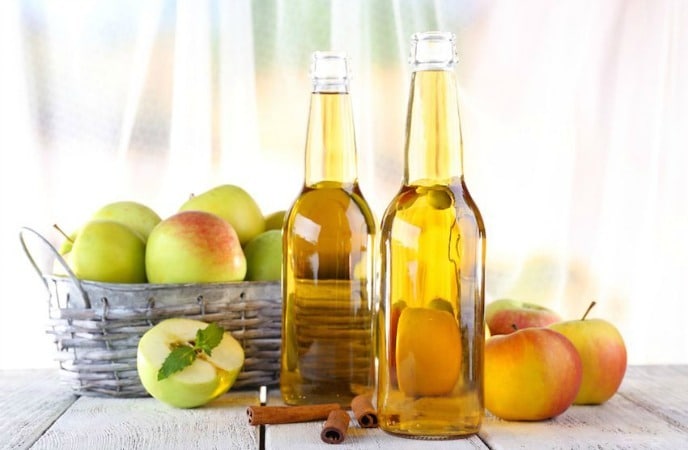 Vinegar is very useful for eliminating the bacteria naturally thanks to its antiseptic and antimicrobial properties. You can use white distilled vinegar as a natural antibiotic solution so as to treat impetigo. Using this remedy can help reduce the infection as well as prevent the scabs. You can use vinegar or apple cider vinegar for the best effects. However, the children with an irritated skin should be careful when applying this remedy.
Firstly, you need to mix 1 tablespoon of white distilled vinegar with 2 cups of water. Then you use this solution to apply on the affected area for about 15 minutes.
Or hot water vinegar bath is also a great choice for the people with impetigo. You can add ¼ part of vinegar in a tub of hot water and take a bath. It can be very helpful for your condition.
See also: 50 Benefits of Apple Cider Vinegar For Health And Beauty
11 Tips Using Apple Cider Vinegar for Warts Removal on Hand, Knee
10. Vegetable Juice
One of the good home remedies for impetigo infection in children and adults that is used widely is vegetable juice. Drinking vegetable juice regularly can help the people with impetigo strengthen the response of the immune system. Some vegetable juices that can be good for this condition are the juice of beets, carrots, apple, and other fresh veggies.
Check also: 18 Amazing Benefits of Tamarind Fruit & Juice for Health & Beauty
11. Home Remedies For Impetigo Using Aloe Vera
Aloe vera is one of the most popular herbs in beauty and disease treatment. It is considered as a popular moisturizer for relieving the dry skin that causes itching thanks to its soothing property. Hence, it is often used to get the good relief from impetigo [6]. Aloe vera also contains anti-inflammatory property that is useful for treating the infections like impetigo.
With this remedy, you simply use your finger tip to apply aloe vera gel over the itchy area caused by impetigo and you will get a good relief quickly.
Read also: Top 31 Benefits of Aloe Vera Gel and Juice
12. Grapefruit Seed Extract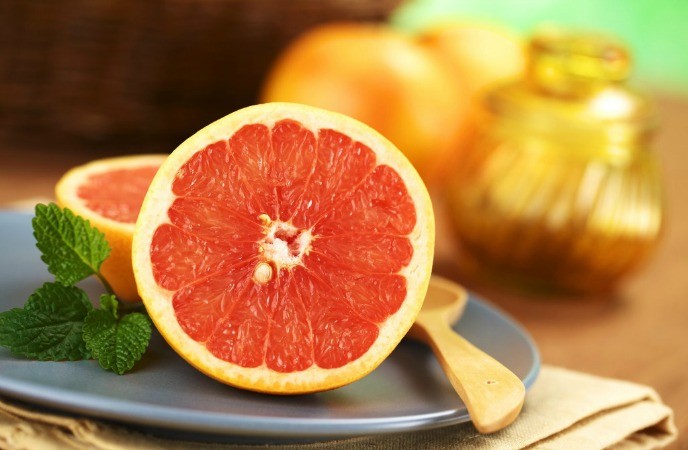 This is known to be one of the most popular home remedies for impetigo infection in children/ adults that you can use. It can be used for curing topical skin infections including impetigo as it can work as a very powerful antioxidant and nontoxic disinfectant.
This grape seeds extract can be prepared at home, you only need to grind grapes with its seeds well and use a cotton swab to apply it on the affected area.
You can add garlic in this extract to get a permanent solution. Garlic can make your extract get more effective.
Find more: 34 Health And Beauty Benefits Of Grape Seed Oil
13. Home Remedies For Impetigo With Garlic
Garlic is really a wonderful herb for the human health. It contains a great source of nutrients necessary for the human body. Plus, according to the world's healthiest foods, it has anti-inflammatory, antioxidant, antibacterial, and antiviral properties that are necessary for fighting many severe diseases like ulcer, cardiovascular diseases, and cancer. Curing impetigo is also one of the common benefits of garlic.
You can use the crushed garlic cloves to apply directly over the infected skin to reduce the symptoms of this condition, at the same time prevent from itching effectively.
Alternatively, you simply chew about 2 cloves of garlic daily to get the same effect.
Learn also: 22 Science-backed Home Remedies For Scabies Itching
14. Home Remedies For Impetigo – Turnip
Another way that you can apply easily is the turnip. With this remedy, you only need to soak the slices of turnip in natural vinegar or rice water for about 6 hours. And then you can eat them regularly to improve impetigo effectively.
15. Home Remedies For Impetigo – Thyme And Rosemary Leaves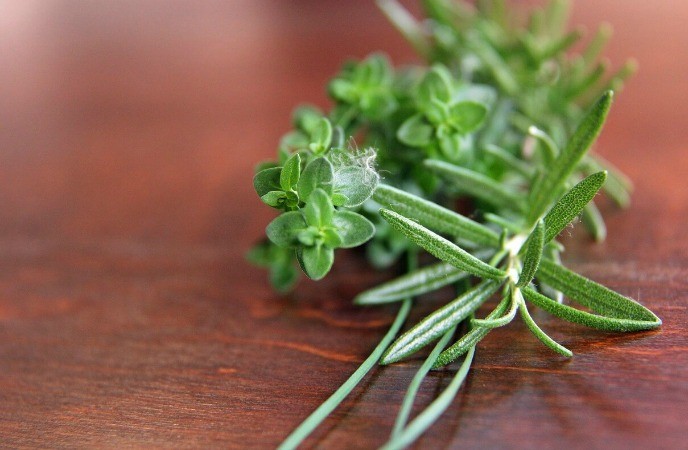 One of the effective home remedies for impetigo infection is to use thymes and rosemary leaves. Use this remedy regularly can help cure impetigo sores and bring about a good result. You simply bring 2 cups of water to a boil and take ¼ cups of each of rosemary and thyme leaves to add in it. Continue to simmer in the water for about 15 minutes. This solution can be used as a cleaning mixture with a safe for the children.
Learn more: 23 Benefits of Rosemary Oil and Extract for Health, Skin, and Hair
16. Dietary Changes
Changing your daily diet may help to support the immune system for preventing and treating many conditions like impetigo. A diet rich in organic fruits, vegetables, and whole grains can contribute to aiding your immune systems. So you should try an all-fruit diet for the first 2 or 3 days when your children begin the first symptoms. Besides that, you also should reduce animal protein in the daily meal and use extra virgin olive oil as the primary fat instead of polyunsaturated vegetable oils or margarine.
17. Home Remedies For Impetigo – Keep Infected Areas Clean
This is also one of the key factors that help heal this skin infection fast. You can do it by using an unscented antibacterial soap and water to wash the affected area with a clean gauze and cloth. Do it at least once a day. After that, you need to use a clothing, gauze, or bandage to cover it loosely.
Read also: 25 Natural Home Remedies For Skin Tags Removal On Face And Body
18. Remove Crusted Area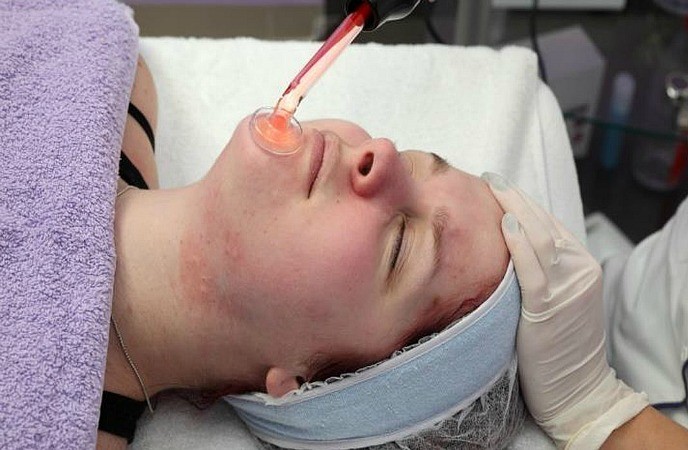 In some cases, the infected areas may crust and form scabs. Removing the scabs can help facilitate healing more effectively. However, you should not remove it directly without doing anything before. You should soak the infected areas in warm and soapy water first for some minutes to make the scabs easier to remove.
Another way is to add 1 tablespoon of white vinegar in a pint of warm water and then soak crusted areas in a vinegar solution for about 15 minutes before removing.
19. Home Remedies For Impetigo – Avoid Bath Products
Avoiding bath products is also one of the good home remedies for impetigo in children that you should notice and follow. The children with impetigo should use only the antibacterial soap for their hygiene. Some skin products like bath products that are often used around the infected areas should be avoided. These products may worsen the condition. So avoiding them can help provide the treatment as soon as possible.
Learn more: 25 Tips How To Get Rid Of Bruises Fast On Face, Knees, Legs, Arms
20. Home Remedies For Impetigo – Zinc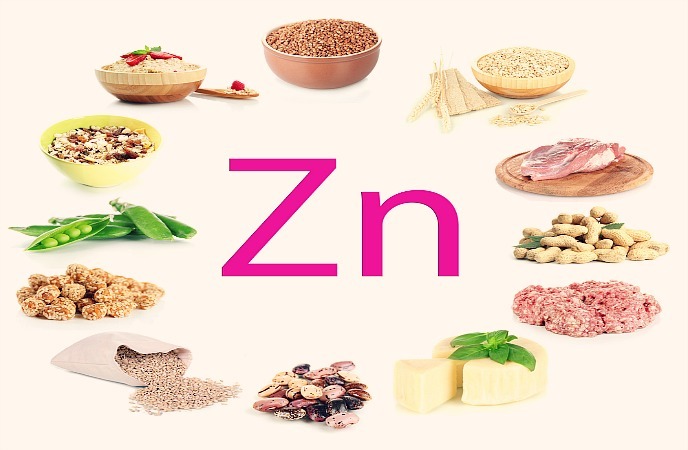 As we know the immune systems of premature babies are so weak that they are vulnerable to developing impetigo. There are some studies have found that this mineral plays an important role in strengthening your immunity as well as reducing the risk of impetigo in premature babies. That is why increasing zinc intake is so important. The best dosage of zinc or zinc citrate is about 15 mg a day for the adults. Or you can add the foods rich in zinc to your daily diet to make sure of your enough zinc intakes.
Let's check: 21 Quick Natural Home Remedies for Diaper Rash in Babies
Conclusion
The above are some basic information about causes, symptoms, prevention, home remedies for impetigo infection in children and adults that all should know. There is also different information related to the human health in our website that may be useful for you. Let's visit and find it. Finally, you can leave your comment if you have any question or answer related to this topic. We will reply to you as soon as possible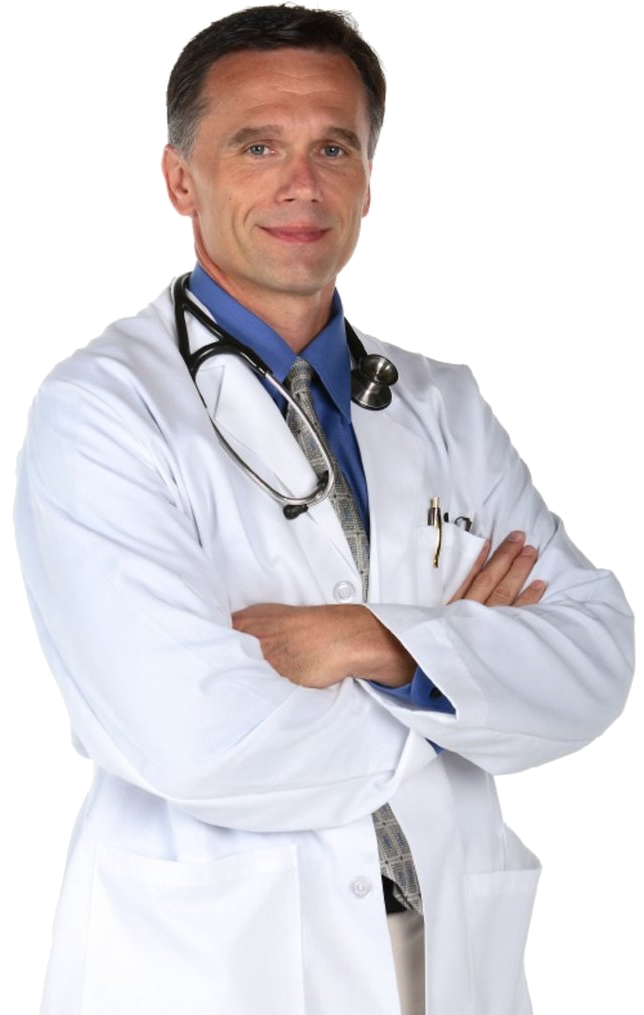 GET FREE ACCESS!
Lorem Ipsum has been the industry's standard dummy text ever since the 1500s, when an unknown printer took a galley of type and scrambled it to make a type specimen book. It has survived not only five centuries
RELATED ARTICLES
YOU MAY LIKE THIS