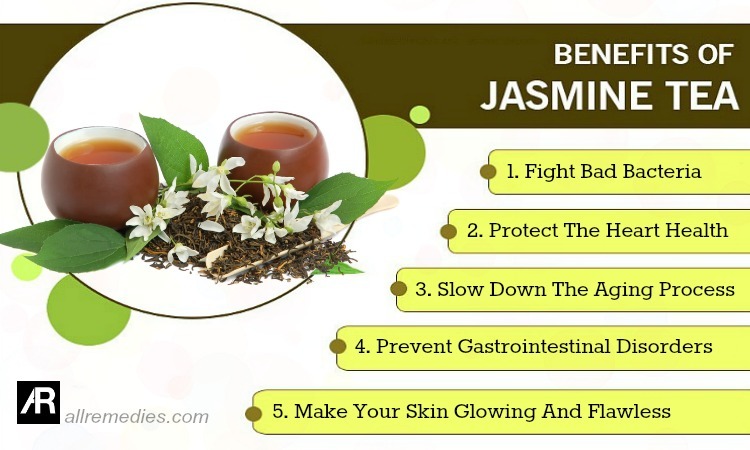 Medically reviewed By Dr. Millie Lytle ND, MPH
15 Health and Beauty Benefits of Jasmine Tea
Updated: 7/8/2019
I – What Is Jasmine Tea?
Jasmine tea is typically green tea that is scented with the aroma of jasmine blossoms. Hence, drinking jasmine tea has the same amazing health and beauty benefits as you get from green tea. It is considered one of the well-known kinds of tea in China. This tea was used under the Song Dynasty and served for royalty. It originally appears in Persia. Because jasmine tea products are currently exported to the Western and many countries around the world, it has become immensely popular. Many people like drinking it due to its unique scent and delicious taste.
II – What Are Health And Beauty Benefits Of Jasmine Tea?  
Wonderful Reasons For You To Drink Jasmine Tea Regularly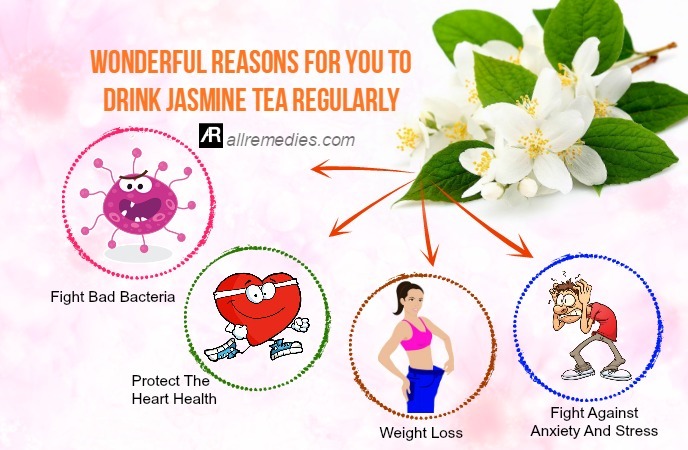 Here are the stunning health and beauty benefits of jasmine tea you should know. Read this article on Allremedies.com to know more.
1. Fight Bad Bacteria
It is recommended that jasmine tea has the ability to fight against unhealthy bacteria effectively[1]. Moreover, drinking jasmine tea also helps stimulate the formation of good bacteria in your body, protect gut and digestion health[2].
2. Protect The Heart Health
In the article about the health and beauty benefits of jasmine tea, we would like to let you know that jasmine tea may prevent cardiovascular conditions such as stroke and heart attack. Jasmine tea helps decrease harmful fats and cholesterols that increase the risk of heart attack and stroke. Jasmine tea contains catechins that stop LDL-oxidation, which is one of the common causes of heart disease[3].
AllRemedies Partner Solutions
Keep Asking Questions Until You Get The Answer You Need!
The Medical Experts are all here to answer your questions online or with a phone call.
3. Weight Loss
Jasmine tea should be included in a diet if you desire to lose weight. If you want to look for effective ways on how to lose weight, you should not ignore this. Jasmine has a great source of antioxidants that play an indispensable role in boosting your metabolism[4] [5] Proper metabolism supports for exercise to work effectively and increases nutrient absorption. Additionally, drinking jasmine tea every day speeds up the rate of fat burning[5a].
4. Fight Against Anxiety And Stress
Stress-relieving ability is also one of the benefits of jasmine tea for health. The research found out that jasmine tea is beneficial in relieving stress and anxiety [6]. If inhaled, the pleasant scent of the jasmine tea may aid calm your nerves, improve your mood, and decrease heart rate. The first thing you should do before you take a sip of jasmine tea is to smell its scent. Thanks to those medicinal properties and soothing effects of jasmine tea, it has been widely applied in aromatherapy.
5. Keep Cancer At Bay
There is no effective and complete treatment for cancer. Therefore, scientists and doctors always suggest that we should keep a healthy diet and build a good lifestyle to avoid this dangerous disease. You should eat various vegetables and fruits, exercise regularly, and sleep 8 hours per day. Moreover, jasmine tea should be consumed daily for overall health. Scientists and researchers have found a close relationship between jasmine tea consumption and a decrease in the risk of getting cancer. Antioxidants in jasmine may prevent free radical damage that likely leads to cancer[5].
6. Slow Down The Aging Process
Everyone always desires to look young forever. If you are looking for effective anti-aging solutions, you should not ignore jasmine tea. Jasmine is fully loaded with antioxidants that may prevent free radical damage and slow down the aging process. Free radicals not only speed up the aging process but also increase the risk of developing cancer in your body[8] [9]. With the aim of maintaining youth and health, you had better drink two or three beverages of jasmine tea per day.
7. Prevent Colds And Flu
Both flu and colds are common illnesses with  the same symptoms, such as sore throat and cough. They are often caused by viruses and bacteria. People with a poor immune system are more likely to suffer from flu and colds. Resting, drinking a lot of water, and taking prescribed medications may alleviate the uncomfortable symptoms and treat flu and cold. Although flu and colds are curable, you should not overlook it. Flu probably leads to fatal complications.
It is pivotal for you to take care of yourself and maintain a healthy lifestyle for the prevention of colds and influenza. It is proved that jasmine tea may help people avoid catching flu or cold[10]. When you feel sick, you should drink several cups of jasmine tea to fasten your recovery because it contains antibacterial and antiviral properties[11] [12].
8. Reduce High Blood Pressure
One of the enormous benefits of jasmine tea is to reduce high blood pressure. Catechin compounds, epicatechin gallate, and epigallocatechin gallate (ECGC) in jasmine have cholesterol-lowering properties[13].
If you want to take the most advantage of jasmine tea, especially in lowering high blood pressure, you should mix it with green tea.
Here is the instruction:
Add one teaspoon jasmine tea and green tea in a teapot filled with 2 cups of boiling water

Steep it for 5 to 10 minutes

Strain the tea and drink it daily
9. Prevent Gastrointestinal Disorders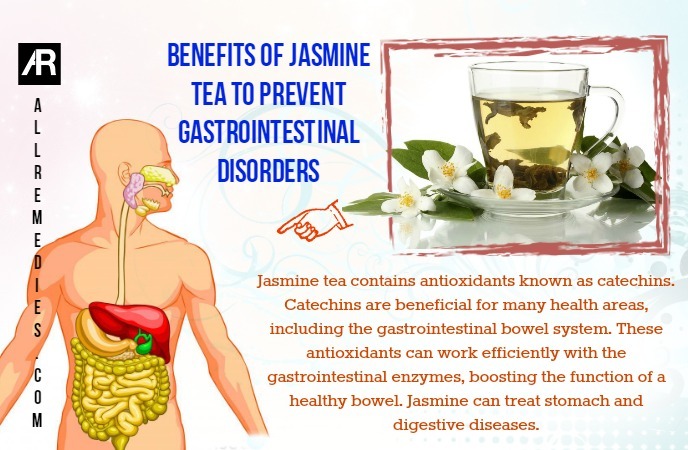 Jasmine tea keeps your stomach health. It facilitates digestion and declines the risk of gastrointestinal cancers. As we mentioned before, jasmine tea contains antioxidants known as catechins [14]. Catechins are beneficial for many health areas, including the gastrointestinal bowel system[15]. It is crucial for people to consume two or three cups of jasmine tea a day to maintain gastrointestinal disorders at bay.
10. Decrease The Risk Of Type 2 Diabetes
There has been over 422 millions of adults getting diabetes since 1980[16]. Type 2 diabetes is considered the most common form and appears when the body cannot use insulin properly. Insulin is a hormone which functions as a sugar delivery from your blood into your cells. Jasmine green tea may decrease your risk of having type 2 diabetes. The compound EGCG in the tea may support your body to use insulin properly and lower blood sugar levels[17]. In a study, researchers indicate that drinking jasmine green tea excessively decreased growing blood sugar and insulin levels[18] Continue reading this article below to know more about other amazing health benefits of jasmine tea.
11. Improve The Immune system
The immune system is of crucial importance for our survival. It protects the body from viruses, bacteria, parasites, and so on[19]. If this system is weak, your body will likely be vulnerable to illnesses and other health problems.
The powerful source of antioxidant in jasmine may enhance the immune system effectively. The antioxidants or catechin aids to eradicate free radical and prevent several serious diseases in the body [20] [21]
Besides drinking jasmine tea, you are advised to add healthy food to your diet, which includes yogurt, oats, garlic, chicken soup, beef and mushroom.
12. Soothe Joint Pain And Arthritis
Jasmine tea is an effective home remedy for joint pain and chronic rheumatoid arthritis. Drinking tea from jasmine may help ease pain and muscle aches. The weak immunity is one of the common causes of arthritis[22]. Both green tea and jasmine tea are essential in boosting the immune system. Moreover, jasmine tea has the epigallocatechin 3-gallate that contains the antirheumatic properties.
13. Good For Your Oral Health
There are many amazing benefits of jasmine tea for oral health. It may prevent tooth decay, remove dental plaque, treat gum disease, and treat bad breath [23] The compounds present in jasmine tea has the ability to kill bacteria in your mouth and stop inflammation. To prevent tooth decay and cavities, you can drink jasmine tea daily or use it to rinse your mouth for 5 minutes.
Bad breath may make you uncomfortable and unconfident. Do not worry. There are many effective natural remedies for bad breath, including jasmine tea. Scientists have found a close relationship between jasmine tea and good breath. Jasmine tea may kill microbes causing bad breath[24]
14. Increase Mental Awareness
Both green tea and jasmine tea are beneficial in increasing alertness and mental awareness because they contain amino acid L-theanine[25]. L-theanine has an exceedingly indispensable influence on the general state of mental alertness[26]. Therefore, people often drink jasmine tea to reinforce the thinking process and increase concentration.
15. Make Your Skin Glowing And Flawless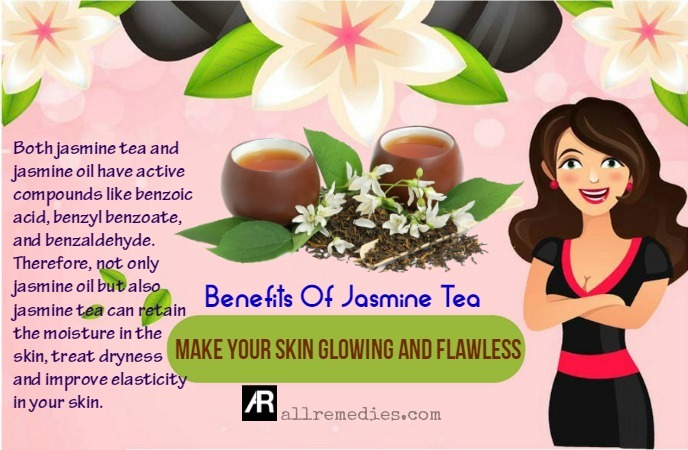 Jasmine tea is a wonderful beverage not only for your health but for your skin as well. There are numerous stunning benefits of jasmine tea for skin. It is a reason why you can find jasmine in the list of the key ingredients in skin care and cosmetic products such as conditioners and creams. Jasmine oil is beneficial in reducing acne, skin wounds, eruptions and stretch marks and scars because it contains antibacterial, antiviral, and antiseptic properties[8] [9]. Both jasmine tea and jasmine oil have active compounds like benzoic acid, benzyl benzoate, and benzaldehyde. Hence, both jasmine oil and jasmine tea may retain the moisture on the skin, treat dryness and improve elasticity on your skin. Especially, antibacterial properties in this tea may prevent skin damage.
You can use jasmine tea to make a wonderful facial tonic. Here is the instruction:
Steep one tea bag of jasmine green tea in 8 ounces of water for a few minutes

Let it cool down

Rinse your face with this tea decoction
You can use a cotton ball soaked in the tea when doing this treatment. If you want to have a satisfactory result, you should repeat this treatment several times a week.
III – What Are The Side Effects Of The Jasmine Tea?
Jasmine tea has such a great number of advantages for health and beauty. However, the amount of jasmine tea we drink should be taken into consideration. According to scientists, adults should consume only two or three cups of jasmine tea daily to obtain optimal health and beauty benefits. Every type of tea contains caffeine, including jasmine tea. If you take too much jasmine tea, excess caffeine may lead to vomiting, diarrhea, loss of appetite, dizziness, heart palpitations, headache, and irritability[28]. Moreover, pregnant women should not take any jasmine oil or jasmine tea[10]
These are 15 health and beauty benefits of jasmine tea we would like to introduce to you in this article. It is highly recommended that people had better take two to three cups of jasmine tea a day if they want to build a healthy life. Do you like drinking jasmine tea? What is the reason for you to drink it? Feel free to share your opinion about jasmine tea below the post. Thank you for reading.
References:
Reviewed By Registered Dietitian Heather M. Duquette-Wolf, RD, CSSD [Link]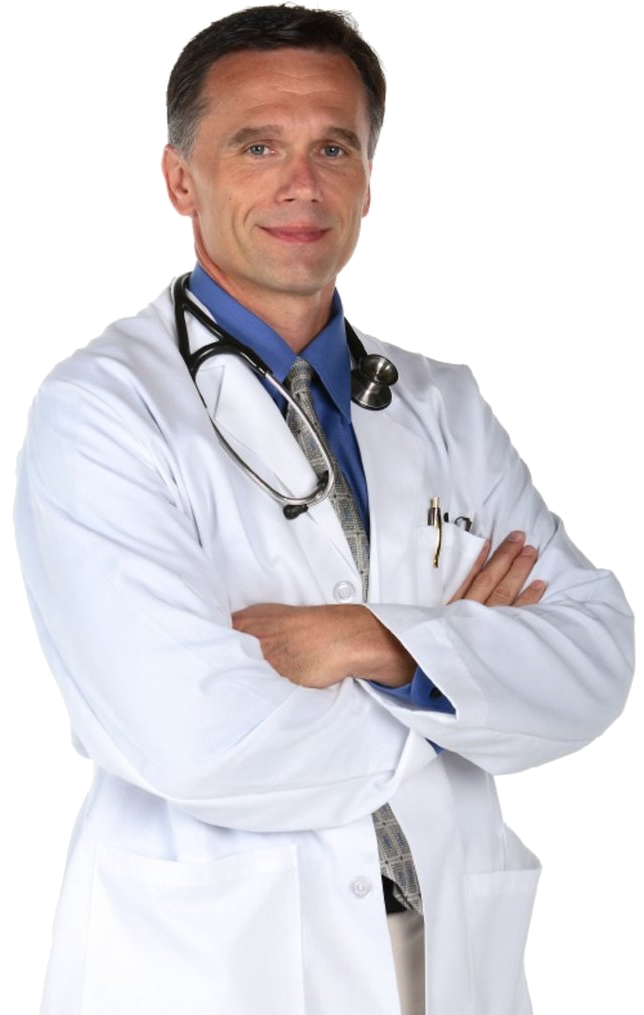 GET FREE ACCESS!
Lorem Ipsum has been the industry's standard dummy text ever since the 1500s, when an unknown printer took a galley of type and scrambled it to make a type specimen book. It has survived not only five centuries
RELATED ARTICLES
YOU MAY LIKE THIS