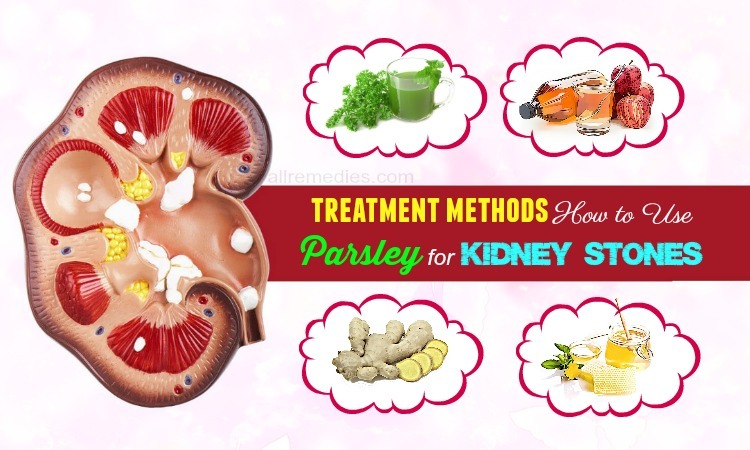 8 Treatment Methods How to Use Parsley for Kidney Stones Removal
Overview
According to a study, kidney stones are a common health problem and affect about 1 in 11 people in the US [1]. This health concern forms from the chemicals in urine, including phosphorous, uric acid, oxalic acid, and calcium. There are also other causes of kidney stones. A study shows that urinary tract infections, heredity, gout, inflammatory bowel disease, and hypertension, are some of the main factors contributing to kidney stones [2]. If you have kidney stones, you will notice some common symptoms such as a desire to urinate regularly, nausea, vomiting, painful urination, excessive sweating, etc. Don't worry because you can relieve these symptoms with a few natural remedies. One of such remedies is parsley. In this post, let AllRemedies.com examine in detail how to use parsley for kidney stones treatment and why it is beneficial in dealing with the problem.
Is Parsley Effective For Releasing Kidney Stones?
Parsley is low in sodium so that it can keep blood pressure in check and prevent kidney disease effectively. Hypertension can harden and damage the kidney blood vessels, leading to the formation of stones and unwanted wastes. Additionally, this herb is loaded with vitamins A, C, and K, which help to prevent stone-formation and calcification in the kidneys. The research found that parsley may prevent the calcium oxalate [3] accumulation in kidneys that is the most common reason for stone formation [4]. Plus, the flavonoid anti-oxidants and anti-inflammatory found in this herb can deal with oxidative stress and free radical damage caused by the kidneys. Another research shows that parsley acts as an effective natural diuretic and helps to improve kidney function by removing toxins, excess water, and salt accumulated in the body [5].
Top 8 Safe Methods On How To Use Parsley For Kidney Stones Removal
To alleviate the kidney stone symptoms, you can use parsley as a simple tea or infusion, or in combination with other natural ingredients. Let's check out!
Learn more: 32 Natural Home Remedies for Kidney Infection & Pain
1. Parsley Tea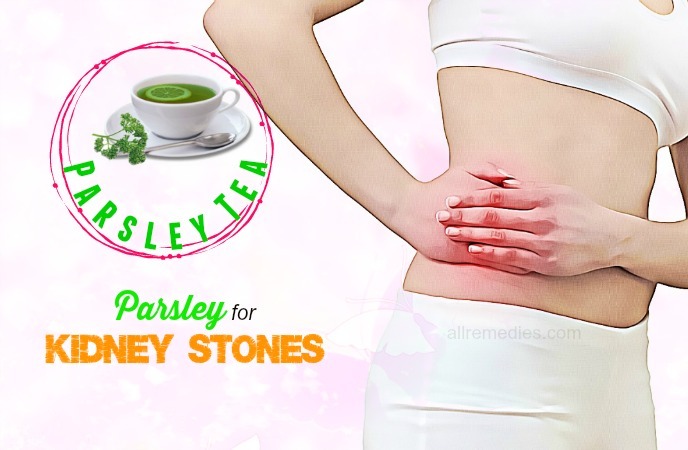 Parsley has long been used as a great herb for the kidney stones. Both the dried parsley tea and fresh plant are often recommended to help relieve kidney stones or for kidney infections. Parsley tea functions as a natural cleanser, which helps to lower the risk of stone information. To use parsley for kidney stones removal, please do this:
You need to prepare:
AllRemedies Partner Solutions
Keep Asking Questions Until You Get The Answer You Need!
The Medical Experts are all here to answer your questions online or with a phone call.
Water – 1 cup

Fresh parsley leaves – ¼ cup
Method:
In a saucepan or kettle, boil the water. Rinse the leaves of parsley under running water and chop them roughly to release some of their natural oils. Place these chopped leaves at the bottom in a cup and gradually pour the hot water over them to fill the cup. Leave it to stand for about 5-10 minutes. Strain the leaves via a sieve and afterward, collect the tea in a cup. For visible results, drink 1 to 2 cups of parsley tea every day.
Read more: 43 Natural Home Remedies for Kidney Stones Pain
2. Parsley For Kidney Stones – Parsley Water
One of the simplest ways to use parsley for kidney stones treatment is making its infusion in hot water. According to a study published in Urology Journal, ingesting parsley roots and leaf reduced the number of deposits of calcium oxalate in animals [6]. How to prepare it? Try the way below:
You need to prepare:
Fresh parsley leaves – 1 handful

Water

Lemon juice (optional)
Method:
Take the parsley leaves in a saucepan and cover these leaves by adding enough water. Then, boil for around 3 to 4 minutes and after that, remove from the flame. You can add some lemon juice to it for taste and added benefits. Let the liquid cool and strain. Consume it three to four times a day.
3. Parsley Juice
Beetroot juice in this remedy is an extremely effective detoxifier and cleanser for the kidneys. Carrots are enriched with vitamins A, B6, & C, all of which are good for kidney health. These vitamins also help to dissolve kidney stones and combat bacterial infections in the kidneys. Here's how to use parsley for kidney stones:
You need to prepare:
Parsley – 1 bunch

Carrots – 2 to 3

Celery ribs – 6

Beetroot – 1

Cucumber – 1

Apple Cider Vinegar – 1 tablespoon

Lemon juice – 2 to 3 teaspoons
Method:
Firstly, soak the parsley for 15 to 20 minutes in warm water. Later chop the carrots, celery, cucumber, and beetroot into smaller pieces. Add the soaked parsley and chopped pieces to a juicer, along with the apple cider vinegar. Blend until a uniform consistency is formed. To the blended mixture, add ice cubes and the lemon juice. Stir well and drink instantly after preparation. You should repeat the method 2 to 3 times per week.
4. Apple Cider Vinegar And Parsley For Kidney Stones
The citric acid in apple cider vinegar can soften and dissolve kidney stones. It also aids in flushing the kidney to eliminate the formed stones since it works as a great internal cleanser. According to an article on Live Strong, in his book "Alkalinize or Die," Dr. Theodore Baroody states that apple cider vinegar has an alkalinizing impact on the urine and blood [7]. It also stimulates the hydrochloric acid production, thereby aiding the overall digestive process. Along with that, ACV dissolves or decreases the size of kidney stones, as it comes with acetic and phosphoric acids. Moreover, it is also good for reducing the pain caused due to kidney stones. Try the method below to use ACV and parsley for kidney stones treatment:
You need to prepare:
Freshly washed parsley – 1 bunch

Water – 1 cup

Apple cider vinegar – 1 tablespoon
Method:
Add all the above ingredients to a blender and blend them. After that, consume this mixture twice to thrice a week.
See also: 12 Ways How To Use Apple Cider Vinegar For Upset Stomach & Nausea
5. Parsley Drink
According to Live Strong, author of "The Healing Power of Garlic, Vinegar, & Olive Oil", Gayle Alleman notes that olive oil aids in coating the kidney stones, which makes it easier to pass them when you urinate [8]. Being rich in anti-oxidants, minerals, and vitamins, maple syrup is good for improving the kidney function.
You need to prepare:
Lemon chunks – 9 ounces

Parsley root – 9 ounces

Maple syrup – 1 cup

Olive oil – 9 ounces

Raw honey – 9 ounces
Method:
Put the lemon chunks in a blender at first and later process it. Scrape the parsley root afterward and cut into chunks. Add the parsley root into the blender and process again. Add the olive oil, raw honey, and maple syrup and blend everything well. Pour this blend into an airtight container and store it in a refrigerator. Drink 1 tablespoon of this mixture daily on an empty stomach.
6. Lemon, Cucumber, Watermelon, And Parsley For Kidney Stones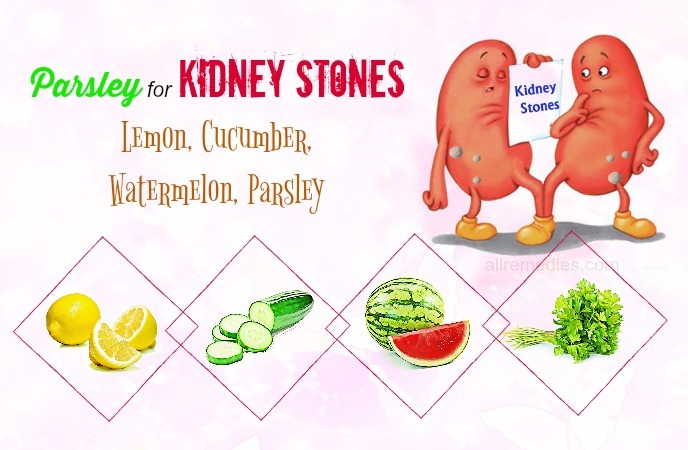 Cucumber works as a diuretic and removes the uric acid accumulation in the body, which dissolves kidney stones. Lemon juice acts as a wonderful cleanser for the kidneys, which dissolve the deposits of unwanted mineral, leading to calcium oxalate stones. According to a 2007 study, oral consumption of lemon juice prevented the calcium stone formation inside the body [9]. It also has a natural antiseptic, which helps to prevent the growth of bacteria in the kidney, thus reducing the risk of infections occurring. Watermelon juice & its seeds both are loaded with zinc, magnesium, and anti-oxidant (lycopene), which have a detoxing impact on the kidneys.
You need to prepare:
Organic parsley – ½ an ounce

Lemons – 2

Chopped cucumber – 1

¼ of a watermelon
Method:
Take the lemons and squeeze their juice into a blender. Add the lemon juice, organic parsley, watermelon, and chopped cucumber in the blender and blend everything to get a thick paste. After that, consume the resulting smoothie twice to thrice a week.
7. Parsley, Apple, Honey, And Lemon
Honey can keep the pH balance in the body, thus minimizing the kidney stone formation. Apple juice, on the other hand, is enriched with vitamin C and fiber, which functions as an anti-oxidant to help your kidneys function smoothly. To use apple, honey, lemon, and parsley for kidney stone removal, you can do as follows:
You need to prepare:
Fresh parsley – 1 bunch

Honey – 2 tablespoons

The juice of a lemon

Chopped apple – 1

Warm water

Water – ¼ cup
Method:
Soak the fresh parsley in the warm water for around 10 to 15 minutes. Add the soaked parsley, chopped apple, lemon juice, and honey in a blender. Add the water to it and blend until a thick liquid is formed. Drink this liquid 2-3 times per week for best results.
8. Celery, Ginger, Lemon, And Parsley For Kidney Stones
Celery can clear the toxins forming kidney stones. It also serves as a diuretic that helps to dissolve the kidney stones. Ginger is rich in citrate, which helps to prevent the kidney stone formation. Try the simple remedy below:
You need to prepare:
Stalks of celery – 4 to 5

Freshly washed parsley – 3 cups

Ginger – 1 small piece

Water – 1 cup

Lemon juice – ½ cup
Method:
Blend the celery stalks and keep its juice aside in 1 bowl. Then, take the parsley, water, and ginger in a blender and blend them well. Strain it via a sieve into 1 bowl. After that, add the celery juice to the ginger and parsley mixture. To it, add the lemon juice and stir thoroughly. Finally, consume it two to three times per week.
Check also: 33 Amazing Health Benefits of Celery Seed
Tips And Precautions
Parsley increases the loss of fluid from the body. Therefore, lactating or pregnant women and those suffering from hypertension should consult a doctor or medical practitioner prior to taking parsley in any form on a daily basis.

If you're allergic to celery, fennel, or carrots, don't use parsley in the form of any natural remedy because it can lead to allergic skin reactions.

Include high calcium, low refined sugar, low sodium, high fluids, and normal protein in your diet to help prevent kidney stones.

Include plenty of green leafy vegetables and fruits in your diet and avoid or limit consuming dairy products.

Avoid processed foods, alcohol, sodas, red meat, and excessively sugary, or salty foods.

Avoid consuming oxalic acid rich foods such as spinach, eggplants, tomatoes, collards, sweet potatoes, almonds, and peanuts.

Stay hydrated by consuming 8 to10 glasses of water daily to take the harmful toxins out of the body.
Check for more: Top 47 Natural Home Remedies For Kidney Failure
Conclusion
You must consult a doctor instantly in case you experience problems while urinating or the pain becomes worse. Visit our main How To page directly if you want to find more about articles related to health problems. Have you ever tried any of the above ways of using parsley for kidney stones removal? Do you know other effective ways to use parsley for kidney stones treatment? Do share your ideas, experiences, and suggestion in the comments box below.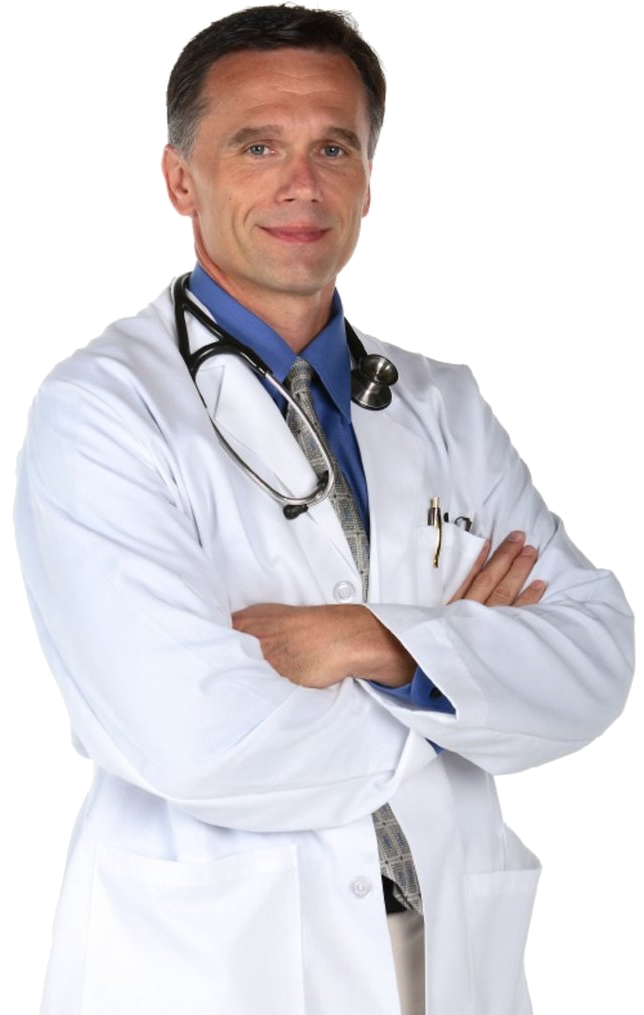 GET FREE ACCESS!
Lorem Ipsum has been the industry's standard dummy text ever since the 1500s, when an unknown printer took a galley of type and scrambled it to make a type specimen book. It has survived not only five centuries
RELATED ARTICLES
YOU MAY LIKE THIS