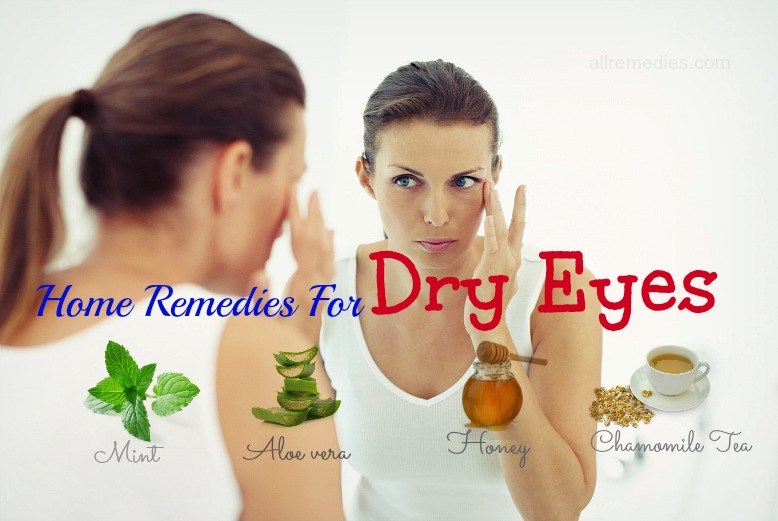 Top 35 Home Remedies For Dry Eyes: Causes, Symptoms, Treatments
25. Aloe Vera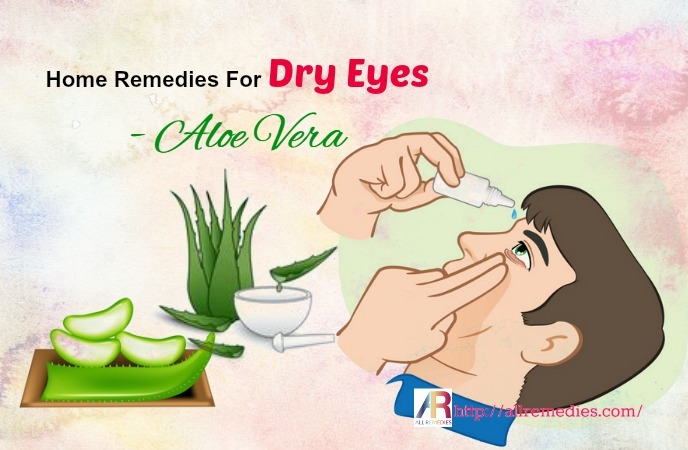 Aloe vera is also said to be a wonderful treatment for this case. The aloe vera leaves contain both gel and thick substance that are beneficial in treating dry skin and burns as well as other skin conditions if applied. Moreover, the antiseptic and anti-inflammatory properties make aloe vera become one of natural home remedies for dry eyes symptoms. Aloe vera can be applied at home and it can give you a significant relief. However, aloe vera application may lead to discomfort and irritation for your eyes. You should consult your doctor first before thinking of applying aloe vera for dry eye relief. To prevent skin irritation and any unwanted side effects, you should apply a small amount of aloe vera to your eye surface first. If any allergic reaction occurs, you should rinse it off immediately. In order to stay away from dry eyes, what you need is to follow the detailed direction below:
First, take an aloe vera leaf

Then, wash it carefully

After that, cut the leaf

Extract the juice out of the leaf and freeze it

Use this juice with a bit cold water

Dip a clean cloth into this liquid

Finally, place the mixture on your eyes

Repeat this procedure twice per day

Do this every day until you see the improvement
Read more: Top 31 Benefits of Aloe Vera Gel and Juice 
26. Gooseberry Juice And Honey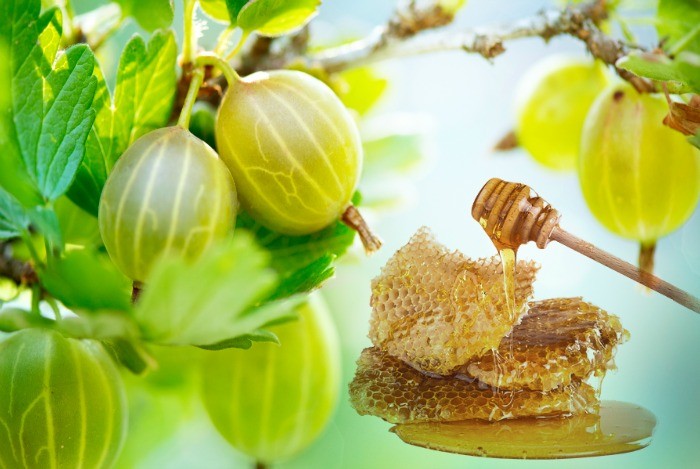 It's the best idea when using the combination between gooseberry juice and honey. Gooseberry juice has an effect in boosting your immunity naturally along with fighting infection. Here is the recipe you are looking for:
Now, take a gooseberry

Then, extract the juice from it

Next, add a teaspoon of honey into it

After that, mix well

Finally, drink this juice

Repeat twice or thrice per day daily till your situation is much better
27. Almond Oil With Castor Oil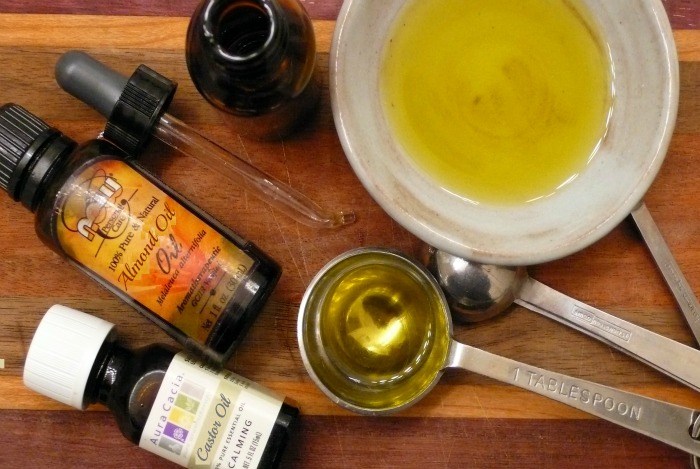 Scientists have found that almond oil can be used for different health and beauty benefits. Almond oil is made from an almond tree that is available in the Mediterranean region and Southeast Asia. Almond oil is beneficial in promoting heart health and treating many skin issues. This healing oil has a great source of monounsaturated fatty acids, vitamin E, potassium, protein, and zinc.
Castor oil extracted from castor seeds is yellow. The anti-inflammatory and antioxidant properties of castor oil are contributed to its therapeutic and medicinal benefits. This is the reason why the castor oil is widely utilized in cosmetics, soaps, medicines, massage oils, and other products. Castor oil can retain the lost moisture in your skin, especially the skin around your eyes. Therefore, this amazing oil is often used to treat many issues related to the eyes.
The mixture of castor oil and almond oil is a good treatment for relieving dry eyes too. And you should follow this direction here to reduce dry eyes:
You will need:
½ teaspoon of almond oil

½ teaspoon of castor oil
Do this:
Now, take a few drops of almond oil as well as a few drops of castor oil

After that, mix them well together

Apply the mixture of oil under your eyes before you go to bed

Do this every day until you feel better
Additionally, you can apply this mixture of oil during the day as needed. The oil solution for dry eyes should be applied in the day time only to prevent blurred vision.
28. Lavender Oil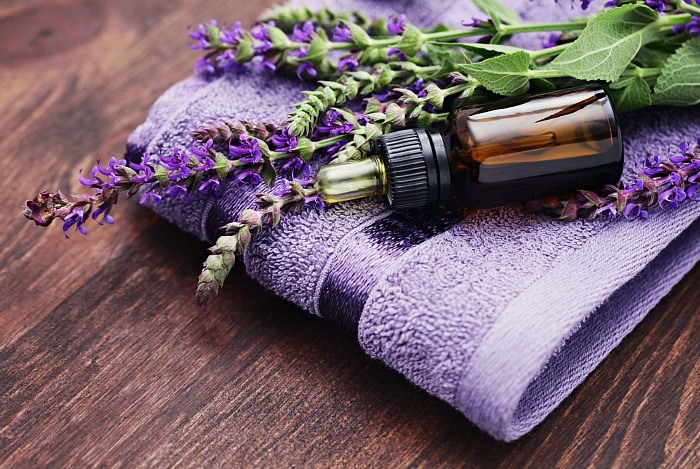 This oil is also one of the effective and helpful home remedies for dry eyes. It is capable of regaining the lost oil and moisture which can help to treat dry eyes. So following this direction is necessary.
Prepare a bowl of warm water

Now, put 2 – 3 drops of lavender oil into it

Mix well

Next, dip 2 cotton balls in this mixture

After that, squeeze out the excess mixture from the balls

Finally, put them on your eyes. Remember to close your eyes before applying the balls

Do this remedy twice or thrice per day daily until your eyes are better
29. Cucumber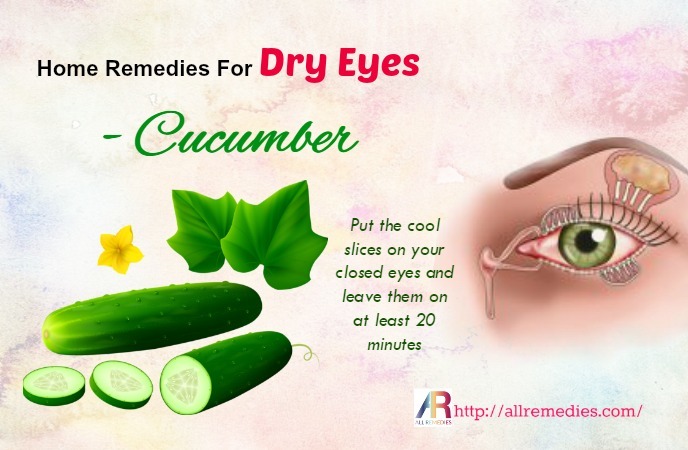 Cucumber is the simplest remedy you can apply when you have dry eyes. It can help your eyes to relax and moisture as cucumber contains 95% water. Using cucumber can help to eliminate toxins that cause eye problems including dry eyes. Moreover, the anti-inflammatory properties of cucumber are beneficial in relieving puffiness of your eyes and treating dry eyes. For the optimum result, you should keep cucumber slices in a refrigerator for a couple of minutes before applying. The cold temperature can numb the dry sensation. Thus, whenever your eyes are dry, let's go to the kitchen, take a cucumber and follow these steps below:
First, cut a fresh cucumber into slices

After that, put them into refrigerator in order to let them cool in a few minutes

Next, take the cucumber slices out

Then, close your eyes

Finally, put the cool slices on your closed eyes and leave them on at least 20 minutes

Keep doing this method several times per day as needed

Repeat every day till you see the result
30. Potato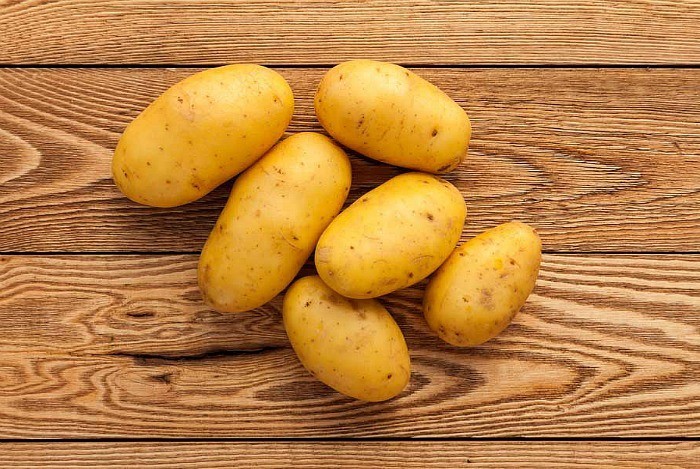 Potatoes are packed with carbohydrates and vitamin C; therefore, potatoes are often used to benefit your skin, hair, and health. One of the natural and effective home remedies for dry eyes is the potato. The reason you should use it to cure dry eyes is that it is able to provide the cooling effect. Or in other words, potatoes give you a relief from dry eyes and helps to hydrate your eyes. Potatoes can get rid of dark circles and give you cooling and hydrating effects that help to relieve the discomfort and irritation caused by dry eyes. The use of potato is easily applied at home.Here is the recipe you are looking forward to:
Now, take a potato

Then, grate it

After that, place it on your affected eyes before you go to bed

Follow this once a day daily until you see the improvement
31. Cold Compress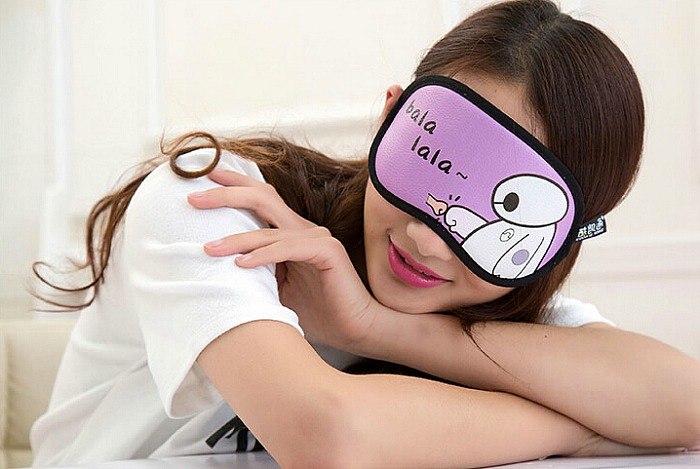 If you don't have time to carry out these above remedies, why don't you try cold compress? It also gives you a relief from dry eyes quickly. This is the detailed direction for you:
Take some ice cubes

Then, use a clean cotton towel in order to wrap them

Next, close your eyes

Finally, put the towel on your eyes

Continue doing this method once or twice per day

Repeat every day until your condition is better
32. Goldenseal
When talking about the good home remedies for dry eyes, goldenseal should be mentioned too. And in order to do this remedy, you need to follow the instruction here:
Now, prepare 2 teaspoons of goldenseal as well as a cup of boiling water

Then, put the herb into water

Mix well

Leave it on for 5 minutes

Strain this liquid

Dip a clean cloth into this

After that, remove excess liquid and place on your closed eyes as a warm compress

Do this 3 times a day daily until your situation is improved
Besides, you can use it as eye drops. You just need to drop 2 – 3 drops into your eyes two or three times per day. And keep doing every day until you see the improvement.
33. Warm Milk With Honey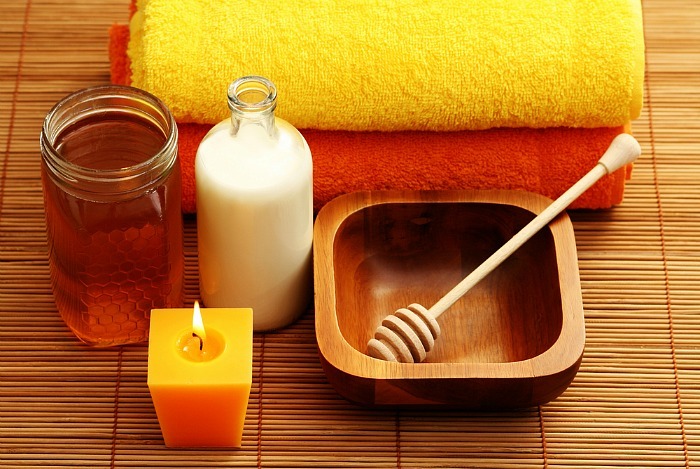 Honey contains amazing antibacterial properties. Meanwhile, milk includes soothing properties. So when you combine both ingredients together, you will get a better result for this situation. And here is the direction which you can follow in order to get rid of dry eyes:
Take an equal amount of honey and warm milk

Mix them well together

Continue stirring it until honey becomes smooth in the milk

Now, store it in a dropper

Drop 2 or 3 drops into your affected eyes every day for several times until your condition is improved
34. Apple Cider Vinegar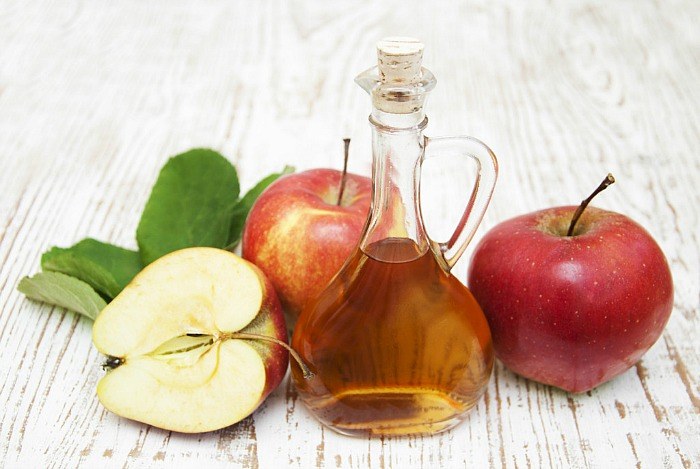 In this case, apple cider vinegar is also mentioned as one of the home remedies for dry eyes. With malic acid inside, it can easily fight against bacterial infection. This is the instruction you may follow to get rid of dry eyes
Now, prepare a cup of water along with a tablespoon of apple cider vinegar

Next, mix them together

Use a cotton ball and then dip it into the mixture

Remove the excess mixture

Wash your eyes with this mixture daily and remember once each day until you see the result
35. Baking Soda With Water
In order to cure dry eyes, let's use the mixture between baking soda and water. Now it's time to apply this remedy:
First take a half cup of water and a quarter teaspoon of baking soda

Next, mix well until they become a soothing eye wash

Now, submerge your eye into the solution completely

Finally, hold it open as well as roll it around in one minute

Let's follow this method once a day

Repeat every day until your eyes are better
Home Remedies For Dry Eyes – Additional Tips:
Not only apply one of the home remedies for dry eyes above, you should also follow these tips below in order to cure dry eyes or prevent dry eyes:
Keep your eyes moisture from evaporating

Wear sunglasses when you go out in the sunny day

Clean your eyelids with mild soap or baby shampoo

Avoid smoking or drinking alcohol

Drink a lot of water per day (may be 8 – 10 glasses a day)

Do not irritate your eyes

Use artificial tear drop whenever you feel uncomfortable

Decrease salt in your diet

Apply the warm cloth on your eyes

Stay indoors when it is windy

Get an eye exam regularly

Eat more food containing omega-3 fatty acids

Consume a lot of green vegetables

Massage your lower and upper lids twice a day daily

Stop wearing contact lenses
In order to keep your eyes healthy and well-hydrated, you should maintain a good diet and healthy lifestyles. It is important for you to avoid any factors causing dry tired eyes. Make sure that you sleep enough 7 or 8 hours during the night and do not use the computer late. Apply those introduced simple natural home remedies for dry eyes and change your lifestyle to see the difference. If you want to know more about natural at home remedies for other diseases and conditions, go to our main Home Remedies page. After reading the article of top 35 natural and simple home remedies for dry eyes relief, hope that it can help you find out the best and the most suitable home remedies to get rid of your dry eyes easily and quickly. However, the article is only for the informational purpose; therefore, you should see your doctor in order to get the advice before applying any home remedies for dry eyes relief. If you have any question, or you know other at home remedies for dry eyes, please leave them below.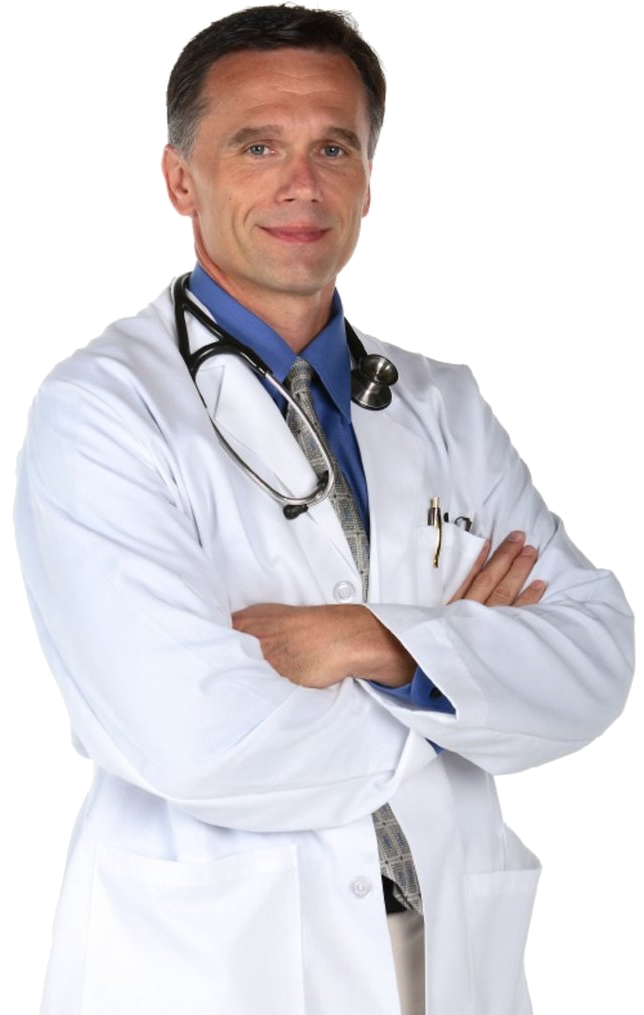 GET FREE ACCESS!
Lorem Ipsum has been the industry's standard dummy text ever since the 1500s, when an unknown printer took a galley of type and scrambled it to make a type specimen book. It has survived not only five centuries
RELATED ARTICLES
YOU MAY LIKE THIS