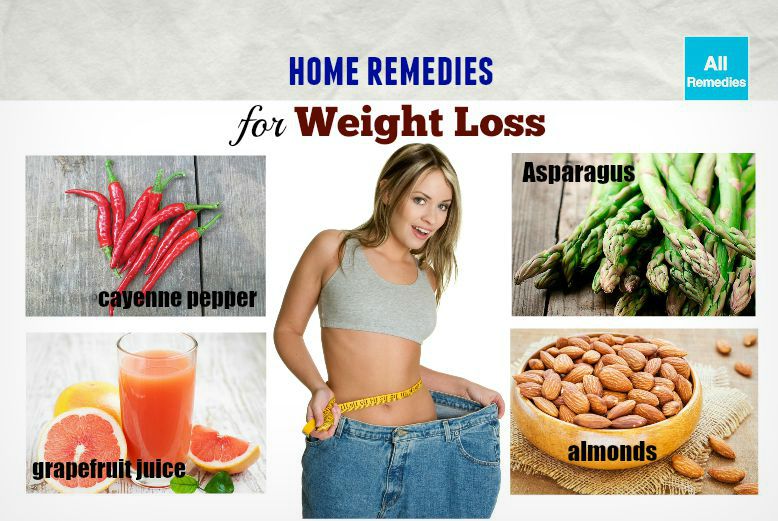 Medically reviewed by Dr Sarah Brewer MSc
37 Best Home Remedies for Weight Loss Fast
Updated: 07/23/2019
A poor diet is one of the main factors known to contribute to hundreds of serious diseases such as type 2 diabetes, high blood pressure (hypertension) and cardiovascular diseases such as heart attack and stroke. And it's not just malnutrition that is the problem, but over nutrition – obesity is one of the main underlying health risks for such as non-alcoholic fatty liver disease, high cholesterol, cancer, cardiovascular disease, type 2 diabetes and so on. Other problems associated with being overweight, such as poor body image and low self-esteem, are also attracting attention, especially among women.
If you are stuck in the above situation, a few easy but effective natural remedies can aid your weight loss goals when used alongside a healthy diet and physical exercise. In this article, AllRemedies.com reveals to you the best natural home remedies for weight loss fast. To maximize the effectiveness of most of the following remedies, you should combine them with daily exercises which will speed up the process of losing weight.
Top 37 Best Natural Home Remedies For Weight Loss Fast
There is no science-based evidence for the following homemade recipes. The recipes we've focused on are traditional home remedies, so always consult your doctor and check out your health condition regularly to know if a remedy is working for you.
1. Lemon Juice Extract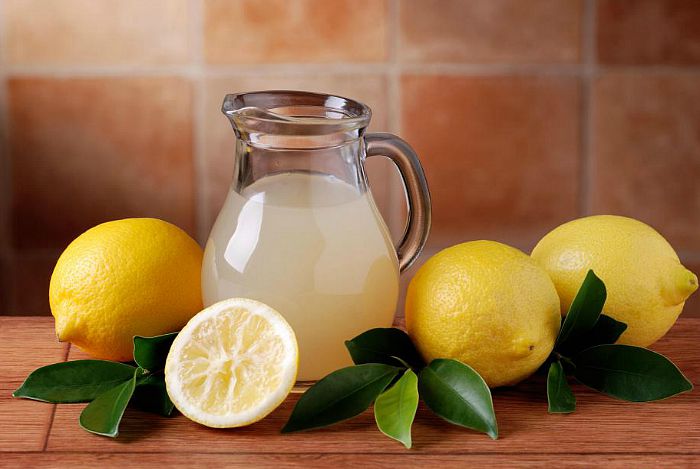 If you are suffering from the discomfort of being overweight, lemon juice may help you feel better. Lemon juice can boost digestion and aid in detoxification. Besides, it will help you maintain healthy digestion, which is very important for losing weight because it will help your body absorb essential nutrients and burn fat more quickly[1] [2] [3].
AllRemedies Partner Solutions
Keep Asking Questions Until You Get The Answer You Need!
The Medical Experts are all here to answer your questions online or with a phone call.
In a typical lemon juice fast, you drink only water on the first day.

On the following day, you drink water mixed with the juice of three lemons, which should be drunk regularly at frequent intervals.

On the third day, introduce a healthy, low calorie, plant-based diet and continue drinking water with added lemon juice – increasing the amount of lemons if you wish. It is not recommended to fast for more than 2 or 3 days.
Lemon juice can be combined with a variety of natural materials such as black pepper and honey to create a wonderful treatment for overweight.
NB If you have a medical condition or are taking prescribed medicines, always check with your doctor before following a juice fast.
2. Lemon Juice With Black Pepper And Honey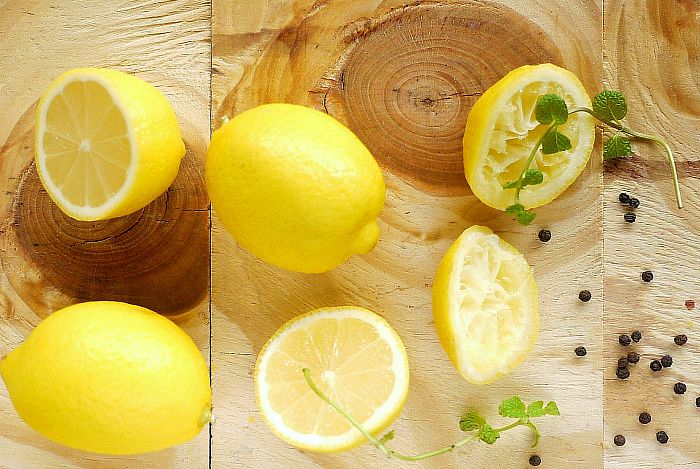 When mixed with black pepper, lemon juice becomes a spicy drink that can help your fight against being overweight. Black pepper is loaded with piperine which gives it a pungent flavor. Many studies show that piperine may help control the operation of fat cells, reduce the fat levels in blood flow, and promote the absorption of nutritious foods[4] [5].
Method 1:
Prepare a few sprinkles of ground fresh black pepper, juice of half a lemon, and a little fresh water

Blend the lemon juice with the sprinkles of black pepper and water. Drink this solution once a day after a meal.
Method 2:
Mix 3 teaspoons of lemon juice, 1 teaspoon of honey, and ½ teaspoon of black pepper powder (or ¼ freshly ground black pepper) in a glass of water.

After getting the mixture, you drink this in the morning when your stomach is still empty.

Follow this method daily for about three months.
3. Apple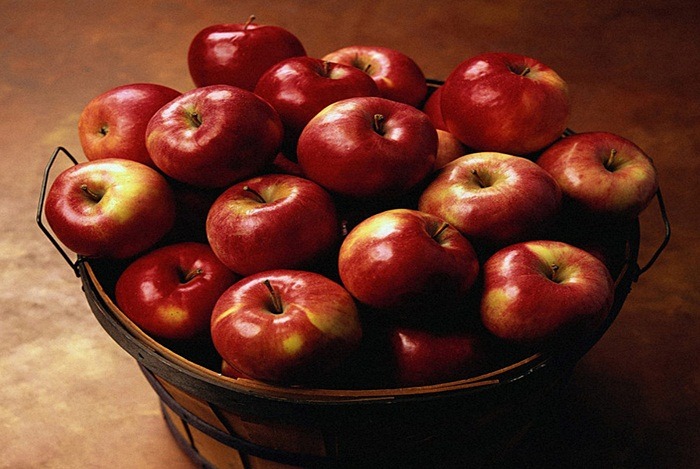 Consuming an apple each day can help you lose excess weight efficiently. Even though it doesn't contain abundant nutrients like other vegetables or fruit, it is still helpful in losing weight. Apples are storehouses of fiber, which is very useful to curb appetite[6] [7] [8]. If you add this fruit to your daily diet, it can help curb your hunger for less healthy snacks. Apple also have beneficial effects on  blood sugar levels to help regulate your energy levels and appetite[9] [10]. Apples also contain pectin which can lower cholesterol levels and control blood sugar by slowing the absorption of carbohydrates. And, as a naturally low-sodium fruit, apples help to prevent water weight and excess water retention.
You need to prepare 1-2 fresh apples, rinse them, and slice them to eat for 1-2 times a day. You should wash them carefully and eat the peel because it contains necessary fiber and antioxidants.
4. Grapefruit Juice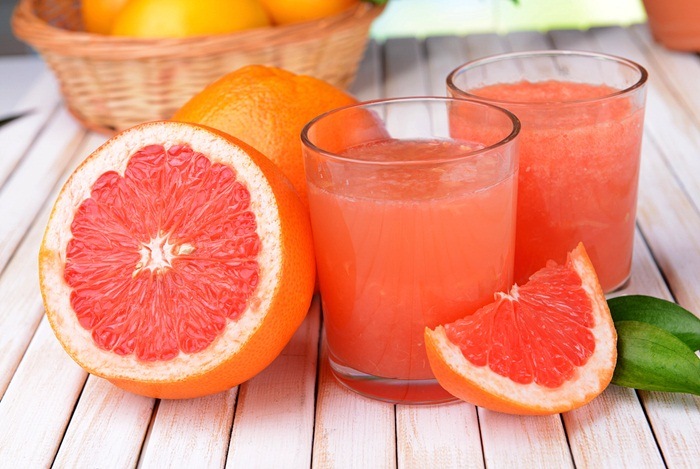 According to a recent study, grapefruit can promote fat burning, confirming its reputation as one of the safest home remedies for weight loss. A flavonoid called naringenin, which is found in grapefruit, may help you control blood sugar levels and avoid metabolic syndrome, which is associated with obesity[11]. Other research in Ontario shows that grapefruit can help reduce a build-up of fat in the liver and reduce its storage. Therefore, adding grapefruit to your daily diet not only helps you with weight loss but also helps to prevent diseases arising from obesity such as type 2 diabetes.
Drink a cup of grapefruit juice in the morning to boost the ability of the liver to burn fat.

If you wish to lose weight quickly, you should have a grapefruit before each of your meals if possible.
Note: If you are on medication, take advice from a doctor before taking grapefruit juice, as it interacts with some prescribed drugs.
5. Prickly Pear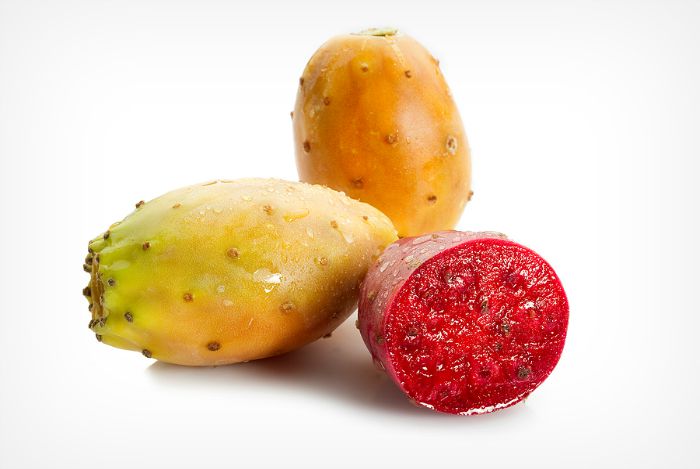 Prickly pear is also called Indian fig, and is used traditionally in the treatment of so many diseases including overweight, obesity and high cholesterol levels[12]. This fruit is loaded with many antioxidants, which help to control blood sugar levels and lower levels of harmful cholesterol and reduce cravings for starch or sweetness. Antioxidants found in prickly pear also help to increase fat burning. It also has high fiber content, which can help to fill you up to reduce hunger, and aid bowel movements to  mitigate water retention.
You need 4 prickly pears to make juice.

Take them one by one, cut off both ends and make a slit down its body.

Peel the skin off the fruit and you now can see seeds and pulp inside.

Take a blender or food processor to blend peeled prickly pears to extract the juice.

Consume this juice
Note: If you are taking medication for diabetes, you must consult your doctor before taking this juice. Pregnant and lactating mothers should also see their doctor first.
6. Papaya
Papaya contains a digestive enzyme called papain, which is effective at digesting proteins and cleaning the intestinal walls. The metabolic rate of the body raises and helps burn the fat when your digestive system begins functioning better[13]. It also helps to stimulate metabolism and inhibit heart disease[14]. You can either take a piece of ripe papaya early in the morning on an empty stomach or eat papaya soup in place of dinner for 2-3 months.
7. Peach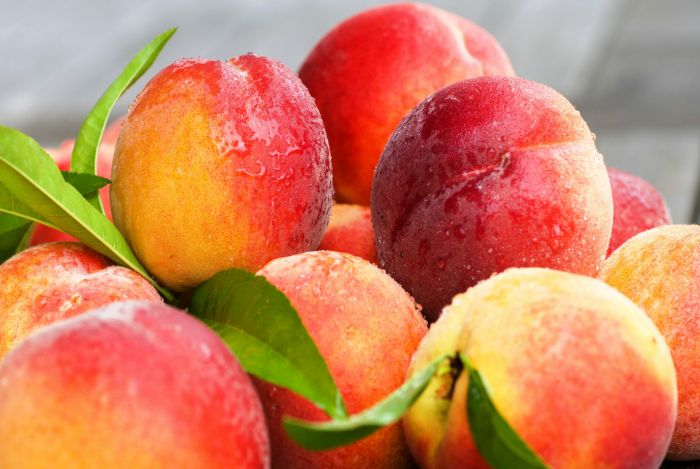 Peaches are among the fruits with a low level of calories. Instead of choosing food with a high calorie content, pick some peaches. Peaches are loaded with fiber which fill you up and may aid in weight control[15] [16]. They also contain up to 89% water, which can help mitigate cravings for high-calorie food.
Have a slice of fresh peach before breakfast besides some other fruits.

Have them mixed with yogurt or low-calorie food.

You can also add some slices of peaches to salads of shredded carrots, light vinaigrette dressing or gourmet greens to serve as desserts.
8. Gourd Juice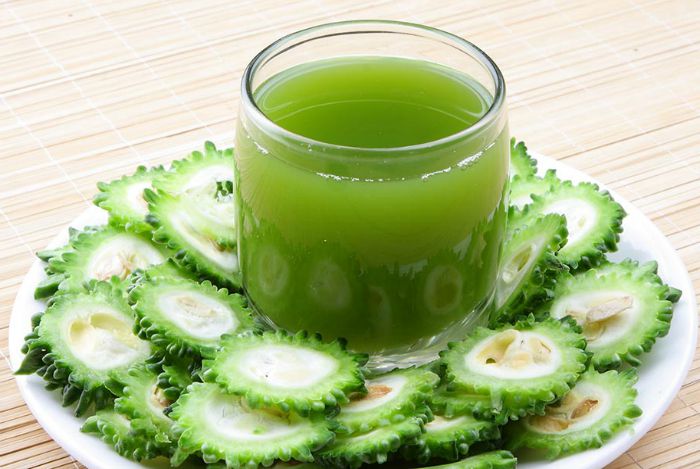 Bottle gourd is a kind of hard-shelled fruit, which is evidenced to help you lose weight effectively[17]. In fact, it is considered among the best home remedies for weight loss. Due to its great content of fiber, it will help to create feelings of fullness and limit appetite. Besides, it contains plenty of water and is also rich in beneficial nutrients.
When you feel hungry for a snack or fatty food, drink a chilled cup of bottle gourd juice mixed with a little lime juice.
9. Apple Cider Vinegar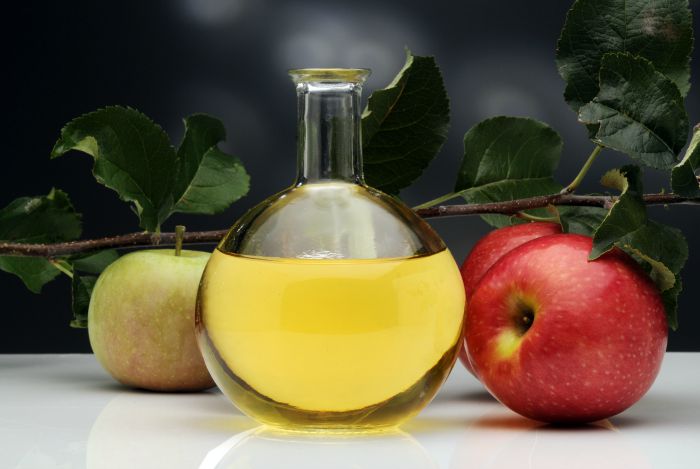 Apple cider vinegar is abundant in acetic acid that has anti-obesity and anti-inflammatory effects and promotes weight loss[18] [19]. It can help to break down fat and reduce the accumulation of fat in the body.
In a study involving 175 obese people, taking apple cider vinegar every day for 12 weeks significantly reduced waist circumference and promoted weight loss. Those taking:
15 ml (1 tablespoon) apple cider vinegar lost 2.6 pounds  (1.2 kilograms) in weight

30 ml (2 tablespoons) apple cider vinegar lost 3.7 pounds (1.7 kilograms) in weight.
Follow these steps to aid your weight loss goals:
Mix 2 teaspoons of raw, unfiltered apple cider vinegar in a cup of water. Drink this mixture every day in the morning on an empty stomach.

You can also drink a glass of water combined with 1 teaspoon of raw and unfiltered vinegar and a little lemon juice.
Note: The maximum amount of vinegar you should have for a day is 2 teaspoons of apple cider vinegar. You should not exceed this amount because it may affect and decline the levels of your blood potassium and lower the density of your bone mineral.
10. Green Tea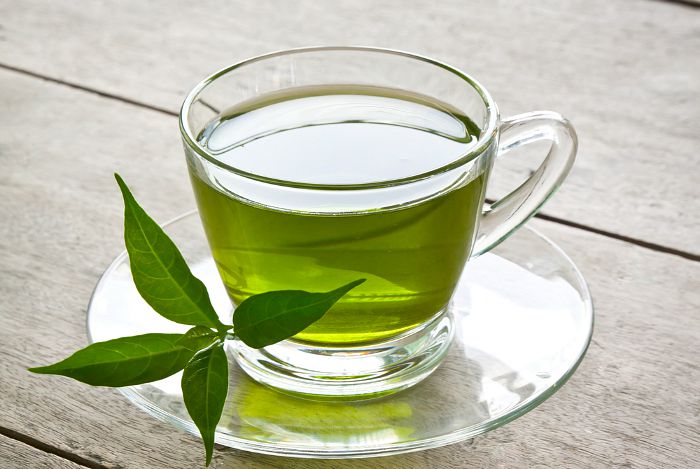 Green tea is listed among the greatest home remedies for weight loss. Green tea is loaded with three main properties namely caffeine, catechins, and theanine, which play an important role in dealing with overweight[20] [21]. According to a study at Penn State, epigallocatechin-3-gallate (EGCG) green tea has a positive influence on the weight loss because it may help to slow down weight gain by restricting the amount of fat absorption and enhancing the ability of the body to use fat efficiently[22]. Green tea is also full of many helpful nutrients such as vitamin C, zinc, selenium, carotenoids, and other trace minerals, which can supplement essential energy to your body without forcing you to eat much.
Method 1:
To help reduce excessive weight, drink 3-4 cups of green tea every day. You can also mix green tea with ginger tea or cayenne pepper.
Method 2: Green Tea Mixed With Ginger
Place ginger and green tea in a filter and cover them with 8 ounces of boiling water.

Immerse the green tea for about 3-4 minutes to make sure that its taste is not too bitter.

You can add some honey if desired, but remember not to use milk or sugar.

Drink 1-2 cups of this solution every day on an empty stomach.
11. Cinnamon Tea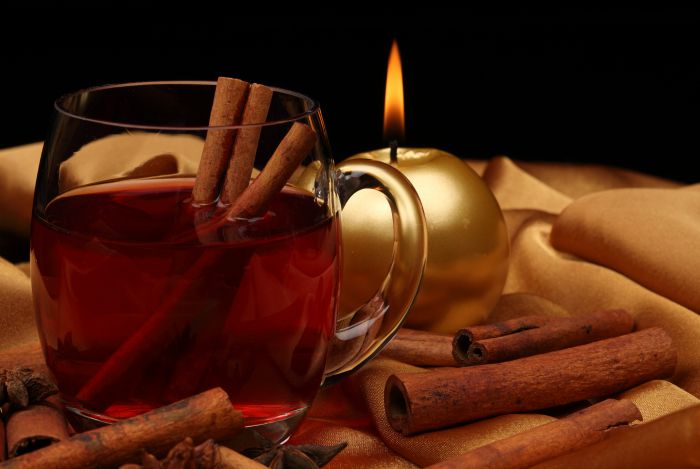 Blood sugar has an apparent impact on your weight as excess glucose is burned as fuel (reducing fat burning) and is also converted into fat for storage. Cinnamon will help you to balance blood sugar[23]. While there are still controversies about the effectiveness of cinnamon, recent studies have come out that suggest cinnamon may really help you lose weight efficiently and curb fat storage[24] [25].
Method 1:
Put 1 stick of cinnamon into a small cup and cover it with 8 ounces of boiling water.

Steep for about 15 minutes and then

Take this drink 1-2 times daily.
Method 2: Cinnamon And Honey
Put ½ teaspoon of cinnamon powder (or 1 stick of cinnamon) into a cup and pour boiling water over it. Steep for 30 minutes.

Mix it with 1 teaspoon of organic honey.

Take half of the drink in the morning when your stomach is empty, about 30 minutes before having breakfast. Keep the rest of tea in the refrigerator and take it before sleeping
12. Dandelion And Peppermint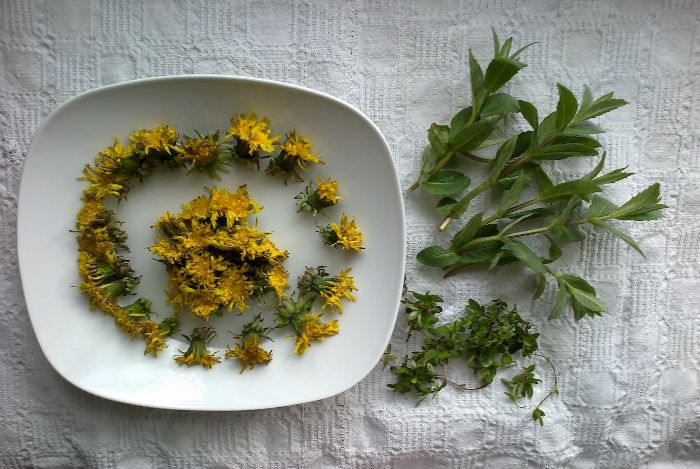 There are several advantages of keeping a healthy liver, but in coping with overweight, the liver helps to control fat absorption and processing. Dandelion and peppermint tea is believed to strengthen your liver because dandelion includes hepatoprotection components, which are able to prevent liver cells from damage. Both dandelion and peppermint have the ability to encourage the production of bile in the liver to help boost digestion and the absorption of nutrients[26]. Chlorogenic acid, a chemical housed in dandelions, may help decrease lipid retention and weight gain[27].
Place some dandelion and peppermint in a cup and cover them with boiling water. Let them steep for 5-10 minutes.

Strain them and add some lemon juice if you like. Take this drink 2 times a day.

You can also use fresh dandelion leaves or roots and fresh peppermint (a handful of leaves is enough) to make this tea.
13. Ginseng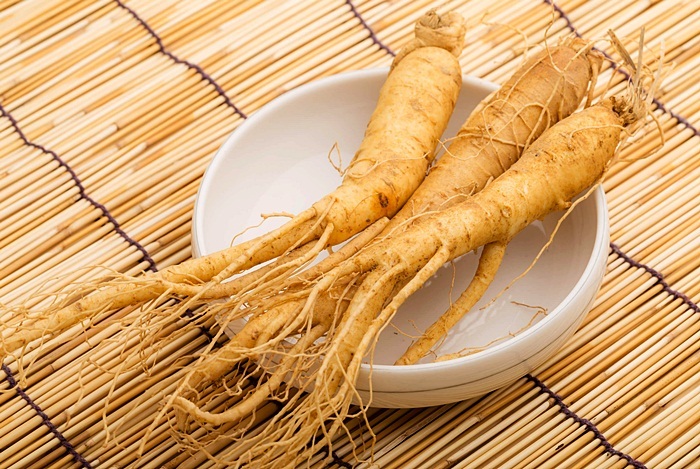 There are several kinds of ginseng, but two are shown in studies to have a desirable outcome for losing weight: American ginseng (Panax quinquefolius) and Asian or Korean ginseng (Panax ginseng)[28]. Although they are known to stimulate a sluggish metabolism, the greatest effect of ginseng is to fight fatigue and boost energy and mental alertness. This is really a huge benefit in helping to treat overweight[29].
Add 1 teaspoon of roughly chopped American or Korean ginseng in a cup.

Cover the ginseng with boiling water and steep for 5-9 minutes.

Strain it and add a little honey or lemon to it.

Take this drink 1-2 times each day.
14. Sage Tea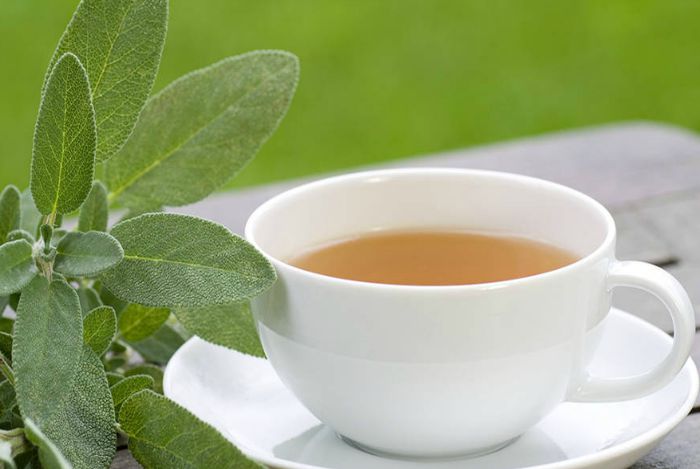 Cortisol can have a negative influence on your blood sugar level and appetite and force your body to store fat rather than breaking it down. Another neurochemical called neuropeptide Y also contributes to stress effects on weight by promoting the storage of fat around the abdomen and stimulating appetite. One of the best ways to cope with this problem is to take the herbal remedy, sage, which has positive effects on both your mind and body[30]. You can take sage tea or add this into your daily meals to fight against uncomfortable stress[31].
To make sage tea, prepare 2 teaspoons of dried sage or a handful of fresh sage. Pour boiling water over such amount of sage and allow it to steep for 4-5 minutes.

Strain it and add lemon juice to it if you like.

Consume this drink 1-2 times each day.
15. Hibiscus Tea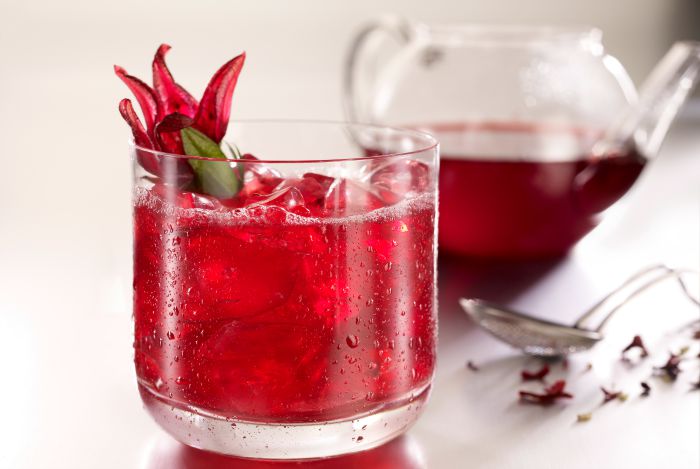 Hibiscus flowers contain polyphenol antioxidants that inhibit the effect of intestinal enzymes (amylase and lipase) to help lower the absorption of carbohydrates and fats from the diet. Consuming hibiscus will help to reduce obesity, lower levels of abdominal fat and improve fatty liver changes[32]. Besides, this flower contains a mild diuretic compound, which can help reduce water weight and bloating[33]. It can also intensify immune function since it is loaded with antioxidants, as well as lowering blood pressure which is often raised in people who are overweight.
You can try both hot and cold hibiscus tea. If you want a hot cup of hibiscus tea, follow these steps:
Take some hibiscus flowers and separate petals.

Keep them in a paper bag to dry for a few days.

Once the petals become dried, prepare a pot of boiling water and put about 2 tablespoons of dried hibiscus petals in it.

Let it boil and simmer it for 5-10 minutes.

After that, strain it and if desired, put a little honey, lemon juice or cinnamon in it.

Take a hot cup of hibiscus tea two or three times a day.
If you are a fan of cold hibiscus tea, you can try this:
Prepare about 1 cup of dry hibiscus flower petals.

Soak them in water till they get faded away for 1-2 days.

Strain it and store the liquid in the refrigerator for about 5 days.

As you wish to drink it, take a cup from the liquid. You can add cinnamon, lemon juice or honey to it.
Note:
Pregnant and nursing women or people who are taking medication should consult a doctor before taking this kind of tea.
16. Yerba Mate Tea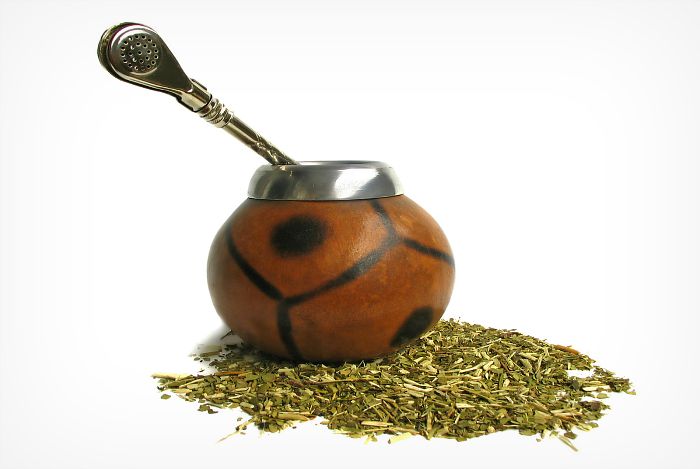 Though yerba mate tea  can energize you due to its natural caffeine content which is more than is found in green or black tea, but less than in a cup of coffee. Yerba mate can raise your metabolic rate, which will decide how many calories you burn each day. It is also loaded with beneficial vitamins, amino acids, antioxidants, and minerals, which can help slow down digestion so you feel full for longer and consume fewer calories each day[34] [35].
Place about 1 tablespoon of dried yerba mate under the coffee press.

Cover it with 1-2 cups of warm water.

Stir it a little bit and cover it with a fitting lid. Depress the plunger on your French press. This press will make room for leaves to tincture and expand. Small powdered particles are also filtered through its sieve.
17. Parsley Tea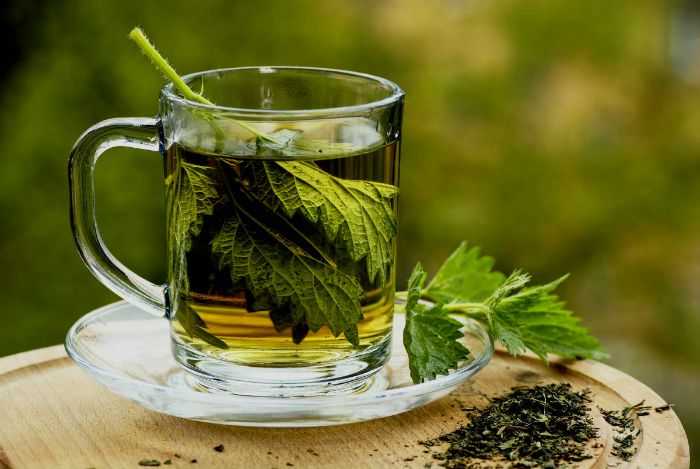 Parsley is loaded with medicinal properties, which are very helpful for your health. Plus, it has cleansing properties, which can help you combat overweight. The active principles include antioxidant flavonoids, iodine and essential oils which are important compounds responsible for stimulating intestinal movements, metabolism, and diuresis[36]. If you are overweight and wish to get rid of fats and excess fluid retention, parsley tea can help.
Boil the water first, put about 30 grams of parsley leaves in a container and cover it. Let it steep for 5-10 minutes and strain it.

Consume 2-3 cups of hot or cold tea each day for 2 weeks. Take it before breakfast, lunch, and dinner.
Note:
If you are pregnant or are breastfeeding, you should see your doctor first before using this tea.
18. Aloe Vera Juice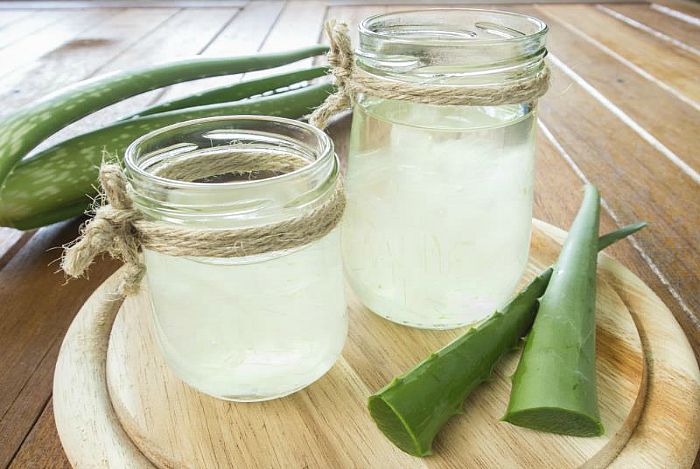 Aloe Vera is found to contain natural collagen proteins. It also helps to eliminate toxins out of the colon and digestive system. With such marvelous properties and function, aloe vera is very efficient in fighting excessive weight because it may promote the metabolism, enhance the energy consumption, and mobilize unnecessary fat in the body[37] [38].
Take 2 fresh leaves of aloe vera, peel them, and take out the flesh of them.

Blend the flesh with a cup of citrus juice such as orange or grapefruit juice or water in a blender. You keep it blending for 2-3 minutes.

You will get a beautiful solution. Drink it every day for at least a month to experience the difference.
Note:
If you are pregnant or are breastfeeding, avoid Aloe vera juice.
19. Guggul Herb Extract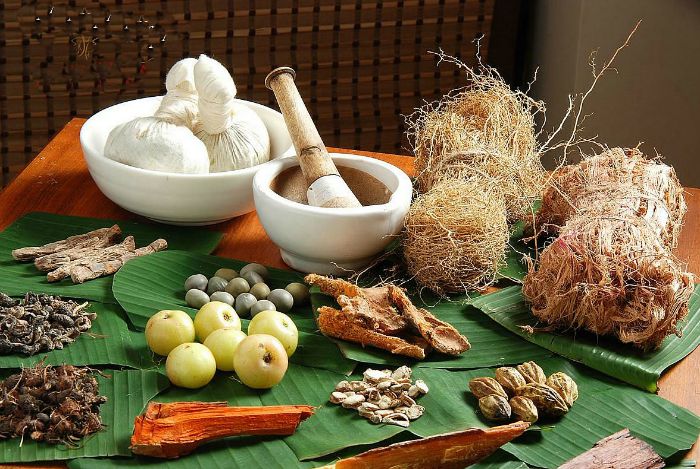 Guggul has been recommended since ancient times in Ayurveda for its great effect on human health and weight loss[39] [40]. According to some modern studies, guggul is considered one of the most effective home remedies for weight loss. Boosting the activity of the thyroid gland is the main effect by which guggul aids weight loss. Thyroid hormones determine your metabolic rate, which is responsible for how many calories a day you burn. Guggul enhances your thyroid function and helps to raise the metabolic rate to reach an optimum level to help support your weight loss.
Divide 75 milligrams of guggul extract into 3 doses and take it (ie 25 mg, three times a day). You can also take 100 milligrams a day, but consult a doctor or herbalist before taking guggul at higher doses.

You can also keep ¼ teaspoon or 1 gram of guggul resin inside your mouth or under your tongue to let it dissolve. You can reapply this method 4 times a day.
20. Plain Yogurt And Honey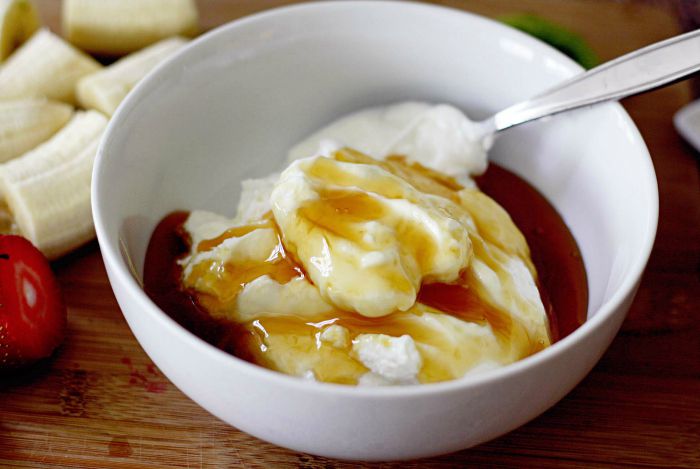 Yogurt contains probiotics, beneficial bacteria which may have an effect on the digestive tract and keep your body healthy by optimizing digestion and having beneficial effects on appetite, glucose absorption and weight loss to help counter obesity and type 2 diabetes[41] [42]. All you need to do is absorb 1/2 – 1 cup of plain (not vanilla) live Bio yogurt mixed with 1 tablespoon of organic raw honey as a snack or for breakfast. You can also add some fruits or even oats to your snack to avoid feeling fed up with it.
21. Milk Thistle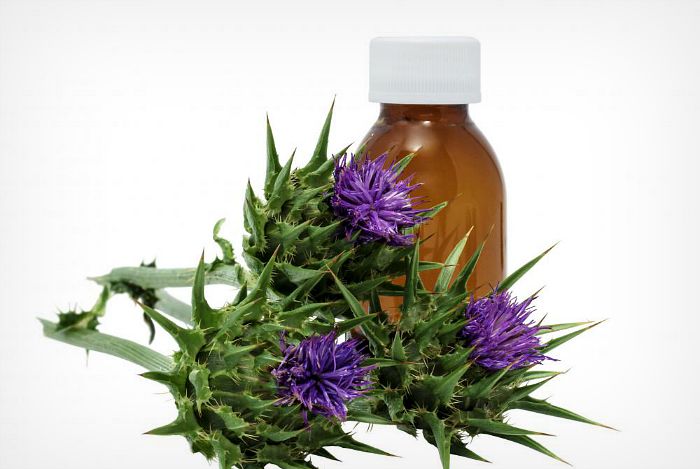 Milk thistle is another kind of herb, which has a positive effect on your weight loss because it contains dynamic flavonoid compounds known as silymarin which are very helpful for liver function – the important organ involved in the control of weight and fat burning[43]. When your liver function is suppressed, your weight loss may be reduced by 30%. You can take milk thistle in many ways, but it is suggested you should take the capsule form as long as the source is reliable. Or else, you can try milk thistle tea because its effect is not mitigated by soaking in water.
22. Dark Chocolate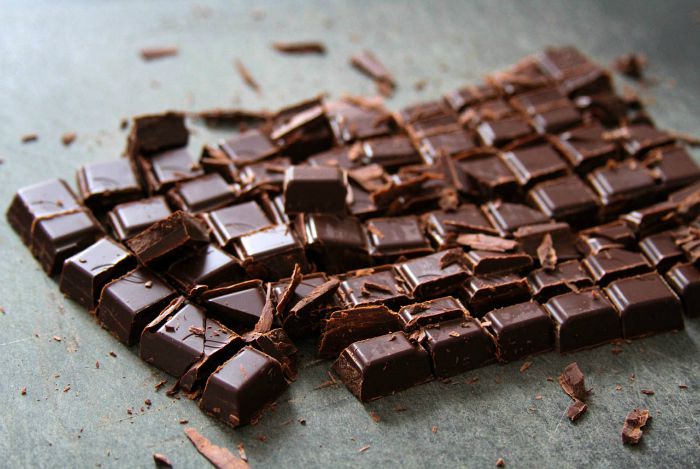 Dark chocolate contains flavonoid antioxidants which help to reduce insulin-resistance and to reduce hunger. Dark chocolate also contain healthy fats, which help to reduce sugar absorption into the bloodstream, thereby avoiding glucose and insulin spikes. Studies have shown that eating chocolate containing at least 70% cocoa solids will curb the cravings for sugar, fat, and salt in your daily diet[44] [45]. Remember not to take chocolate with too much milk or sugar, as these may have the opposite effect and harm to your weight and health.
After a meal, havee a small piece of 70% dark chocolate to consume slowly.
23. Tomatoes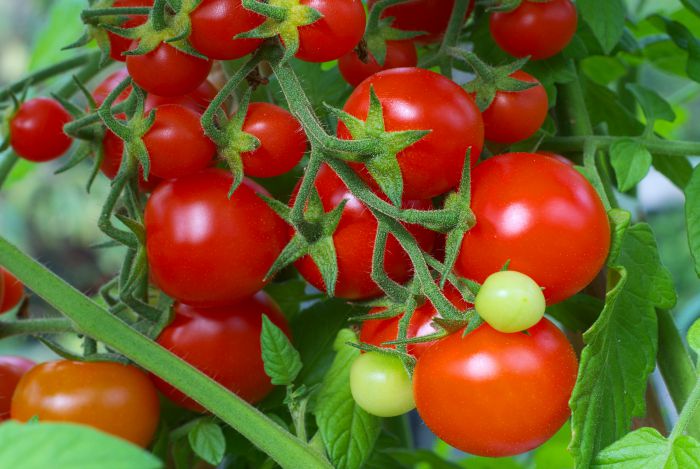 When mentioning the natural home remedies for weight loss, we may not ignore tomatoes. Tomatoes are rich in vitamins A, C, and K, magnesium, choline, manganese, folate, and other nutrients, which are very helpful for your health. They are also loaded with antioxidants, which help to protect against certain cancers. The insoluble fiber in it may help bind to the fat molecules while preventing their absorption[46]. Having tomatoes will help lower oxidative stress and aid you in losing weight due to its antioxidants[47].
For this purpose, you can eat 2 tomatoes in the morning daily on an empty stomach. Don't forget to eat both the peels and seeds of tomatoes because they contain dietary fiber.
24. Cabbage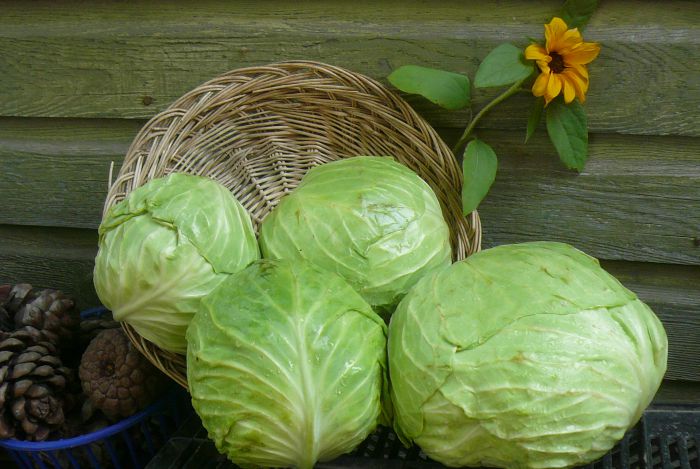 Cabbage includes tartaric acid, which is involved in the conversion of carbohydrates into fat. In addition, it is packed with vitamin C with a high level of fiber but low level of calories[48]. It further has phytochemicals, which play a beneficial role in estrogen balance and metabolism, and which may have beneficial effects on fat storage and protect against hormone-related conditions such as ovarian cancer. You also can try other kinds of cruciferous vegetables such as cauliflower, broccoli, or Swiss Chard which similar effects to cabbage for reducing excessive weight.
25. Cucumber Or Carrot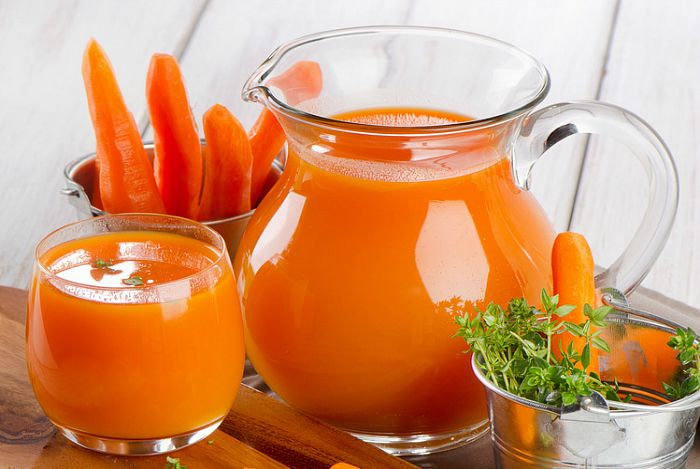 Cucumber contains a high level of water (90% water) as well as fibre to help suppress appetite. Eating cucumber in your daily meals is a totally natural and safe way to reduce weight[49].
Carrot is also very useful to lose extra flab[50]. Take a cup of carrot juice in the early morning, you can feel a better mood with your weight. You can also try a whole carrot or chopped carrot mixed with salad, or cooked carrots for variety.
26. Cranberries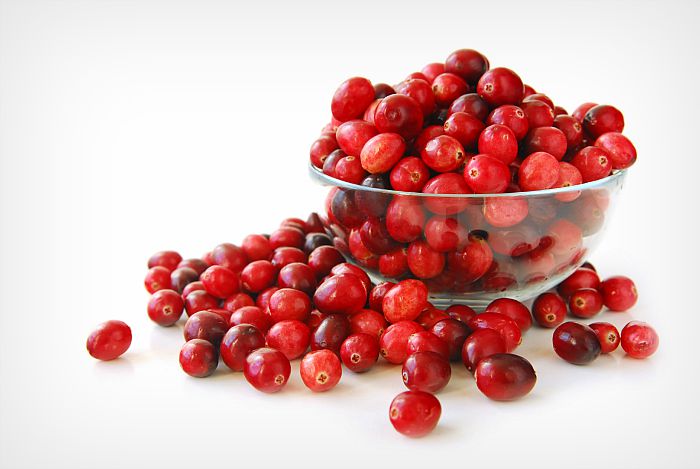 Cranberry is widely known for its rich content of vitamin C and antioxidants, which can help to avoid the formation of free radicals and support weight control by stimulating your metabolism and weight loss[51]. With its high content of fiber and polyphenols, it is considered among the best home remedies for weight loss effort. They contain more polyphenols than some other kinds of fruits such as apples, strawberries, oranges, or blueberries.
Take a glass of cranberry juice every morning.

You can also take a glass of cranberry juice without much sugar before lunch. Mix half of the water with half of cranberries juice to make a great juice for your weight loss.

Take 8 ounces of cranberries juice instead of dessert after dinner.
27. Cayenne Pepper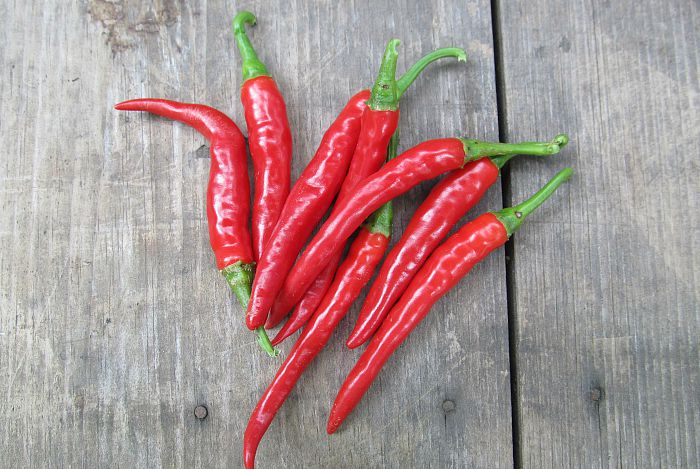 Cayenne pepper is one of the most widely known home remedies for weight loss because it stimulates metabolism to help take control of obesity and aid in weight loss. Cayenne pepper contains capsaicin, which stimulates your body to burn fat and raises energy expenditure[52] [53]. Moreover, it can help to boost digestion and supre excess appetite . You can try cayenne pepper tea for the purpose of weight loss.
Pour a glass of hot water over cayenne pepper to make tea. First and foremost, you should use a reasonable amount of cayenne pepper at about 1/10 of a teaspoon, then, increase the amount of pepper gradually to 1 teaspoon. Extract the juice from half a lemon and add to it. Then take this kind of drink for at least 1 month.

You can also combine 2 tablespoons of lemon juice and maple syrup with 10 ounces of water. Stir in this drink a dash of cayenne pepper and consume it.

You can supplement cayenne pepper and other spices such as ginger, mustard seeds, and black pepper to your daily meal if needed.
28. Gurmar Leaves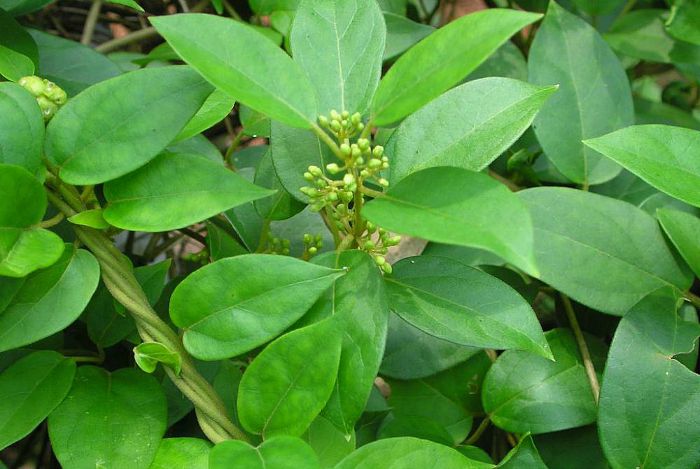 Gurmar has been widely used by Ayurveda to deal with bunches of diseases including kidney stones, enlargement of liver, obesity, diabetes, etc. This herb is known for its digestive stimulant, astringent, and diuretic attributes. According to some studies, this herb contains gymnemic acid, which takes charge of the positive effects such as balancing blood sugar levels, improving triglycerides levels and cholesterol function, especially when it is absorbed internally. As this herb can stop your cravings for sweetness, it is taken as one of the best home remedies for weight loss[54]. Prepare 6-12 grams of ground gurmar leaves (about 1,5 to 3 teaspoons) to absorb each day.
Note:
If you are taking medication or have diabetes, seek advice from your doctor before taking this herb.
29. Curry Leaves
Curry leaves contain mahanimbine, an organic compound which can be extracted and used for its anti-obesity and lipid-lowering effects. Hence, it may improve weight loss process and reduce cholesterol and triglyceride levels[55].
You should practice eating 10 fresh curry leaves each day in the morning. Use this treatment regularly for 3-4 months to get the best results.
30. Fennel Seeds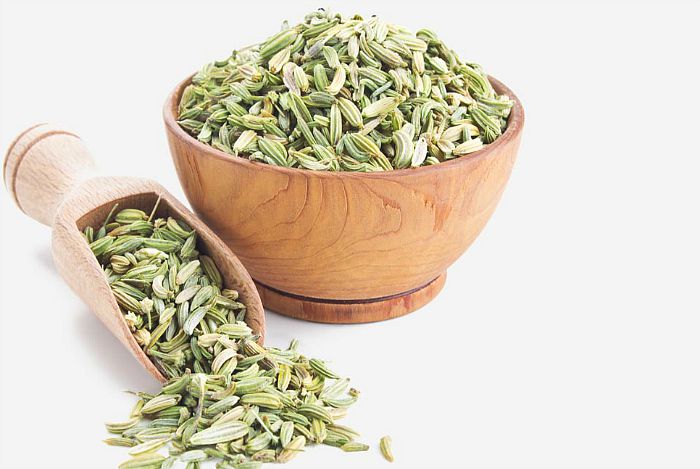 Fennel has been used to treat obesity since ancient times[56]. It was also used as a traditional treatment to prevent growling stomachs. Fennel seeds also have diuretic properties which help to reduce fluid retention and  help you lose weight speedily in the short term .
Simply dry roast and grind fennel seeds. Strain the powder. Mix ½ teaspoon of fennel powder with warm water and drink it twice a day. This drink also helps to relieve abdominal gas, constipation, and indigestion.

You can also try fennel tea 15 minutes before having your meals.
31. Almonds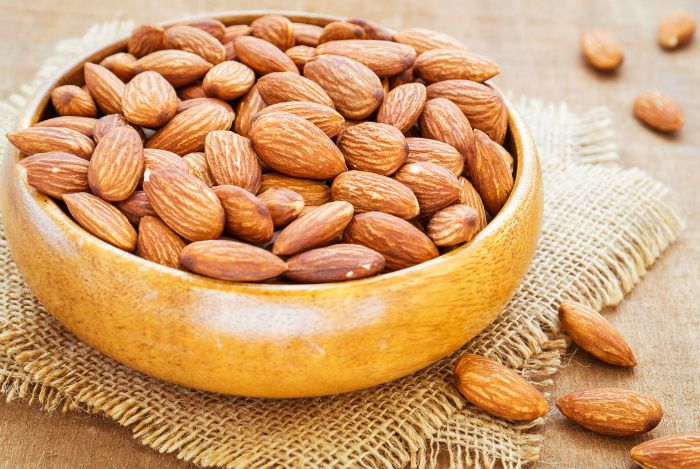 Almond nuts contain healthy monounsatured fats, protein and fibre which together make them one of the greatest home remedies for weight loss[57] [58]. Almonds are a beneficial snack as they curb appetite and contain high-quality nutrients such as vitamin E, calcium, and healthy fats. The high content of calories in almonds can be daunting, but research shows that people who eat the most nuts lose the most weight, so don't be put off eating them in moderate amounts. You can add almonds to low-calorie diet with a low level of carbohydrates to enhance your weight loss process. There are many ways to consume almonds.
Replace your fatty snack with a handful of almonds.

You can also add almonds to your daily breakfast. This will make you full for a longer time and energize you immediately because it contains protein preventing you from overeating.

Alternatively, put some ground chopped almonds to your breakfast cereal. Or, try adding smashed almonds to your salads or soup to take at dinner. This will not make you hungry for a long time.
32. Flax Seed
A long time ago, flax seed was believed to help people deal with digestive disorders and to be among the greatest home remedies for weight loss. Flax is rich in fiber and mucilage, which may help to reduce cholesterol levels and lower blood sugar levels[59] [60]. Because of its high level of fiber, using flax seeds is also a great natural way to feel full for longer, manage bowel moments and increase healthy gut bacteria, for beneficial effects on weight loss. Remember to consume ground flaxseed rather than whole seeds, which would move through the  intestinal tract undigested, preventing you from getting the full nutritional benefits.
All you need is to consume 1 tablespoon of ground flaxseed once daily. Or you can sprinkle some over cereal or oatmeal if you like.
33. Asparagus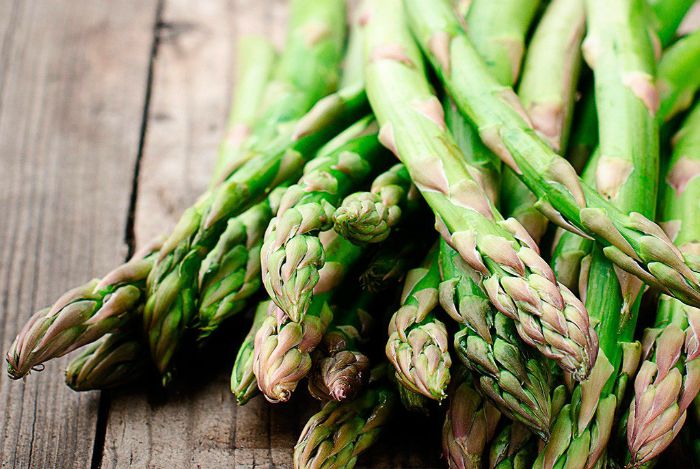 Asparagus is one of the most useful home remedies for weight loss because it is  nutrient dense containing much fiber which may help to curb appetite efficiently[61]. It is also rich in micronutrients that help to metabolize blood glucose, thereby managing blood sugar well. In addition, it has mild diuretic properties that help you avoid puffy feelings.
Take 1 bunch of asparagus, wash carefully, and peel the stems if needed.

Put it into a pan and pour over ½-1 inch of water. Cover with a well fitting lid.

Keep the heat at medium level and steam it for 3 minutes or until the asparagus is soft enough to prick a fork through.
34. Coconut Oil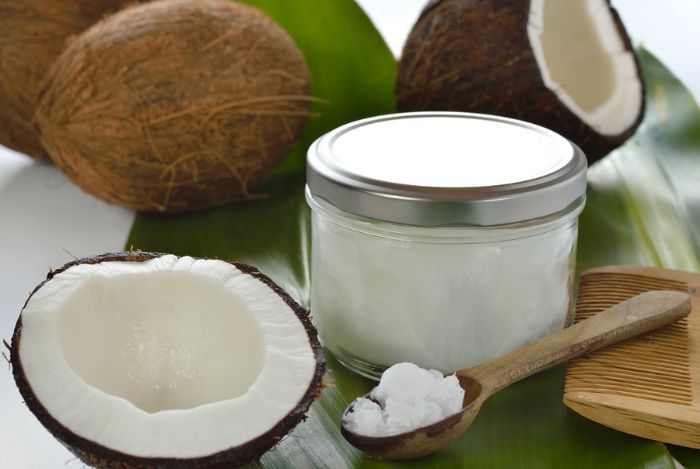 Coconut oil contains unique fats called medium chain triglycerides (MCT's), which may make your body use calories more efficiently[61] [62]. Coconut oil has been shown in some studies to curb the appetite and enhance the burning of calories[62] [63]. Besides, it also helps to improve metabolism.
Take 2 tablespoons of cold-pressed coconut oil before, during or after a meal 2 times each day.

It can be used to replace olive oil and bring about great results.
35. Water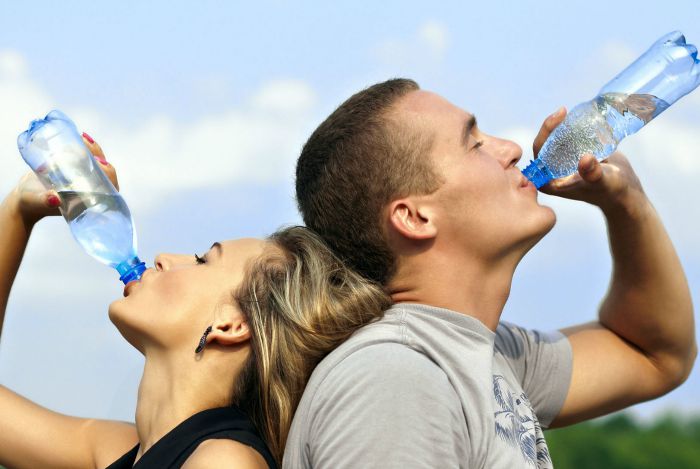 Always keeping well hydrated by drinking enough water is a priority to help you overcome  obesity. Nevertheless, people often ignore this simple action, especially when they are following a weight loss routine. You may hear someone say that drinking ice cold water can help to reduce calories but this is not true. Drinking fresh water to maintain hydration helps to support fat burning and can reduce appetite when you have an empty stomach. Research shows that water consumption reduces energy intake at breakfast, for example.[64] [65]. One important notice for you is that NEVER TOUCH SPECIALTY BEVERAGES! You just should get vitamins through your diet and supplements. Avoid sugary drinks such as soda, coca- cola because they will not only discourage your weight loss but also provide you with excess sugar that is converted into fat.
It's best to take 8 cups of fresh water every day. Applying this method for a long time, will help you become slimmer as a result.
36. Get Enough Sleep Every Day
Hhigh-quality sleep is very important during the weight loss process. It has been shown in studies that if you get too little sleep over 4 nights, this will cause a rise in insulin resistance and cause changed in hormone levels (leptin, ghrelin) that increase appetite, and promote weight gain.[66] [67]. The sensitivity of fat cells to insulin will decrease by as much as 30% which also increases the risk of type 2 diabetes. By getting enough sleep, you will not only rest your body comfortably but also speed up the process of losing weight.
37. Practice Yoga Daily 
Practicing yoga daily is one of the most effective natural home remedies for weight loss. During the weight loss process, besides keeping a healthy diet and reasonable schedule, practicing exercises every day is a vital activity if you wish to have a fit body. Apart from the many physical exercises that burn fat calories fast, such as going jogging, riding a bike or skipping rope, yoga is also beneficial for weight loss[68] [69].
Yoga is believed to help you lose weight fast because of its postures and asanas.
Now, take a deep breath, choose a quiet place, do yoga on a regular basis and see the better results in your weight loss process.
Additional Tips
Apart from the above home remedies for weight loss, you also need to follow some tips below:
Remember that if you want to succeed in gaining desirable weight, remedies alone are not enough. By combining regular exercise with appropriate diet and by sticking to the schedule, you will lose weight as quickly as possible.

Always stay away from stress or pressure, which may be the main cause provoking your cravings and overeating, causing your weight to rise uncontrollably.

Finally, remember to ask for help from doctors and reliable consultants to optimize such methods if you are not sure about them.
Hopefully, these natural home remedies for weight loss can partially have a positive influence on your weight management and weight reduction. If you have any question or query, please feel free to leave them in the comment box.
You may read more this article medically reviewed by Registered Dietitian Nutritionist Rachelle Caves, RDN, CNSC, CPT at [Link]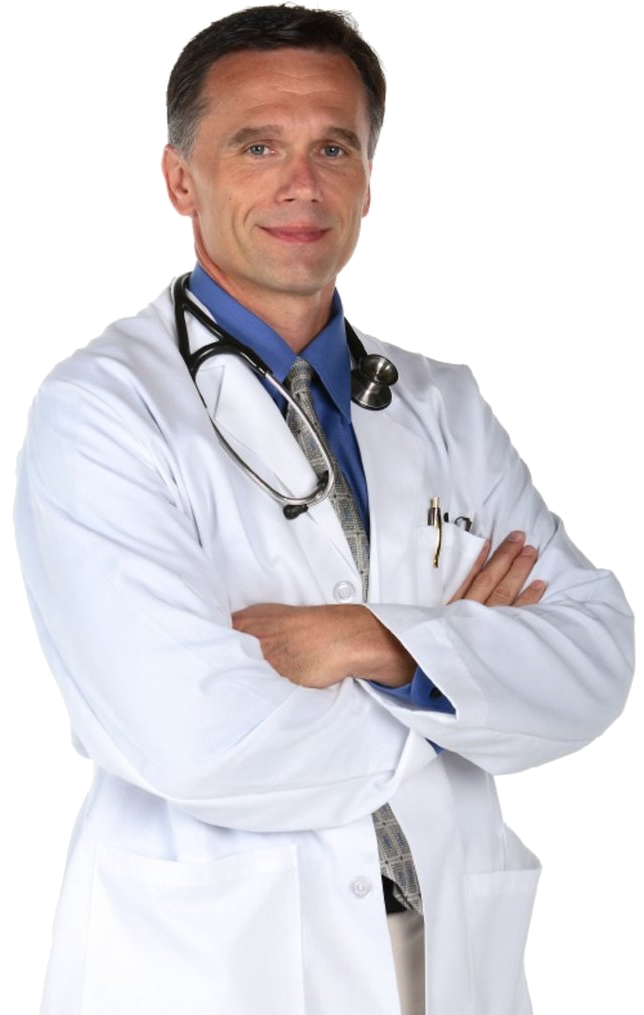 GET FREE ACCESS!
Lorem Ipsum has been the industry's standard dummy text ever since the 1500s, when an unknown printer took a galley of type and scrambled it to make a type specimen book. It has survived not only five centuries
RELATED ARTICLES
YOU MAY LIKE THIS