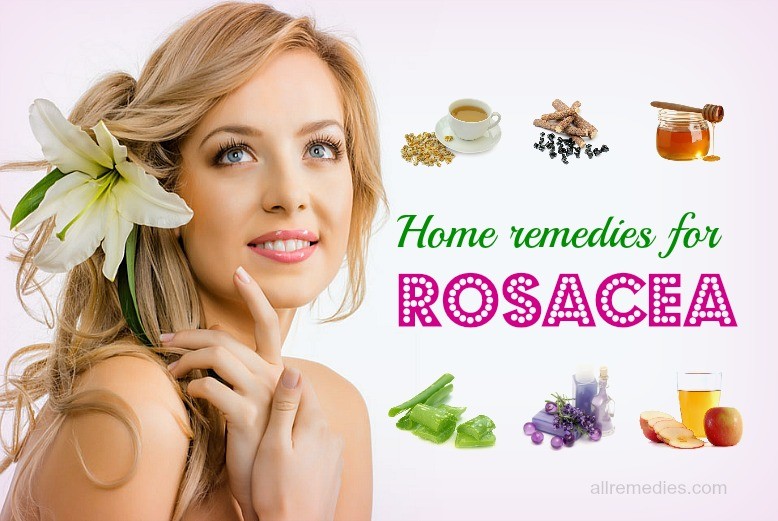 12 Home Remedies for Rosacea: Causes, Symptoms, Prevention
Updated: 8/25/2019
Overview
Rosacea is sometimes mistaken for an allergic reaction, acne, or other skin problems. However, rosacea may be a chronic skin condition which usually affects the face, especially the nose, chin, forehead or cheeks. Anybody may suffer from rosacea. Middle-aged women who have fair skin are the most commonly affected. If you want to know what they are, please continue reading this article on our site AllRemedies.com which will present to you the best home remedies for rosacea treatment that you can follow to get rid of it at home.
What Are The Symptoms Of Rosacea?
When rosacea occurs, it will bring some symptoms such as swelling, thick and dry skin, small cysts, red patches and bumps, a burning sensation as well as swollen eyelids [1]. Additionally, these symptoms can come and go. Your skin may be clear for weeks, months, or years. Then it erupts again.
What Causes Rosacea?
Even though the reason which causes rosacea is unknown, people believe that rosacea can happen because of the swelling of the blood vessels under the skin.[2] Some factors increase the risk of getting rosacea:
Eating too much spicy

Exposure to direct sunlight

Intense exercises

Alcohol

Caffeine

Dairy products

Excessive drinking along with living in the extreme temperature areas
Sometimes, it may tend to run in families. Therefore, going to the hospital to check your condition when you get these symptoms is the best choice. Besides, you can also use the at-home remedies for rosacea treatment.
When To See A Doctor?
You should see a doctor if there are some following symptoms on your face:
Some mild developed signs such as facial redness

Some bumps, pimples, or even visible blood vessels on your face

Your eyes are dry, itchy, painful, or bloodshot

Your eyelids are red and itchy

Swollen and red nose
Warnings
These signs may show your rosacea on your face getting worse. It's essential to get treatments before your skin condition becomes more serious. If untreated, these signs may lead to serious damage, such as eye damage.
AllRemedies Partner Solutions
Keep Asking Questions Until You Get The Answer You Need!
The Medical Experts are all here to answer your questions online or with a phone call.
Top 12 Natural Home Remedies For Rosacea Treatment On Face
These are 12 natural home remedies for rosacea treatment on the face which you can do to get rid of rosacea quickly at home:
1. Chamomile Tea
Thanks to the anti-inflammatory properties, chamomile tea is a great treatment for rosacea. It may help to reduce inflammation and redness [3]. Additionally, with active ingredients such as flavonoids and terpenoids, chamomile tea may have significant medicinal properties. Drinking chamomile tea daily also enhance the quality of your sleep [4].
Directions:
Soak from three to six chamomile tea bags into three cups of boiling water for about 10 minutes, then take all the tea bags out

Put the bowl of tea in the refrigerator until the tea becomes cold

Dip a cotton cloth or towel in the bowl and remove the excess liquid

Place the cloth or towel on the affected area in 15 minutes
Pay attention: chamomile tea may cause allergic infections in rare cases. Thus, you should do a patch test before applying this remedy.
2. Green Tea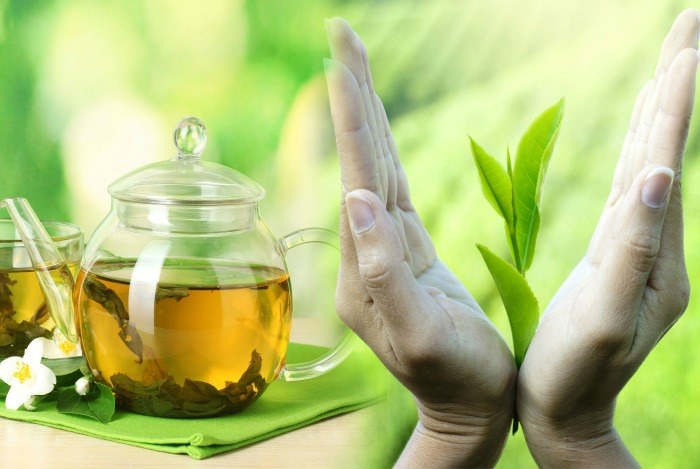 Green tea [5] is considered an excellent treatment for rosacea because it includes antioxidant, anti-inflammatory, phyto-protective and anti-angiogenic properties [6]. Besides, green tea helps to decrease the reaction of the skin to ultraviolet light [7] and may prevent pustules and papules [8] from developing on the affected area.
Directions:
Make two cups of green tea and put them in the refrigerator for about 30 minutes, then take the cold tea out

Soak a cotton cloth in the cold tea

Place the cloth on your affected area for 5 minutes

Repeat this procedure twice a day

Keep doing this every day for months for the effective result
Besides, there is a simple way you can do to treat rosacea. You just need to drink green tea at least twice a day.
3. Oatmeal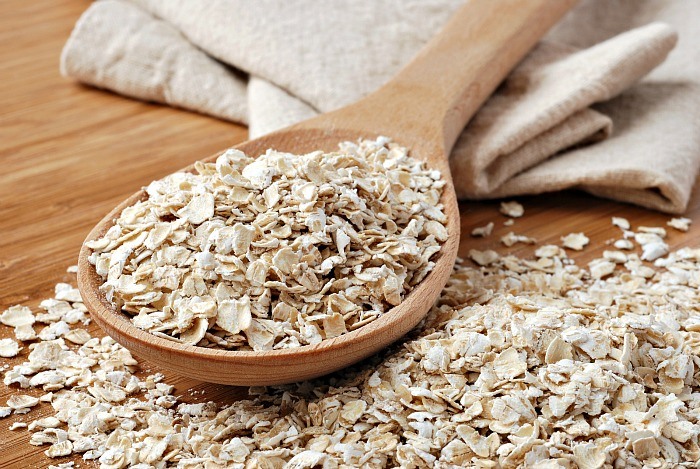 One of the amazing home remedies for rosacea treatment is oatmeal. Containing anti-inflammatory and antioxidant properties, oatmeal may alleviate redness, itching, and inflammation [9]. Researchers claim that beta-glucan found in oats may lower LDL cholesterol levels [10].
Directions
Take one and a half cups of powdered oatmeal and a quarter cup of water

Mix them well together in a large bowl

Apply this mixture on your affected area. You should not rub the skin, just lightly smooth the mixture over your skin

Leave it on for about 20 minutes

Wash off your skin with cool water

Finally, use a soft towel to pat dry your skin

Repeat this method every day until you see the result.
4. Licorice, Honey, And Aloe Vera Gel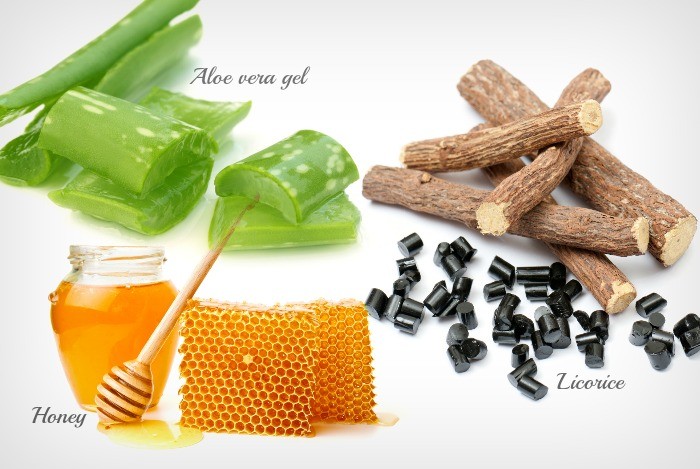 Licorice may help to reduce facial redness, which is one of the most common symptoms of rosacea [11]. Furthermore, licorice has a positive effect on peptic ulcers [12]. Glabradin in licorice roots may enhance metabolism and act as a phytoestrogen, which brings numerous benefits to women's health.
Directions:
Prepare a tablespoon of licorice powder, a teaspoon of honey and a teaspoon of aloe vera gel.

Mix everything well

Apply the mixture on your affected skin area

Leave it on for about 15 minutes

Finally, wash off with lukewarm water

Continue doing this every day in one or two months to get the good result
5. Lavender Oil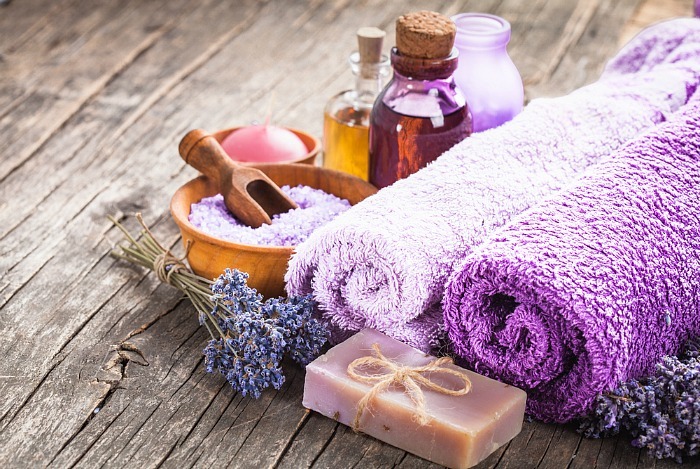 Lavender oil is considered one of the most common essential oils in the world. Lavender contains vitamin A, calcium and iron, which improve central nervous system [13]. Thanks to the antiseptic and anti-inflammatory properties, lavender oil is widely used to deal with a lot of skin problems, including rosacea [14].
Directions:
Method 1: Lavender oil
Soak a cotton ball in the lavender oil

Massage your affected area gently in circular motions

Do this every day for a few weeks until you see the improvement
Method 2: Lavender oil and almond oil
Mix a tablespoon of almond oil with a drop of lavender oil

Apply this mixture on your affected skin area before you go to bed

Gently massage your skin

Leave it on overnight

Wash your skin off with lukewarm water in the next morning

Do this procedure once a day until you see the difference on your skin
Pay attention: lavender oil may cause skin irritation in some people; therefore, you should have a check before using it.
6. Honey
Honey is well-known as a natural and effective home remedy for rosacea[15]. It is crammed with antimicrobial, anti-inflammatory and antioxidant properties [16] which aid to moisturize your skin, prevent the breakout of rosacea and acne. Also, antioxidants may lower the risks of heart attack, some forms of cancer and benefit eye health [17].
Directions:
Take one or two tablespoons of raw honey

Gently massage your affected skin area

Leave it on for about 20 minutes

Finally, rinse off your skin with lukewarm water

Repeat this twice a week until your condition is better
Sometimes, you can apply your light moisturizer after rinsing off your skin. It will help you to promote the healing process and ease redness and inflammation.
7. Olive Oil, Milk And Honey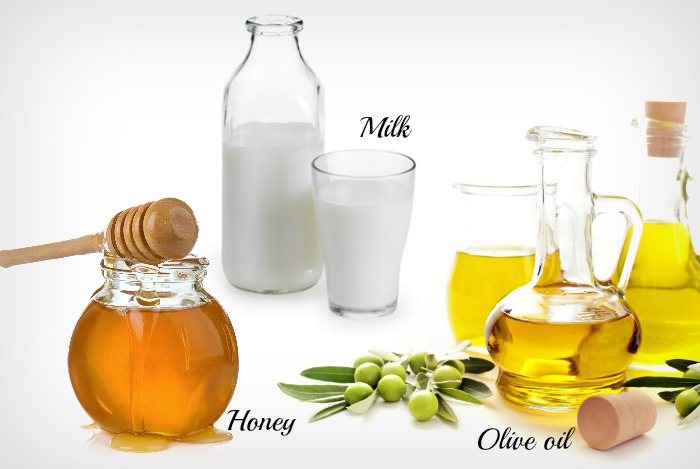 Olive oil, one of the most vital essential oils, has been part of the human diet for millennia. It contains a lot of powerful antioxidants, which may enhance metabolism [18]. Moreover, olive oil has been proved to be an effective treatment of rosacea [19] It may easily reduce redness, pimples and pumps.
Directions:
Combine a tablespoon of olive oil, a half teaspoon of whole milk and two tablespoons of honey

Apply the mixture on your affected area

Leave it on for about 10 minutes

Use lukewarm water to wash it off

Do this remedy from one to three times per week
8. Aloe Vera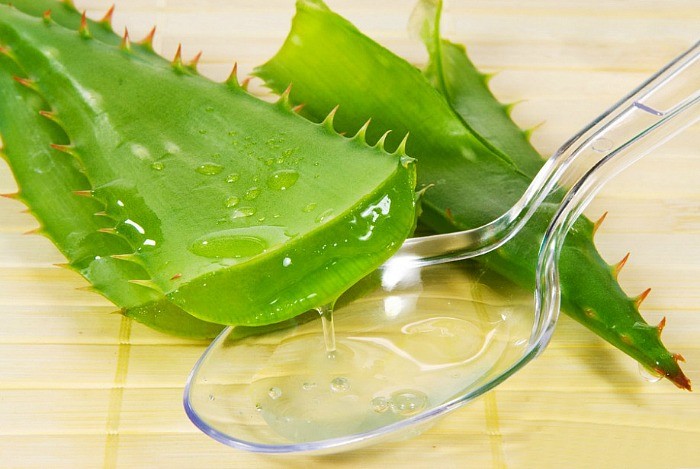 Aloe vera is said to be one of the wonderful home remedies for rosacea [9]. It may rejuvenate the skin, decrease irritation and redness. Also, aloe vera contains vitamin A, C and E, which increase cell growth and beautiful hair. Amino acids in aloe vera may protect your skin from radiation damage and make the skin less sensitive [20].
Directions:
Take aloe vera leaf and then extract the juice from it

Apply the gel on your affected skin and allow it to dry

Rinse off your skin with lukewarm water

Keep doing this every day to see the best result.
Alternatively, you can consume a tbsp of the aloe vera juice 2 times per day.
9. Turmeric And Honey Or Yogurt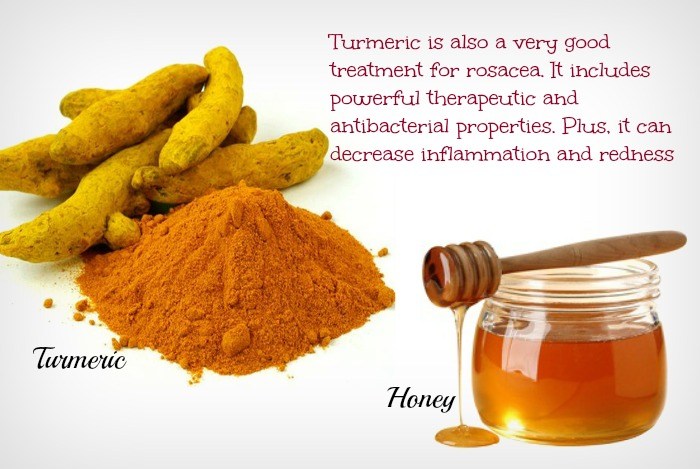 Turmeric has been reported to be an excellent treatment for rosacea because of its anti-inflammatory, antimicrobial, antioxidants and anti-neoplastic properties [21] . Curcumin, an active component of turmeric, may be applied to several dermatologic diseases. Studies indicate that curcumin may reduce the risk of getting cancer [22]. Here are some methods for you to choose:
Method 1: Turmeric and honey or yogurt
Mix a teaspoon of turmeric and a tablespoon of honey or yogurt to make a paste

Wash your affected area and pat it dry

Then apply the paste on your affected area

Leave it on for 20 minutes

Wash your skin off with warm water

Do this process once a day to achieve a positive result
Method 2: Turmeric and milk
Drink a glass of warm milk with a teaspoon of turmeric in the morning
10. Flaxseed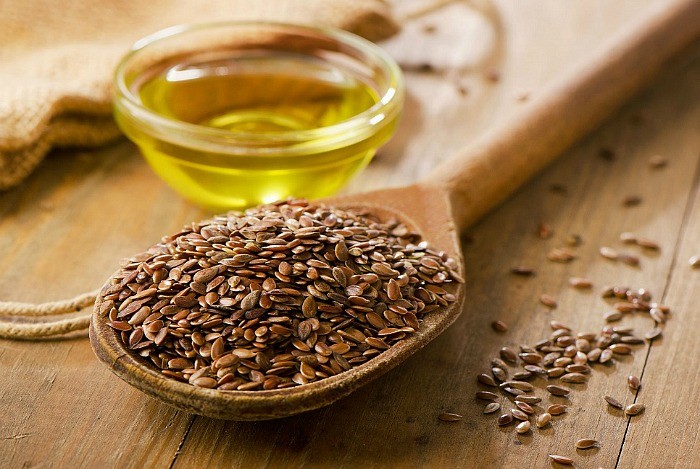 Flaxseed is a good remedy for rosacea at home. Flaxseed has a great amount of omega-3 fatty acids that may decrease the production of inflammatory compounds. Therefore, consuming flaxseed may help soothe irritated skin and alleviate inflammation [23].  You can choose one of these methods to follow:
Method 1: Use flaxseed oil to massage your affected skin

Method 2: Add flaxseeds in your daily diet to keep redness and inflammation associated with rosacea under control
11. Cucumber Mask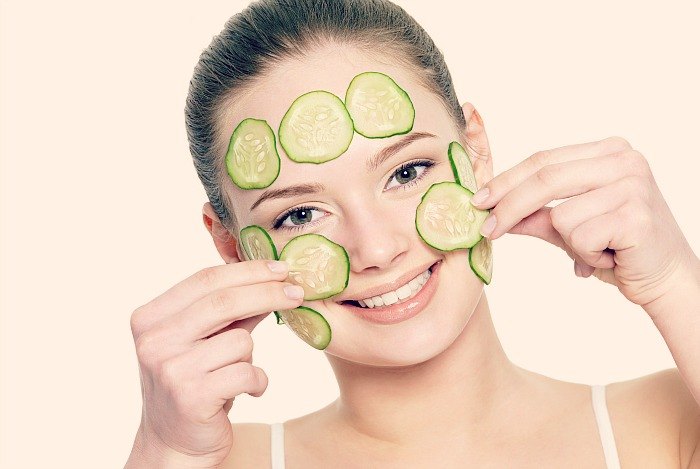 With many skin problems, cucumber is always the cheapest and the best choice. Cucumber extract may aid to alleviate some symptoms of rosacea [24]. Cucumber are approximately 96% of water [25], which may be effective in hydrating your skin.
Directions:
Take a fresh cucumber and put it into a blender

Apply the cucumber on your face and leave it on for 15-20 minutes

Wash off your skin with cool water

Follow this process 2-3 times a week
12. Coriander Powder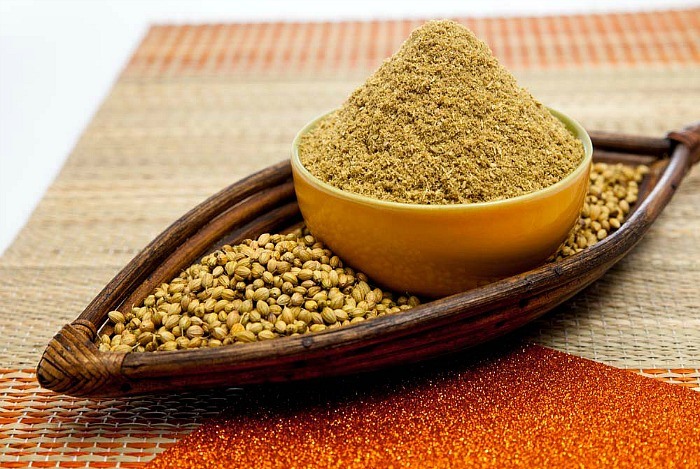 Coriander is an annual herb, which is also known as Chinese parsley. Antioxidants in coriander seeds may constrain the development of human tumor cells from the stomach, breast and lungs [26]. Coriander and turmeric powder both have anti-inflammatory properties which may help to decrease redness and swelling caused by rosacea [21] [27].
Directions:
Mix two tablespoons of turmeric powder, four tablespoons of coriander powder and two tablespoons of milk to make a paste

Apply the paste on your affected area

Leave it on for 10 minutes

Rinse off with cool water

Repeat this remedy twice a day until your situation is improved
Other Tips For Rosacea Treatments
You may follow some tips below to deal with rosacea symptoms or avoid getting rosacea:
Protect your face with a ski mask or a scarf in the winter

Stay away from irritating your facial skin by touching and rubbing it too much

Avoid facial products which include alcohol or other skin irritants

Wash the affected areas with a gentle cleanser

Wear sunscreen with an SPF of 30, even you can use the product with higher SPF of 30

Eat more healthy food

Consume food with a lot of vitamin D, E, A, B or vitamin supplements

Eat food with zinc or take zinc supplements twice a day

Avoid spicy or sugar-based food

Stay away from smoking and drinking alcohol or coffee

Avoid psychological stress

Sleep 6-8 hours per day
If you want to know more about natural home remedies for other diseases and conditions, go to our main Home Remedies page. We hope that 12 home remedies for rosacea can help you find out the best and the most suitable one to get rid of rosacea easily and quickly. However, the article is only for informational purposes; therefore, you should see your doctor to get advice before applying any home remedies for rosacea. If you have any questions, or you know other home remedies for rosacea, please leave them below in the comment box.
Related articles: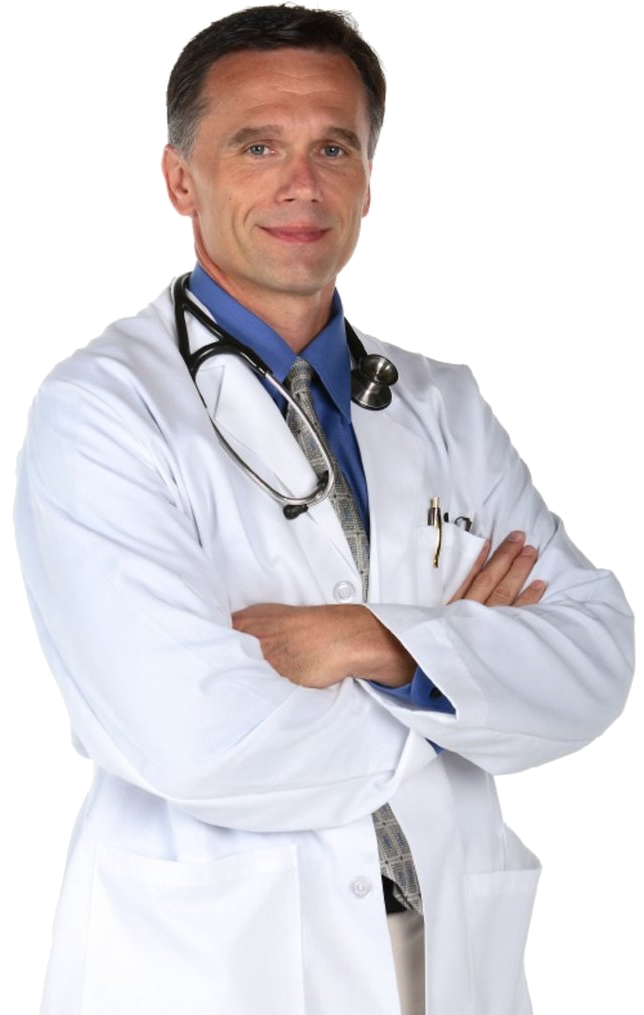 GET FREE ACCESS!
Lorem Ipsum has been the industry's standard dummy text ever since the 1500s, when an unknown printer took a galley of type and scrambled it to make a type specimen book. It has survived not only five centuries
RELATED ARTICLES
YOU MAY LIKE THIS