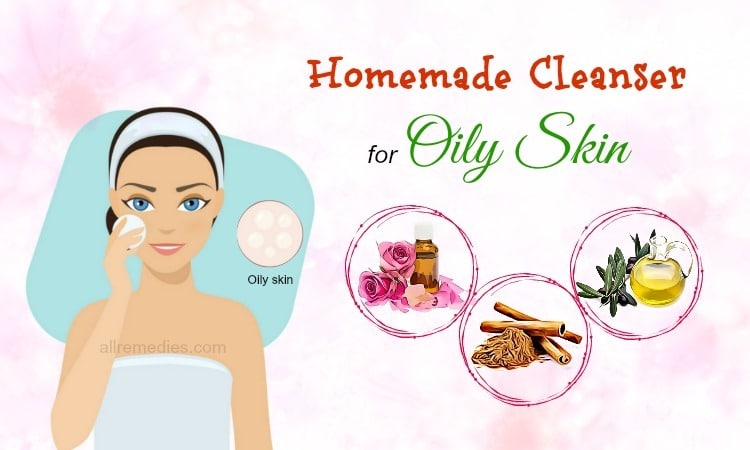 Top 8 Simple Ways of Making Homemade Cleanser for Oily Skin & Acne
Overview
Oily skin is a common beauty problem affecting many people around the world. A study reported that oily skin is caused by excessive production of skin or sebum oil [1]. Other factors such as age, weather, and diet also contribute to this problem. The right skin care routine including a suitable cleanser has the ability to help you in controlling the problem of oily skin. This post on AllRemedies.com in the line of Skin Care will list different ways to make homemade cleanser for oily skin and acne. Keep reading to learn more.
Top 8 Ways Of Making Homemade Cleanser For Oily Skin
Compared to commercial products available on the market, a homemade cleanser for oily skin and acne is a good idea since it mostly contains natural ingredients and doesn't any side effect on the skin. Let's check out!
Read more: 39 Best Essential Oils For Oily Skin And Acne
1. Homemade Cleanser For Oily Skin With Rose Water
Basically, rose water helps to cleanse, soothe, tone, and moisturize the skin. Plus, it also helps to improve circulation and the procedure of cell regeneration. Additionally, it comes with pH balancing properties that will aid in balancing the sebum production. To make this homemade cleanser for oily skin, follow the instructions below:
Things you need:
Process:
Take some rose water and soak the cotton pad in it. Then, wipe it all over the face with upward motions. After that, rinse your face by using plain water. Do this process nightly before your bedtime.
AllRemedies Partner Solutions
Keep Asking Questions Until You Get The Answer You Need!
The Medical Experts are all here to answer your questions online or with a phone call.
See also: Best Makeup For Oily Skin With Acne: 12 Tips 
2. Chamomile Tea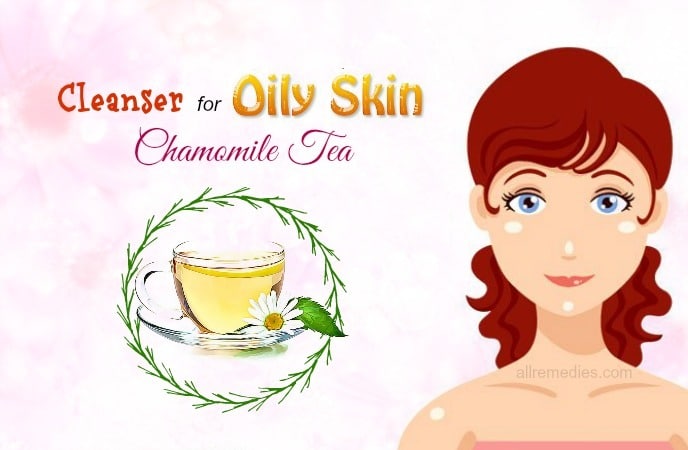 According to a study, chamomile tea consists of amazing healing, cleansing, antioxidant, and moisturizing effects and is considered as an ideal remedy for skin care [2]. In addition, it helps to repair the damage caused due to the sun & other harmful factors. It also assists in reducing the oiliness and lightening the skin. Here is how to make this cleanser for oily skin at home:
Things you need:
Chamomile tea bag – 1

Hot water – 1 cup

Almond or olive oil – 1 teaspoon

Castile soap – 1 cup

Chamomile essential oil – 10 to 15 drops

Vitamin E capsules – 4 (optional)
Process:
Take the chamomile tea bag and steep it in the hot water for around fifteen minutes. Allow it to cool down and then, add the remaining ingredients to the tea. Mix everything well and transfer to a bottle. After that, use it as your facial cleanser. It's suggested to use this homemade cleanser for oily skin 1 or 2 times every day.
3. Homemade Cleanser For Oily Skin With Olive Oil
Being an excellent moisturizer, olive oil [3] helps to seal moisture in the skin, calming the sebaceous glands and controlling the excessive production of oils. Plus, the antioxidants present in olive oil help to repair the skin. Furthermore, it also contains strong antibacterial effects, which fight against acne, a common trouble in oily skin types. Do this process below to make this homemade cleanser for oily skin and acne:
Things you need:
Extra virgin olive oil – a few drops

Soft face towel – 1
Process:
Take the olive oil in your palm at first and later apply it to the face. Massage it thoroughly in circular motions and leave the application on for several minutes. Afterward, use a warm wet towel to wipe it off. It's best to use olive oil daily to cleanse your face.
4. Apple Cider Vinegar
Apple cider vinegar comes with astringent abilities, which is good for people having oily skin. Besides, it can help to fade the dull, dead and dirty layer of skin cells since it has exfoliants such as malic acid. Apart from that, the mild acidity of apple cider vinegar is helpful for balancing the skin's pH and absorbing the excess oil.
Things you need:
Apple cider vinegar – 1 tablespoon

Water – 3 tablespoons
Process:
The first step is diluting the ACV in water. The next step is splashing the face with plain water. Then, apply the diluted apple cider vinegar all over your face with a cotton ball. Clean your face with the apple cider vinegar with upward motions and wash it off after several minutes with water. Thereafter, pat your skin dry and apply some jojoba oil or a suitable moisturizer. This ACV cleanser can be used twice or thrice per week.
5. Homemade Cleanser For Oily Skin With Turmeric And Gram Flour
Gram flour or besan has natural alkalizing agents that assist in maintaining the natural pH level of the skin, thus controlling oil secretion. Being a powerful natural absorbent, it also soaks away excess sebum and oil from the skin pores. Furthermore, it works as a cleanser that can remove accumulated oil, dead skin cells, dirt and impurities from the skin. Turmeric [4] is known to manage the excessive sebum production and is thus effective for oily skin
Things you need:
Gram flour – ½ cup

Turmeric powder – ½ teaspoon

Moong dal powder – ¼ cup
Process:
Mix all the ingredients together and store the mixture in a container. Then, use 1 tbsp of this mixture to gently scrub your damp face. Keep the cleanser on for several minutes before rinsing it off. This cleanser for oily skin can be used every day.
Learn more: 36 Natural Home Remedies for Glowing Skin for Oily Skin 
6. Lemon And Honey Cleanser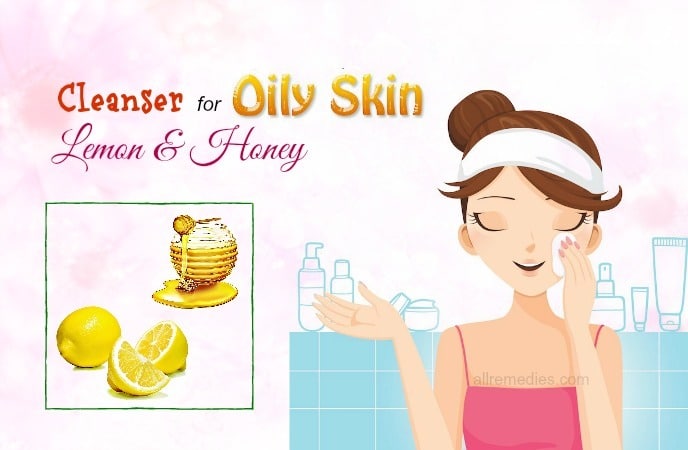 Lemon is an excellent remedy for oily skin because it possesses citric acid that helps to neutralize and manage the oil secretion. Besides, the acid also works effectively to kill the harmful bacteria causing acne and reduces the scars. Honey contains antibacterial agents and helps to restore your skin's moisture. It also aids in reducing the pimple and provides you with a natural glowing skin.
Things you need:
Honey – 2 tablespoons

Lemon juice – 1 tablespoon
Process:
Mix the lemon juice and honey together. If the combination is too thick, add some water to it. Start applying this mixture to the face and gently massage for 1-2 minutes. Leave the application on for around ten minutes before rinsing with plain water. This homemade cleanser for oily skin should be applied every night before hitting the bed.
Read more: Honey for Skin Care – 34 Benefits and Uses of It for Skin 
7. Homemade Cleanser For Oily Skin With Milk
Milk has been used as a top beauty secret since the ancient times. It composes of natural acids and enzymes that help to cleanse, tone, and exfoliate your facial skin. It has a main compound called lactic acid [5], which has been used in many skin care products and has been known for its ability to get rid of oiliness and restore the proper pH balance of the skin. Apart from that, it can also aid in marinating the youthful and fresh appearance of the skin.
Things you need:
Raw cold milk – 3 tablespoons

Orange peel powder – 1 teaspoon
Process:
Combine the milk and orange peel powder together and apply this combination all over your face with the support of a cotton ball. Gently massage the skin in clockwise motions and anticlockwise for around 5 minutes. Then, you wait for another 5 minutes and thereafter, rinse off using lukewarm water. Apply this cleanser for oily skin daily for best results.
8. Tomato And Cucumber Cleanser
Due to their astringent properties, tomatoes are good for soothing inflammation and shrinking the open pores, thus reducing the oily skin. Additionally, the acidic levels promote the sebaceous glands to limit the sebum production by restoring the natural pH balance of your skin. They also come with salicylic acid that functions as a natural exfoliant to take toxins, dirt, dead skin cells, and excess oil out of the skin surface. Cucumbers, on the other hand, contain an important nutrient named silica, which keeps your skin firm and healthy. According to a study in 2011 published in the African Journal of Biotechnology, cucumbers have soothing, cooling, and "anti-sebum secretion" effects that are beneficial for people having oily skin [6]. Tomatoes also help to cleanse the grime and dirt, reverse sun damage and lighten the skin tone.
Things you need:
Cucumber – ½

Small tomato – 1
Process:
Simply, grind together the above ingredients to make a smooth paste. Later apply this resultant paste on your face evenly and let it stay for fifteen minutes prior to washing it off with water. Try using this cleanser for oily skin every day.
See more: How to Get Lighter Skin Fast and Naturally – 33 Easy Ways 
You'll surely notice remarkable results in just several weeks after trying these homemade cleansers for oily skin and acne. Do you know other ways to make a homemade cleanser for oily skin? Share it with us in the comments box provided below.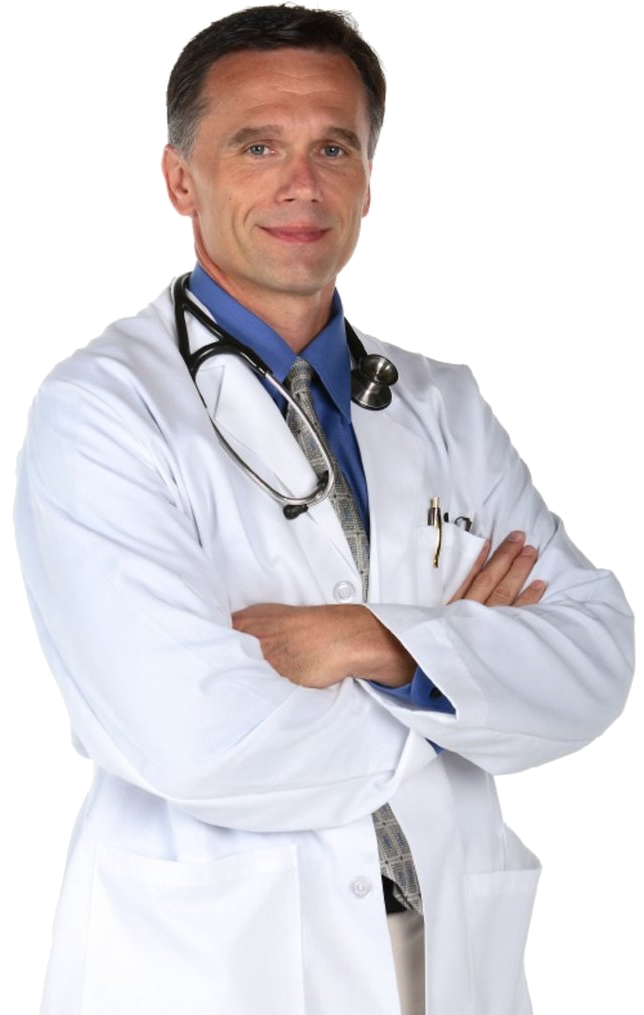 GET FREE ACCESS!
Lorem Ipsum has been the industry's standard dummy text ever since the 1500s, when an unknown printer took a galley of type and scrambled it to make a type specimen book. It has survived not only five centuries
RELATED ARTICLES
YOU MAY LIKE THIS