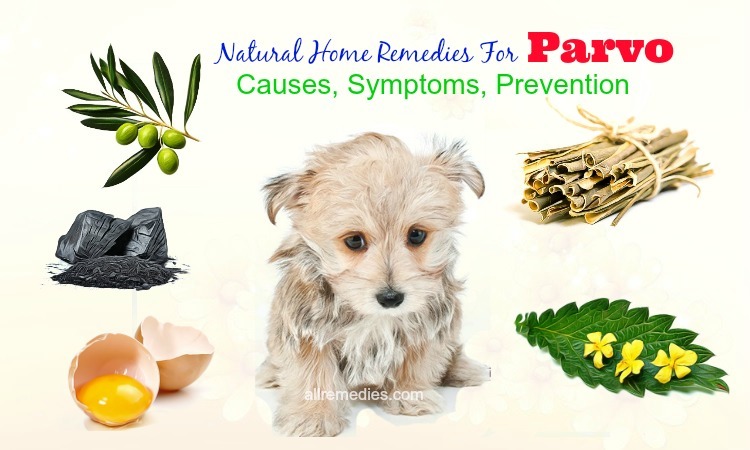 14 Natural Home Remedies For Parvo: Causes, Symptoms, Prevention
I – Overview
The canine parvovirus (CPV) [1], as usually referred to as parvo, is a virus that first appeared in 1978. Since then, this type of virus has had negative effects on pets such as dogs and cats from many parts of the world including Asia, Australia, as well as Americas and European countries. In this article, we, AllRemedies.com have listed some of the causes, symptoms, as well as prevention, and top 14 effective home remedies for parvo disease in cats and puppies using natural methods.
II – Causes Of Parvo In Cats And Puppies
As mentioned above, this dangerous situation is caused by a virus called parvo, especially in unvaccinated pets. As the virus gets familiar with the immune systems of pets, it will quickly destroy many parts of their body. The parts which will be most heavily affected are those which have the potential to reproduce fast including the intestines or stomach lining. After that, the virus will make a further move and affect the whole body of the victims. It is very acute as the virus will destroy the ability of pets to conquer the disease by decreasing the functions of their immune system, making them unable to recover. Ironically, this parvo disease can transfer from one dog to another, therefore, it is possible that dogs living in one specific area will suffer from the same problem of canine parvovirus if their owners do not pay proper attention in the first place. If your dog comes into close contact with another which has already developed parvo in its system, it has the potential to be susceptible to parvo as well.
Check more: 23 Useful Home Remedies for Kennel Cough in Dogs and Cats
III – Symptoms Of Parvo In Cats And Puppies
There are some symptoms of parvo positive dogs which owners had better notice initially in order to prevent the disease from being untreatable. These signs include:
When you notice that your puppy has some strange problems such as nausea or vomiting, chances are that parvo can be affecting it. If these symptoms are accompanied by high temperatures up to 106 degrees Fahrenheit or blood diarrhea, you had better watch out if it has already had parvo.
When a dog is noticed to hesitate to finish its daily portion, as an owner, you should pay close attention. As parvo gets into its blood stream, the main functions of its body including digestion is messed up, which makes it refuse to eat or drink. This can further lead to dehydration or malnutrition, thus result in a decrease in overall health.
One of the first signs you can notice when your dog is suffering from parvo or not is terrible abdominal pain. When you touch its belly or limbs, it will react abnormally as the pain is intense.
AllRemedies Partner Solutions
Keep Asking Questions Until You Get The Answer You Need!
The Medical Experts are all here to answer your questions online or with a phone call.
As parvo affects the body of a dog as a whole and makes it eat less, chances are that your puppy will definitely lose weight after a few days. This sign is quite difficult to notice in the first place as the amount is not so considerable.
See also: 10 Ways How To Use Oregano Oil For Yeast Infection On Skin & In Dogs
IV – How To Prevent Parvo Virus In The First Place
It is of pivotal importance to have your puppy vaccinated against the problem according to expert recommendation. By this way, your dog will definitely develop the protection from parvo viruses as well as other acute issues. Furthermore, constant check-up is also essential as you stand a good chance of noticing the problem of parvo, thus have sensible techniques to combat the disease. By this way, you lessen your dog's risks of having the problem.
V – When To Consult Doctors
When the symptoms get worse such as too high temperatures or bloody diarrhea, you had better consult experts rather than letting your puppy stay at home to observe.
Check also: 19 Natural Home Remedies for Bed Bugs Bites
VI – Top 14 Effective Natural Home Remedies For Parvo Disease In Cats & Puppies
1. Hydration Is Key
As we have already mentioned above, parvo virus does mess up the whole system of your lovely puppy, making it suffer from dehydration. As a result, one sensible technique is to make up for the loss of fluids in its body. This is also expert advice as one of the best home remedies for parvo disease among puppies. By adding more fluids to your puppy's system, you do create a favorable condition for it to flush out the toxins caused by parvo virus. Furthermore, the amount of water added to its body will also result in the balance of electrolytes, which can give it more energy to combat the virus. You should also make your dog drink more water as one of the home remedies for parvo disease while watching closely to its temperature. Water can also facilitate to decrease body temperature in your beloved puppy.
2. White Willow Bark Can Decrease The Symptoms
It is not much of an exaggeration that white willow bark is among the best home remedies for parvo disease in cats and puppies. The reason behind it is that this ingredient contains a component known as Salicylic Acid [2], which is extremely anti-inflammatory. In addition, there are two other components which make white willow bark as one among all natural and cost effective home remedies for parvo, namely Polyphenols and Flavonoids [3]. This combo will promote the functions of the puppy's immune system, and reduce the annoying fever your dog falls victim to when it has parvo virus in its body.
White willow bark is quite available in many stores in different regions. You only need to rush to the nearest store to get the ingredient. The technique for treating parvo for your dogs is simple. Just mix some tablespoons of this to boiling water, let it simmer for some minutes and make the dog drink the tea. You will definitely witness a positive result in your dog's symptom after a few days.
Find also: 10 Health Benefits of Slippery Elm Bark, Herb You Should Not Miss
3. Activated Charcoal Can Absorb The Toxins
When your puppies get the infections from parvo virus, it is important to cut down on the amount of toxins coming to its body through foods. This is because the foods that it consume may upset its stomach, thus worsen the problem of parvo. Activated charcoal is one of the top home remedies for parvo disease, which can assist in absorbing the unwanted chemicals or toxins from what your dog consumes. The activated carbon from charcoal will obviously absorb the foods in the intestines of your dog, making it unable for parvo virus to thrive on its system.
The technique of how to use charcoal as one of the home remedies for parvo disease in pets is simple. You just need to mix a small amount of activated charcoal with water, and make your dog drink it for several times a day until the signs of parvo reduce or fade away completely.
4. Tea From Olive Leaf Does Help
By using olive leaf as one of the home remedies for parvo disease, you are doing your little friend a favor. Olive has religiously been utilized as a great source of food for many years. Olive leaf comprises of many anti septic and anti-inflammatory properties, which will definitely enhance your dog's ability to combat parvo on its own without the dependence on topical creams or medications. Furthermore, olive leaf has a component called Oleuropein, which comes in very handy when your puppy is diagnosed with parvo as it directly deals with viruses of many types [4]
In order to make your puppy consume olive leaves, the best method is to make tea from the leaves. There is no rocket science in it as you can easily make olive tea using some dried leaves and boiling water. You can also benefit from the healing power of olive by putting some drops of olive extract to your dog's dish or drink to speed up the progress.
Read also: 13 Natural Benefits Of Olives Fruit & Oil For Skin, Hair, Health
5. Egg Yolk Can Be Very Beneficial
Another easy to find but effective home remedy for parvo in cats & dogs is egg yolk. Eggs from chickens which have not been vaccinated are among the best treatments for dogs with parvo. This is made possible by the fact that Colostrum and Immunoglobulins [5], two striking components in egg yolks, are able to get rid of the virus gradually. Moreover, as eggs are a great source of protein, your dogs will not lose weight very easily if it is fed with eggs constantly. By this way, you do help your little friend to retain its vitality and energy after it is affected negatively by the virus.
One thing you should bear in mind is that letting your dog consume fresh egg yolks is not beneficial as cooked ones. Accordingly, you should boil the egg yolks before allowing your dog to eat them in its meal time. By this way, you have the right to hope that the severe symptoms of dogs suffering from parvo will improve sooner or later.
6. Chamomile Tea Will Do The Trick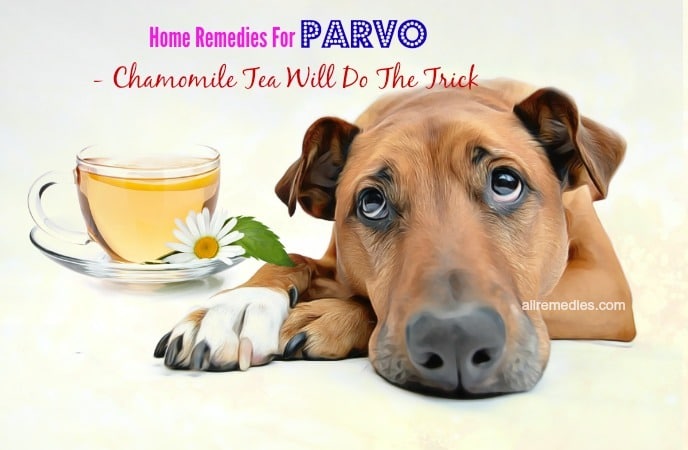 It would be an amiss without mentioning chamomile tea as one of the home remedies for parvo disease in cats and dogs. The anti-inflammatory ingredients packed in chamomile tea can be useful to treat many health related problems including parvo in puppies. This can facilitate in increasing the functions of your dog's digestion, thus giving it the ability to suppress the serious pain caused by parvo virus. Chamomile tea [6] can also put a stop on the development and spreading of virus because it does have anti-microbial capability.  
In order to exploit the benefit from chamomile tea when your dog falls terribly for this disease, you can mix some chamomile flowers with 3 cups of boiling water. You can also add some slices of apple to make the tea easier for your puppy to drink. After that, remember to feed your dog with this tea several times a day. Do not forget to wait for the boiled water to cool down a little bit before making your dog drink it.
Get more: List of 35 Benefits of Chamomile Tea and Oil
7. Agrimonia Can Assist In Reducing The Symptoms
If it is the first time you hear about this plant, Agrimonia is originated from some places in Asian countries as well as Northern Hemisphere. The medical value of agrimonia [7] is very striking as it is very beneficial in curing headaches, abdominal pain, diarrhea, and other problems which are typical of parvo. As a result, gravitating towards this plant in case your puppy is parvo positive is such a smart move. You do not have to depend on prescriptions or medications to get rid of parvo in your lovely dogs with the help of Agrimonia.
You can get the ingredient you need online or through many stores in your region. After having the Agrimonia needed, you might want to make tea from it by putting some boiling water to the dried Agrimonia, then wait for around 10 to 15 minutes and feed your dog with it. This is such a wonderful method among the best home remedies for parvo disease in cats and dogs.
See also: 29 Natural Home Remedies for Diarrhea in Adults
8. Probiotics Rich Foods Will Prove Their Worth
The discomfort caused by parvo virus in your puppy's digestive system is not a joke. As parvo virus has made some negative changes in its system, it is time for you to promote the functions of its digestion by increasing the amount of probiotic rich foods in its diet. It is unnecessary for you to rush to the nearest pharmacy to get a dose of probiotics as foods such as kimchi, miso soup, temper, or yogurt, as well as micro algae, sauerkraut can help you to do the trick. These probiotic rich foods will get rid of the bad bacteria in the gut lining of your puppy while creating a favorable environment for the good ones to prosper. You just need to pay proper attention to the diet of your lovely dog if you want it to overcome the disease brought about by parvo virus on its own.
Check also: Research-Based Anti-Fungal Foods For Candida And Yeast Infection
9. Echinacea Purpurea Flowers Are Beneficial In Case Of Dog Parvo
It goes without saying that many herbs can be extremely powerful as treatments for health conditions. Echinacea Purpurea Flowers are living examples. This plant has its origin from North America and some parts of Canada. To your surprise, this plant has been utilized for a great number of centuries by native people in America to deal with digestive issues or coughing. Therefore, this Echinacea Purpurea plant should not be excluded from the list of home remedies for parvo disease in cats and puppies.
In order to speed up the process of healing your puppy from parvo virus, you should make an effort to make a cup of tea from Echinacea Purpurea, and feed your dog with it 3 to 5 times a day to alleviate the symptoms. You can also store the tea in the fridge for later use.
Learn more: 24 Health and Beauty Benefits of Echinacea
10. Pepto Bismol
Pepto Bismol [8] is a good emergency treatment for dogs with parvo as it's generally used to treat digestive conditions such as diarrhea, heartburn, gas, nausea, or aches, etc. It is commonly used for intestinal issues in humans, and it is gentle enough to be used for the same issues in puppies or dogs.
It is recommended by veterinarians to feed your dog Pepto Bismol in the liquid form to strengthen the digestive system and relieve the symptoms of diarrhea and other stomach related ailments caused due to Parvovirus.
Pepto Bismol can be found in nearly every drug store, grocery store, or even gas station. The recommended dosage is a tablespoon (15ml) 4 – 6 times in a day according to the severeness of diarrhea. Although not recommended as a long-term treatment for dogs with parvo, it's a great emergency treatment until you get to the vet.
See also: 30 Natural Home Remedies for Nausea in Adults
11. Ginger Tea And Ginger Powder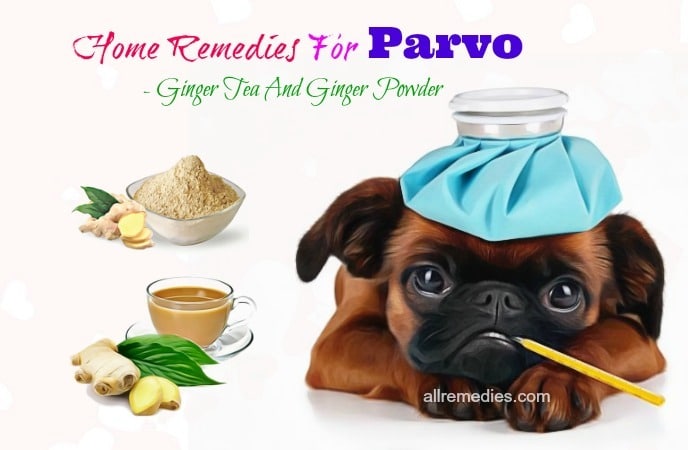 Ginger is widely known to relieve symptoms of nausea and upset stomach in humans, and can do the same for dogs. This is due to the fact that ginger contains digestive properties that are capable of calming the digestive system. When rehydrating the animal, adding ginger to fluids can help relieve the symptoms of the disease. Ginger tea or ginger powder is recommend when looking for home remedies for parvo disease in cats and dogs because it has better absorption rates than eating it raw.
Find more: Top 27 Health & Beauty Benefits of Ginger
12. Vitamin C
Your parvo-infected dog needs all the help possible to fight off the disease, and vitamin C is one way to do that. Giving your pets about 500mg of liquid vitamin C twice daily helps boost their immune system and healing times. You can also add the liquid Vitamin C to other liquid hydration techniques or their food. Vitamin C affects the immune system directly and helps to fight the virus and is a very important step on the road to recovery.  The liquids are also essential in replenishing the body fluids lost from diarrhea.
Read also: Top 28 Best Natural Food Sources of Vitamin B6 on the Planet
13. Omega 3 And Omega 6
Omega 3 and Omega 6 are healthy fats that help to give your pets' bodies the strength to fight the virus. You can add these fats to your dog's diet, especially at the beginning stages of the virus to make sure they have enough strength to fight the virus. These healthy fats will also allow your pet to maintain its weight.
Omega 3 and Omega 6 can be found in a variety of drug stores and health food stores and usually comes in capsule form. You should give your pet the capsules twice per day for at least one week, or until they no longer have the virus.
Get also: 30 Miraculous Benefits of Fish Oil for Health and Beauty
 

14. Keep Your Place Clean And Bright
Even though it is always advisory to create a clean environment in your house, this is extremely vital when your dog is falling victim to the virus of parvo. In dark, dirty atmosphere, the virus stands a chance of duplicate faster, and we believe this is the last thing you want for your dog. As a result, you should make an attempt to clean your house regularly, especially your dog's cage and other parts of the house that it usually visit. By this way, you prevent the parvo virus from having a chance to develop more.
Check also: 13 Best Home Remedies For Yellow Jacket Stings And Swelling
VII – Conclusion
If the symptoms are still under control, you can adopt the list of natural home remedies for parvo disease in cats and dogs that we have provided above. If you have any further solutions and home remedies to the problem of parvo in pets in general, please do not hesitate to share with us in the comment section below.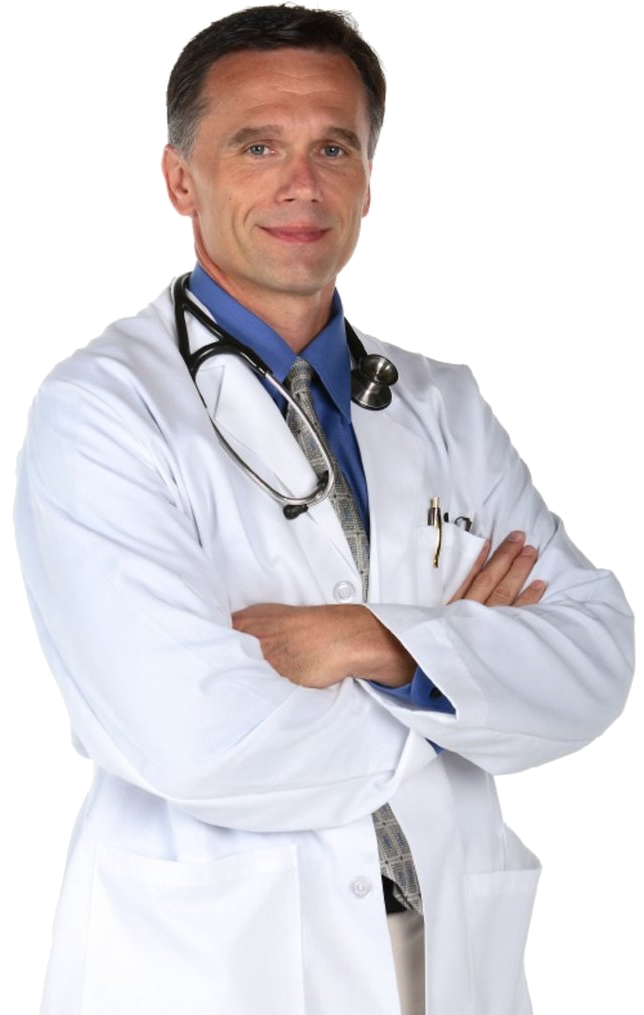 GET FREE ACCESS!
Lorem Ipsum has been the industry's standard dummy text ever since the 1500s, when an unknown printer took a galley of type and scrambled it to make a type specimen book. It has survived not only five centuries
RELATED ARTICLES
YOU MAY LIKE THIS